I was fortunate enough to not only interview the awesome Nychos, but also meet him in person at the at the Vitality and Verve exhibition last month at the Long Beach Museum of Art. He has a fascinating history, a killer company (rabbiteyemovement.at)and art that will knock your socks off. We are thrilled to feature his cover and artwork in Color Ink Book Volume 24. Check out what he has to say about his upcoming film, raptors and Vienna sausages.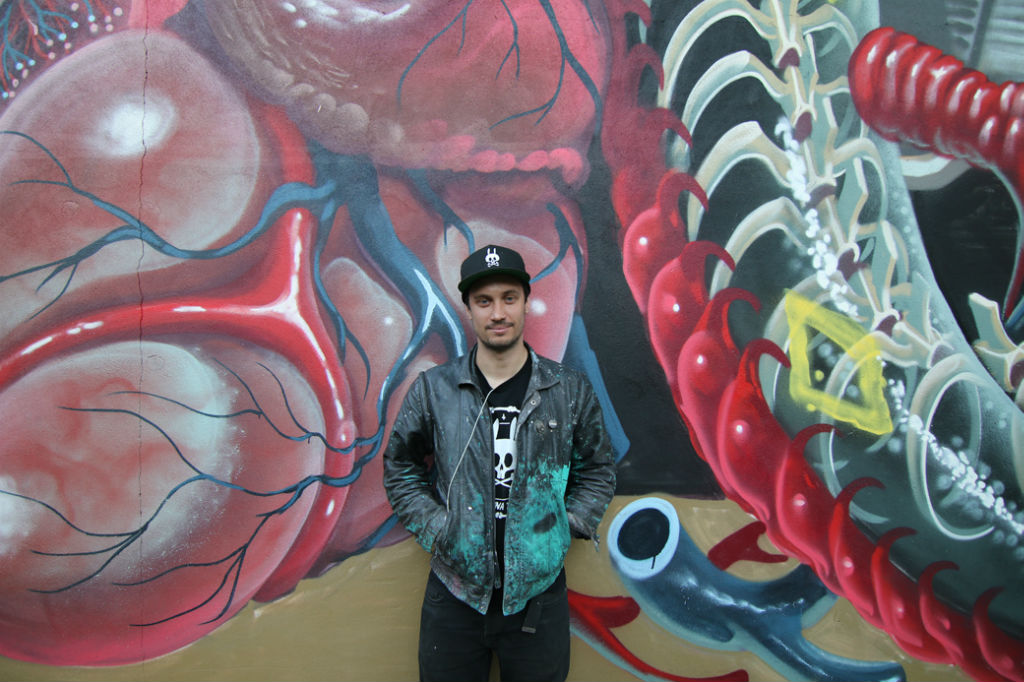 ADAM: Your art blows my mind! It's really incredible. How did you first discover you had a knack for it?
NYCHOS: Thanks man. Well, I wouldn't necessarily say that I had a point in my life where I discovered my special talent for painting dissections. I'd rather say that I worked hard for something I enjoy doing. People sometimes forget that producing art is hard work most of the time, it's not enough to be talented. There are so many people out there who've got amazing skills. Most of them just don't pursue them for whatever reason. For myself I discovered that I get better when I'm doing stuff I really like. So I started combining all the things which interest and inspire me. Right now my art seems like a fusion of graffiti, heavy metal, cartoons and anatomy – and that's great. But yeah, I can imagine that this will change at some point as I get inspired by something else. My paintings are closely connected to my passions, so let's see what comes next.
Apart from growing up in a hunting family, what compelled you to translate dissection into art? Do you find it beautiful or disturbing, natural or creepy, cute or comical or perhaps a combination of feelings go into it?
Probably it's a mixture of everything. I wouldn't call it cute, but there are definitely a lot of feelings involved in my pieces. What I enjoy most is exploring anatomical parts while painting them, so there's also a rational side within my work.
Are there any particular experiences or animals you came across growing up that stuck with you?
Yeah, I've got a couple of stories about animal encounters. When I was seven for example, I got bitten by a wild boar. My grand father and me, we've been walking in the woods and I somehow lost his track for a couple of minutes. Suddenly I've faced this wild boar, which started staring at me and I could clearly tell that it was hungry. The next thing I remembered is my shoulder between its teeth. And that beast didn't want to leave hold of me until my grandpa showed up. That must have looked pretty weird to him.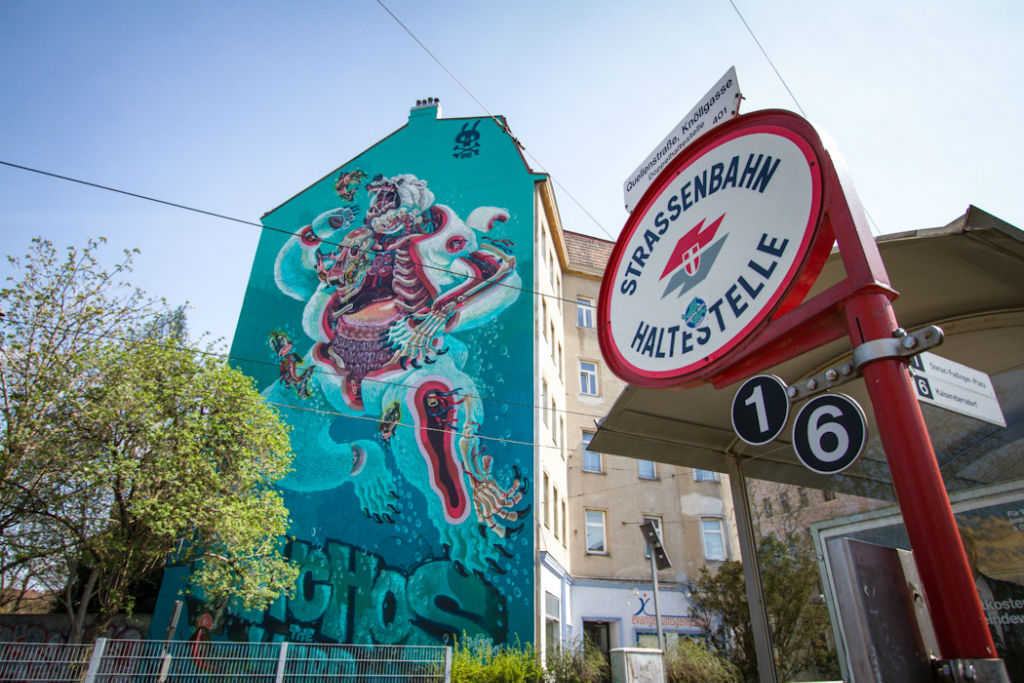 What research do you conduct before creating a new piece? The anatomy is so intricate and fascinating, where do you begin?
I'm actually on constant research because that's where I get my inspiration from. I collect stuff I'm planning on painting some day but I also do explicit research on things I'm currently working on. So it's pretty much a mixture, that does not really have a beginning…and will never have an end either I suppose.
What do you find to be the biggest challenge when painting on a massive building? Or what was perhaps the most challenging building or piece you've come across so far?
One of the biggest challenges is to stick to the proportions of your sketch. Another thing is to organize all the stuff that comes along with painting big walls. Things like a cherry picker and all the licences for example are really a lot of hard preparation missions in Austria. The most challenging piece I remember was painting the "Dissection of an Easter Bunny" last year in Oakland. I had to take into account all the different angles in order to keep the proportions right, because once you change your point of view, your piece changes as well. So I split the thing in three different parts and sketched it up from three different angles. That's how I dealt with it.
Congratulations on Rabbit Eye Movement's 10th anniversary! It must be exciting finally having your own space for the past few years. Any words of wisdom on the transformation of your company and how it's been so successful?
Thank you. Building up a company was, and still is, hard work, so that's probably the core of my wisdom: Work hard for what you're living for.
The Deepest Depths of the Burrow looks like a fascinating film, how can we get our hands on it?
Watch out for the collector's package – either on USB or DVD we will release the movie November 2015 latest. You can also join one of the upcoming premieres in the US, Canada and Europe.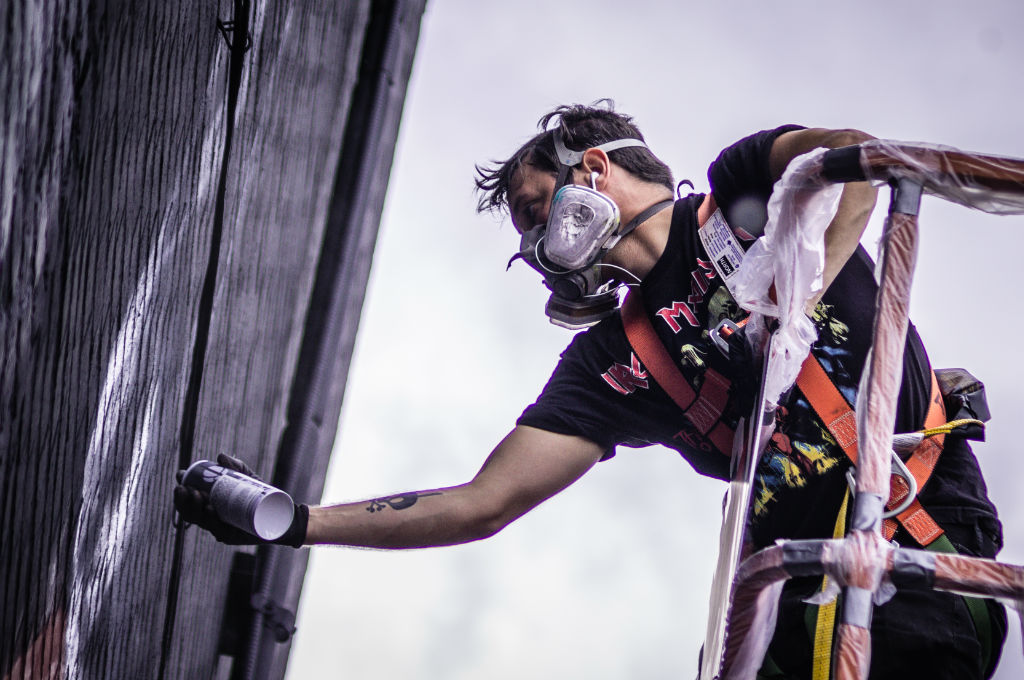 When you were a kid, what did you want to be or think you would be when you grew up?
As soon as I figured out that drawing stuff can entertain people, I always thought myself as a cartoonist or character designer. Especially because I needed to laugh about my own drawings very often. That's pretty much like laughing about your own jokes. I love it.
What's your favorite animal?
Raptor
Any current or upcoming projects we should know about?
Well, there's always a lot going on. But the things you should know about in the first place are my "The Deepest Depths of the Burrow" tour through North America and my upcoming exhibition at Kolly Gallery, Zürich in mid-October. I'm really looking forward to all this and I'm actually working on a new concept for the exhibition. So that's gonna be exciting for sure.
Sandwich or burrito? They probably don't have burritos in Vienna, but when we visit, what food is a must?
Burrito! To be honest I'm still waiting for a good burrito place to open up next to my studio in Vienna. What you should definitely try when you're around is a so called "Kaisekrainer" – that's a sausage filled with cheese. I think I don't need to explain it any further.