I had the distinct pleasure of interviewing the "Lord of Lowbrow" himself, The Pizz, and delving into the mind of an artistic genius. You can see his works both on his site, www.thepizz.com, and in Color Ink Book Volume 24. See all he had to say on working with Big Daddy Roth, Kustom Kulture, reality TV and more.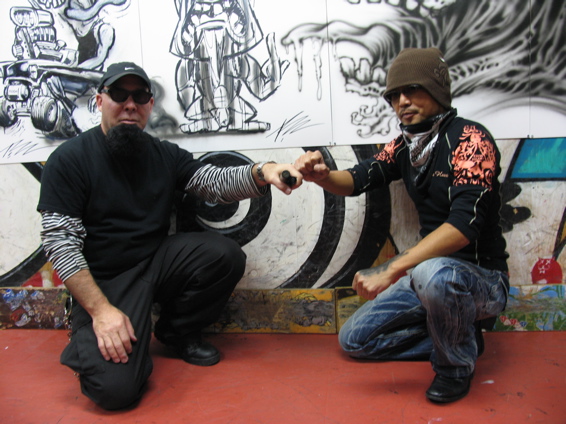 ADAM: What was it like working with Big Daddy Roth?
THE PIZZ: Robert Williams introduced me to Roth back around '85 or so, and it was a tailor-made fit. We hit it off right away. He was toiling away out of his garage in La Mirada, his rebirth as a cultural icon hadn't happened yet. Roth was a very, very down to earth dude. Very hands-on, very patient. It was a really yin-yang arrangement, we were total opposites. He would come down to the VA hospital here in Long Beach, he was a Korean War vet and would stop in to my house after his appointments. Then we'd work on stories for the Rat Fink comics we were launching in Rip magazine, this seedy rag with hot rods and comix and features on pro wrestling and heavy metal bands, punk rock and skater mayhem. This was this kinda rebirth of Rat Fink. He liked that I thought of stuff really rapid-fire, could draw the monsters and the cars. When we worked together at his house, he'd always be pushing these cheap cookies on me. He was a real sugar junky. Robert Williams told me that you put Roth in any large room with a crowd, and within an hour he'd be in the back corner with the two and three creepy creative guys, planning a project. Roth was genius at pulling out creative streaks in people, putting them on a project and letting them go. He was the Disney of Kustom Kulture…
Do you like to experiment with new techniques in painting, drawing and graphic design?
I'm kinda settled into doing stuff the way I do, as far as painting goes. The only recent development has been working out all the values in grey-scales. When I get a commercial gig, then I like doing stuff weird, just to try and surprise myself. I want to see something I haven't seen before, something new. So I'll [play] around with a copy machine, let random elements in, use parts of photos for textures, kidnap lettering, layers of garbage. It's like using a factory for a palette. I like partnering up with other people, especially if it's not their field. It makes for surprising outcomes. I prefer having hand-created elements, as opposed to extended Photo-Chop/Illustrator ]nonsense]. Designing all the tiki mugs I've done recently has forced my hand to keep the 3D elements real, I have to pay attention to volume and perspective more than flat graphics where you can cheat everything. It's buffed-out a weak point, it helps in lighting and shading especially…
BUT, overall, always, there's a strong commitment to A Beautiful Line. There's always a drawing at the most basic level. I might hit it on the first go, the rough sketch, or I might hammer on the drawing a few times and smooth out the kinks, flush out the awkward parts, refine it by simplifying it, getting it down to the simplest form. I can tend to noodle the [heck] out of something, nose to the grindstone and throw in too much crap detail. It's a good idea to stand back every once in awhile and take stock of the Big Picture.
I use a brush exclusively, like the classicists of the genre. Once I started using a brush to draw, there was no going back. When I was a kid, I used nib pens, Rapidographs, Zipatone, all that stuff. I taught myself to use a brush by drawing alphabets over and over.
My first introduction to the lowbrow art scene was collecting Odd Rod trading cards as a kid, what was yours?
I had a good chunk of Odd Rod cards when I was a kid. Of course I lost them, and had to re-find them over the years. I even found a buncha the originals, one of collections highlights. They are just whipped out, on crappy mattboard, and cut out with a Stanley knife. None of these were considered worthy of attention when they were made…I kinda forgot a lotta this, then one day I was at the record store digging thru the bins, and I found the record cover that Big Daddy Roth did for The Birthday Party, "Junkyard…" This was a watershed moment. It was an "A-HA!" that galvanized me. It was immediate and visceral. The unchained fury, velocity and brutalness of the bands music, with the unhinged manic power of the record cover's art, the harnessing of post-hippy guitar-rock thrash with pre-hippy Rat Fink monsterosis/monster-car mayhem, it was a perfect fit. It was everything I felt at the time, it blew away so many cobwebs. I met Robert Williams within the year, Roth a couple of years after that. It was so zeit-geisty and right…This was all in the early '80s. It was a very small scene then, you could fit all of us in one garage party.
You're a huge part of the Kustom Kulture, surf, skateboarding, tattoo and tiki community. Do you surf and or skateboard or do any tattooing? And or do you prefer to create awesome art that represents these movements?
Let's not forget hot rods and bikes! Mutually feeding off each other. I tattoo, it's fun. It's very, very, focused. I like something that I have to pay really close attention to, like driving really fast at night or using sharp or high-speed tools. Or flames. I'm a washout with surfing, I just flail as a swimmer. My eye to hand doesn't translate to athletics. Most artists I know spent all their early years cooped-up, developing their craft. Yes, I've designed a few skateboards, some surfboards, even skis and skipoles. I like seeing my stuff in print, whatever the surface, and I like the challenge of really odd fields, like skis. Tattoos are such a challenge, just from where they go on the body, how they fit into the topography. I gotta great coupla pals showing me what they know, like Opie Ortiz or Jack Rudy. Working on a skin canvas that grimaces and bleeds is far and away completely different than just making lines on paper…
We came of age just as Tiki was at it's nadir, so it was cool to trawl around and look for it. We were in the OC, Disneyland was the heart of tacky tourist culture, so there were all these cool dingbat tiki motels, trailer parks, restaurants and bars littered around. It went hand in hand with thrift store clothes, old cars, old used records and all this other discarded pop detritus that was so cheap back then.
What I like about tikis are they are reductivist in design and manufacture. Most other art forms are built up in layers, tikis are made from logs that are hacked and whacked and whittled into form. I have piles of African masks and sculptures too. I just love the idea of a guy sitting on his haunches in the dirt, with an axe and chisel, and making a totem figure. Cave paintings too, that primal urge to draw a symbolic idea on the wall, so others would see it. The idea of abstract communication, that's what sets humans apart. And it's so old, like thousands of centuries. And it's one of the few things to last. Art and weaponry, that's human creativity at it's core. Cartoons and implements for killing.
Do the stories you tell with your art come straight out of your head or life experiences, or a bit of both?
Usually I'm working with a form of life experience, and it might be torqued-out and flavored with other stuff, like any good fiction. The best stuff is unmediated. You don't wanna overthink it. One of my ways to tunnel-in to that inner conscious is to crank up some music. If I'm just drawing, and there isn't a steady stream of verbiage counter-acting the flow, then it just pops outta nowhere. Music is excellent for creativity, talk-radio is good for nuts and bolts activity. Put on a record to get an idea, sketch it out. Talk on the phone while you're editing it, revising, clarifying. Talk radio for the mundane aspects of laying in colors…
What are your thoughts on America's obsession with reality TV?
Just regurgitated garbage, pop culture detritus used to fill airtime, OR: The end result and blow back from a bad, too-long writer's strike a few years back, when the networks realized they could get viewers with "unscripted programs" and save all those writers and actors fees, OR: People have become so acculturated to doing mundane useless jobs, never seeing what the actual efforts of their labors beyond a paycheck, that so much of what we see and do is digital smoke and mirrors, that most people don't know how to do anything anymore. Most city dwellers, put them in a car that breaks down in the mountains or deserts without cell phone coverage, they're going to die. So they idea of guys that can build a car, drive a truck thru the Alaskan wilderness, survive in the jungle…That's interesting. And there's an endless market for reiterations of the dating game as well. People living vicariously off the lives of other people, on TV. All that's been changed is they've gotten used to seeing real people over professional actors. It's just our era's Bread and Circuses.
I've been on a few shows, and the basic model is this: Set up the premise, show up at 10:00 AM, do whatever for ten hours a day, five days in a row. One crane/boom camera, one or two steady cams. Everybody miked. By Friday, you have fifty hours of film in the can. Edit that down to fifty minutes for screen time, so the ration is 60:1. Editing is the art here, add some narration and a logo or two. It's cheap and easy. Let's see if people want to watch these in fifty years, like I Love Lucy. My guess is they won't…
Have you done any collaborations with Robert Williams?
Actually, I have done a collab with Williams, in a way. Our mutual friends Alex Winter and Tom Stern had a Video Magazine they did, back in the day. The idea was you'd film a buncha cool weird stuff, edit it to about 90 minutes, and dupe it onto VHS tapes, slap a label on it. Media! You could find them in BlockBuster stores for rent, or buy them mail-order. Let's see, that's about three, maybe four obsolete culture vectors right there. Yes, this is before the advent of DVDs and the Internet and little GoPro cameras and all the digital format [stuff] that makes it real easy to disseminate crap like we do now. You needed guys to carry stuff and budgets and ways to get your budget back. They wanted to do a teeshirt, of a Williams painting. Robert was okay with it, but they needed it translated into line art. So, we volunteered me. Other than that, RW paddles his own canoe…
I'm a HUGE fan of Asian fare and do quite a bit of cooking myself, do you lend an artistic hand in the kitchen?
In the kitchen, the Japanese Wife makes the Japanese Food, the Thai Cuisine, the Chinese and some variations in between. I'm the Grillmaster, the Italian Chef, the Leftover King and Maker Of All Things Mexican. Many knives here at work. I grew up in a large Italian family, we all cooked from an early age. Pretty much any artist better know how to feed himself, since the paychecks are spaced pretty far apart…
Would you mind sharing your views on social media and it's effects on society?
It would take a more nuanced media maven than I to parse out what and how the effects of social media on society will pan out. Some people live on Facebook, some don't give a [care], at all. But when you can organize a huge rally in Cairo, overnight, that's a force to be reckoned with. It's taking the power of disseminating information, instantly, everywhere, from the centralized power bases like broadcast television, news, radio, print…all the traditional avenues that power channels its messages, and putting that in the hands of people. I'm amazed when some mom somewhere will post some crap about her daughters prom or some lost dog needs a new home, or a KickStarter campaign is kited, and there's like a bajillion responses in 48 hours. It's mind boggling. One downside is that it's so easy to just download [stuff], so easy. I posted a new piece FacePlant last month, and within an hour some guy had it for his homepage. Before the gallery opening. The culture of downloading content has accustomed people to thinking everything is free now…
Have you ever thought of resurrecting The Odd Rods with your own brand of monster rod trading cards? But they have to have a hard stale piece of bubble gum in them too.
I was going to do some Odd Rod style paintings, years back. It kinda collapsed under its own weight. There's a real reason the originals are so small and whipped out: They had to do like dozens and dozens of them. Hundreds. You can't take weeks to do something. It has to be cranked out. My paintings take too long for any kinda long-format projects…