If you're anything like us, you're pumped when events like KAABOO Del Mar roll around. We cannot get enough of the line up of artists, musicians and more! This year our friend, Monty Montgomery, is back and tells us a little about last year's awesome collab and what he has planned this year.
ADAM:  Hey Monty, if my memory serves me well you were at KAABOO Delmar in 2017 ?
MONTY
:  Last year Kreashun, (
www.kreashun.com
) which is the collaboration of J Feather and myself created a 6′ x 22′ LIVE mural on canvas over the three day festival.
A:  What were some of the most memorable moments of last years event?
M:  We exhibited solo works on both sides of the LIVE painting which was really cool. Exhibiting our solo works on each side of the LIVE painting really gave the on lookers a visual of how J and I create unique pieces as solo artists but then allows everyone to see in the flesh what we create together as Kreashun.
A:  Wow brother that sounds fantastic!! What else?
M:  J brought in a bunch oh his imagery and pattern work on the piece as I worked with color theory and geometric abstraction. We created a huge scorpion out of rust which was visually climbing through various lines and angles. It was a great time working together and explaining to folks how we kinda vibe off of each others direction and it all comes together.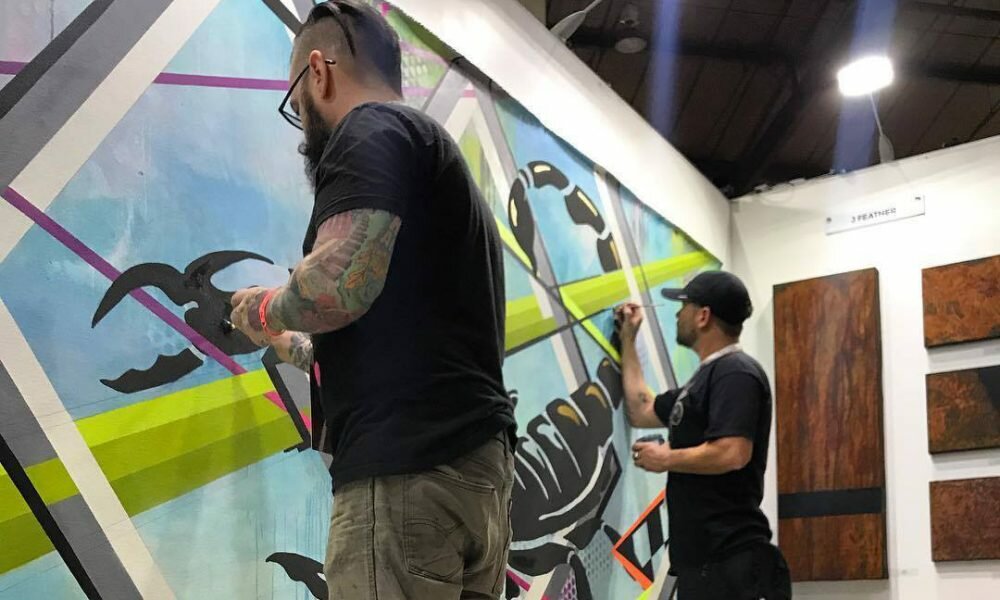 A:  Very cool, what are you going to do this year?
M:  I will be taking on KAABOO this year solo. I'll be hanging original works and archival pigment prints which will be for sale and then painting a LIVE 4′ x 5′ canvas piece. Looking forward to seeing everyone and creating!
A:  Thanks so much Monty! Can't wait!
This year KAABOO Del Mar is September 14-16, 2018 at the Del Mar Racetrack & Fairgrounds in Del Mar, CA near San Diego – and you don't want to miss this unforgettable event featuring all the best in music, art, comedy & cuisine!