What have you been up to since last we spoke?
I went back to the first interview to double check on the promises I made then. Well, we didn't make that music video for Jaephisch and the Dark Rainbow, however many pages have been created since we last spoke, several of which are animated! One page even has a musical theme for it. Greg Khmara and I have been working steadily on our other comic project The Tabouli BROS. which has a 90 page story fully inked and gray toned! We will begin working on the second storyline very soon, which should fall around 130 pages. Once that story is complete, we hope to have both stories published in one volume to a series of volumes to come afterward. We've created two horror comics, Head In The Bed™ and Ascension which we're putting together in a collection called "Slaughterhouse". We've also collaborated to make a handful of designs for the LA based shirt company Blood Is The New Black, four of which will premiere this summer! Besides my work with Greg, I joined the Pony Club Gallery last summer. I've been wanting to join a gallery collective and aid in art show curating and empowering a local arts and comics community. At the Pony Club, I get to do just that. Since joining, I have curated the show "Self Psyche", which featured self portraits from artists based in Portland and from all over the world. I am curating the October show, which will involve monsters and sexuality.
Where is the best place to grab a bite to eat?
This is a question I am very happy to answer and since I have many places to offer I will list them by city (or general location):
Portland
Theo's for burgers and sandwiches. I suggest the Mouth Of Fire!
Gravy for classy breakfast. Incredible challah french toast and roast beef hash.
Random Order for coffee, pies, and pot pies. Follow a chicken pot pie with a slice of brandy pear.
Montage for late night. Green Eggs and Spam for $6.66 and a Cannonball cocktail.
My Father's Place for divvy breakfast. Best $7 steak and eggs. You get 3 eggs!
Yarp?! for late night cart food. Really wonderful pasta dishes. Amazing garlic burger!
Thai Basil for $5 huge take out Thai WHICH INCLUDES a drink too! Pineapple fried rice.
Sushi Ichiban for $1.50 Wednesday and Saturday nights. Only order Tokyo and Cho Cho rolls.
Bob's Red Mill for a healthy lunch. Tell em Andrew and Greg sent ya.
Seattle
Mae Phim for cheap, quick, amazing Thai.
Top Pot for coffee and doughnuts.
Wayward Cafe for vegan breakfast.
Red Mill for burgers.
San Francisco
Burma Superstar for Burmese fusion. Tea Leaf Salad is nuts.
Cafe Mason for diner food. I've been eating there since 2004 every time I'm in town.
Murata's Cafe Hana for coffee and desserts. Amazing coffee, tiramisu, and Princess cake!
Los Angeles/Hollywood
Vegan Glory for guiltfree Thai.
Cactus for great mexican food. Open really late for post-show/club going.
The 101 Coffee Shop for diner food.
San Diego
Pokez for vegan Mexican. Huge, delicious portions for cheap. I go when I'm in town for Comic Con.
Santa Monica/Venice
Mao's Kitchen for the best Chinese food.
Bravo Pizzeria for pizza and cannolis.
Malibu
Hows Trancas Market for beach picnic sandwiches. I went there during my Hourly Comic Day 2007.
The Valley
Mort's Deli for Matzo ball soup and a cheeseburger cake for dessert.
China Star In And Out Inc for tofu bok choy and Thai iced tea.
Agoura Hills, CA
Italia Deli & Bakery for amazing sub sandwiches and Italian hot dinner plates. Tell em JFish sent ya.
Agoura's Famous Deli for Jewish-style diner. Tell em JFish sent ya.
Sushi Agoura for, you guessed it, sushi in Agoura. Tell em Ed sent ya.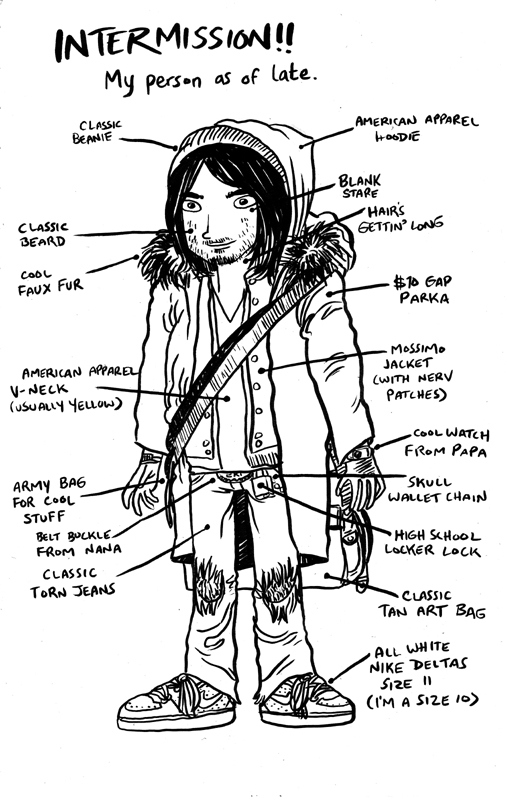 You are on twitter, Myspace, Facebook etc….. What is your favorite social network?
As far as my most useful tool, Twitter seems to do the trick. I get a decent amount of people looking at something I post when I mention it on Twitter. I am also taking a liking to Tumblr, which posts to my Twitter. My Twitter is connected to my Facebook as well, which reaches certain people who are on Twitter less often. I do admit I have a love/hate relationship with the Internet in general; it makes connecting to everyone and getting your name out there so much easier YET it takes so much time away from creating work!
Have you ever gone to a Monster Truck Rally?
I have not, but I remember seeing commercials for the rally in LA during Saturday morning cartoons when I was a kid. I always wanted to see the Grave Digger!
Who was the last person you called?
My mom 🙂
What does the year twenty ten hold in store for Studio JFish?
The most we have planned is to get Tabouli BROS. volume one finished and published! Other than that, we will be attending several comic conventions: Emerald City ComiCon in Seattle (Mar. 13-14), Stumptown Comics Fest in Portland (Apr. 24-25), Portland Zine Symposium, Alternative Press Expo in San Francisco (Oct. 16-17), and New England Webcomics Weekend (Nov. 6-7). I've never been to the east coast so I'm most excited for Webcomics Weekend.
Basically, we plan to make as much fine artwork and comics as we can this year, like any other year!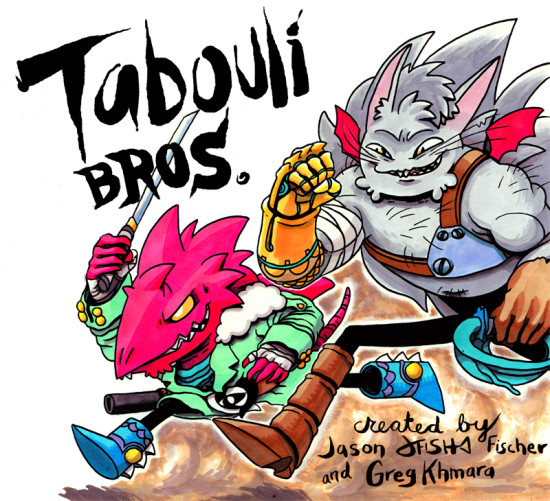 Tell us a bit about Pony Club…..
Pony Club has been around in downtown Portland for about three years. Current members Jennifer Parks and Zack Soto were part of the original founding members, which included Theo Ellsworth and Timothy Karpinski, who went on to co-create the Together Gallery. I was invited to join in April 2009 and I am very glad to have accepted the invitation! My fellow members and I collaborate on putting together monthly art shows, which open every first Thursday of the month. First Thursday is designated in Portland as an art walk of new show openings in downtown.
I am confident in my belief that the best medicine for a struggling bunch of young artists is to get your heads together and make something good in the community. It's not easy to keep a gallery up and running, but the payoff is inspiring and motivational.
What are you reading?
Good thing I have been reading more lately to better answer this question! I just recently read my first Madeleine L'Engle book, one which almost everyone read in school, "A Wrinkle In Time". I loved the book so much that I went to the library and borrowed the rest of the Time Quartet series, which all involve the Murray family from Wrinkle. I also just read Kurt Vonnegut's "Slaughterhouse-Five", my first read from him being "Cat's Cradle". Greg got me a copy of Ray Bradbury's "Fahrenheit 451" right after I had read Aldous Huxley's "Brave New World".
As for comics, I've found the library to help me get my hands on more Osamu Tezuka books. I've recently read Phoenix volume five "Karma", Metropolis and Lost World. My friend Lamar Abrams recently published his comic Remake through AdHouse Books, which is very, very funny.
Although I've already read it once before, I'm reading Arthur C. Clarke's "Childhood's End" again as I illustrate moments from the novel. I was inspired by my friends over at Picture Book Report, a collective of artists illustrating 15 different novels.
Destro or Cobra Commander?
Dr. Claw.
What did you draw last: Sandwich or Burrito?
I recently created the Triple Decker Sandwich Man, who has a humongous sandwich for a head. He also is naked save for a red apron which does little to cover his massive penis. He's the big brother to my Cheeseburger Woman.
[In case you haven't seen it, I drew this guy recently, but if you do not want mature content on the site, there is this sandwich without man and penis]
The the Bros to See More