Tell us a bit, about how you got into the art world?
I wish I were in the art world… I just rummage around on my junkyard planet finding ugly stuff to show people. I have drawn dumb little characters my whole life, almost finished a million comics, and tried to impress girls with my cartooning skills… I have been mostly not so successful, but that won't stop me from trying to get someone to like me. Just keep drawing strange little fat men and the world will see you… And then I can finally make it in the art world, and rent that life I've always dreamt of.
What do you spend your time thinking about now that Lost is over?
I still think about LOST, it changed me at a spiritual level. For a TV addict like me, LOST is hands down number one show. I laughed, I cried, I pooped.. It was that good. Now I just watch Hoarders cause it works on the same level.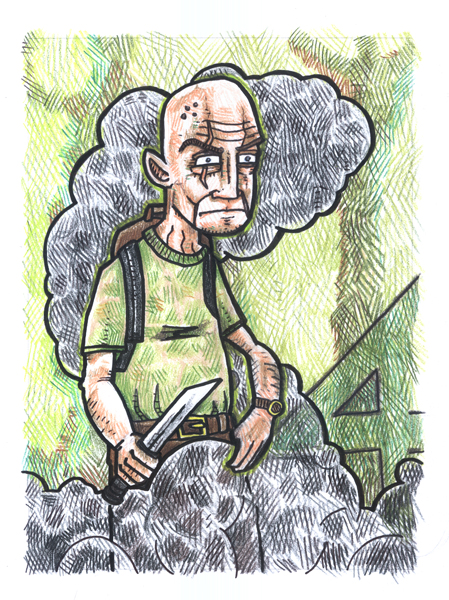 Who is your favorite director?
These are incredibly tough questions..
Number one all time is Spielberg, for Jaws alone. But my current favorite is David Fincher, everything he's made; including some of Alien 3 has been brilliant. Seven is a masterpiece and Zodiac is luscious… Good word.. Luscious.
Do you have a favorite comic cover? If so what and why?
Impossible questions.. Anything James Jean has done.. Killing Joke by Brian Bolland.. But my new favorite is Strange Adventures no. 79 from 57′ drawn by Gil Kane. It has snowmen invading earth with laser beams coming out of their eyes. Mega-awesome.
The Walking Dead on AMC your thoughts?
I thought 6 episodes was malarkey.. But I am excited for the new season. I love the changes from the comic book; they have let us into the backgrounds of some already great characters.
What monthlies do you currently love? Hate?
Loving? All of the Avengers books from Marvel are great.. Green Lantern is always on point.
Hating? Dear god, someone fix the JLA.. How can DC have its main team book be so god-awful? And wow, I am a nerd.
All time awesomest toy line? Single toy?
This might be the hardest question yet. I am a toy head… Above anything else, I am toy crazy.. My poor wife.
Toy Line? I have to go with Star Wars.. Specifically the first three movies. Kenner killed it with the figures and the vehicles. Anything after that owes so much to Star Wars toys.
My all time awesomest toy is my ROM the spaceknight. It was my Holy Grail and finally after 20+ years my wife got it for me. It was the one that got away when I was a kid, and I had saved my own money to buy it.. But alas the toy store was wack and didn't have it. But now I worship at its plastic feet all day long. But for everyone else, I would say, the second Snake Eyes from G.I. Joe, the one with the visor and the wolf. So badass.
Jaws or Sharktapuss?
I'd take Jaws from Jaws:the revenge over Sharktapus.. And that shark went to the caribbean.
What started Unified School District?
Unified School District is the musical lovechild of Ecto One and I. Before I was pursuing that fabled art world, I was failing upward in the world of underground hip hop. We are both guys who only really love hip hop from 96 and before.. Before it became cool to have R&B hooks and shiny suits. So in 2000 we started making bangers in the garage to playing a show in Chile in 2008. We have released 4 albums and our working on our fifth.. We have worked with Copywrite, Sabac Red, Prince Po and so many other creative people who we look up to. I love making music and art, and I never claim to be perfect at either.. I just want people to try it.
"They Live" remake your thoughts?
As long as they keep the ridiculously long alley fight in the middle, I'd watch it. And hook rowdy Roddy up with a part.
What is the best way to ingest caffeine?
Straight up coffee.. With cream and sugar. 2 huge cups.
How did the Diver: Search & Rescue statue come about? (by the way, it looks great)
Thank You, that is a dream come true.. To have a "toy" of my art. A friend of mine does 3D modeling and he found a place in China that could reproduce at a very good rate. It's made of Poly-Stone and each one is hand painted, they are about 7X7 inches and the initial run is 10, but one is mine. I am also making custom boxes for people to present him on. It is so cool seeing the pictures as the guy puts it all together. They are available on the website right now for pre-order, I hope people love them like I do.
Sandwich or Burrito?
I love sandwiches, but I really love burritos.
Click Lando and Nien Nunb to see more super ugly art