Interview with Glenn Barr about his "Faces"
Where did you go to find wood for the pieces in the book?
GLB- I'm on the constant search within the Detroit landscape for discarded or abandoned wood some of the larger pieces that are used in the show I had gotten one day from this guy who was dragging large thick panels to the curb I think he was taking apart something on his property like a shed. They wouldn't fit in my car so we cut them down on his table saw very nice of him to help me out on that. The wood was very old and distressed. Perfect!
What kinds of challenges have you come across in painting on different "found" surfaces?
GLB- The challenge is finding the right composition from my drawings for the dimensions of a found piece getting the image on the piece is the easy part.
Have you discovered any types of wood that you plan on using for future works?
GLB- Yes!.. I have this large 5ft round wood table I had found on the 3rd floor of an old factory hallway I've been waiting for the right idea to grace it looking forward to painting it.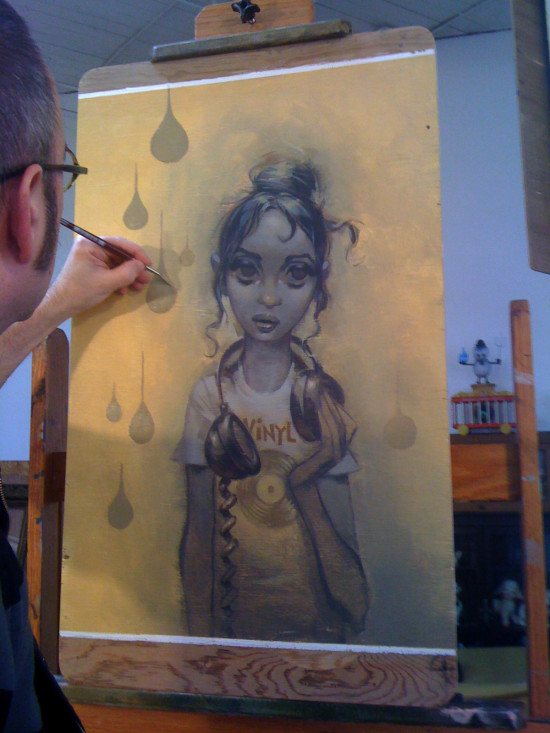 You have such a great sense of color and the skin tones of your subjects have such warmth – What's your process for developing luminous skin tones in cool light?
GLB- After several coats of gesso I use warm layers of color like Burt Umber, Sap Green and Sepia as undertones. I want to kill the white canvas and have a warm starting point. I'll then build on top of those hues by mixing them into my chosen color scheme like if a lamp is green, I'll put a little sepia in the green paint to marry it to the background like that.
Tell us about your fascination with Tura Satana?
GLB- Well, I've always been intrigued by Tura and the rolls she had played in her films. I knew she wasn't really like those femme fatalesà quite the opposite actually. Most artists portray Tura as that tough character in their work.  I thought I'd change that perception a bit, since she had past away recently it was kind of homage to her legacy.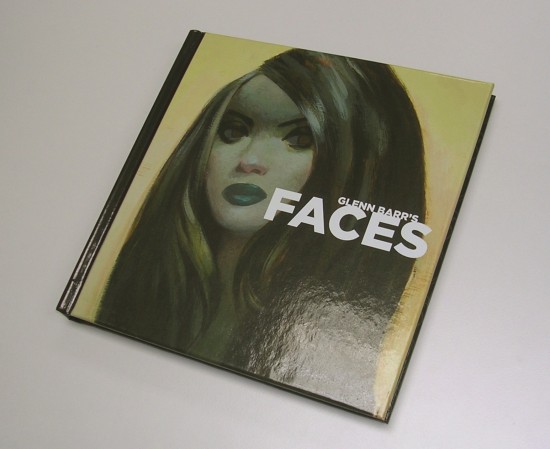 BOOK PRESS RELEASE
Detroit-based artist Glenn Barr presents a 96-page compilation featuring details from 80 paintings and drawings he created over the past five years. Inspired by the complex expressions and raw emotions revealed by faces, Barr invokes the human condition, creating a multitude of personalities ranging from extraordinarily common to extreme and fantastic. Barr uses pencil and brush to render elegant and elongated necklines, exaggerated eyes, and the gentle or jagged slopes shaping the noses or foreheads of the men, women, and monsters he creates, whether they are beautiful, ordinary, or even grotesque. Expressed in the intricate details of each image, Barr presents a delicate mix of texture, color and line typical of his loose but carefully executed style. Turn the page to reveal subtle or manic emotions of the wise, the wicked and the wistful. "Faces" brings each reader one step closer to experiencing first hand the compelling mind and interesting characters found in the world of Glenn Barr.
"Distortion and contortion of the FACE gives me the freedom to tell a better story and to create a better composition. Elongating the neck and exaggerating the eyes, the forehead either grossly enlarged or minutely petite, the odd slope of the nose, even the oversized and perhaps misplaced mouth, can reveal the subtlest emotions. Even the hair framing the FACE can stream decorously, capable of communicating a life all its own, one grounded perhaps in vague tragedy or masked rapture. I also love the play of light and shadow, assisting and enhancing the narrative, creating mood and energy within the frame, expressing the emotion. In essence, it's all about dynamics."
Hardcover: 96 pages, published by Last Gasp, Release date: September 1, 2011, English, ISBN-13: 978-0867197679, 6 x 6 x 0.5 inches, 8 ounces
Interview by Lee Joseph Publicity for the Visual Arts