What does nine o'clock Monday morning look like for you?
9 o'clock Monday is usually me on the subway on my way to work. Luckily, I like my day job a lot so it's not the veil of tears.
Who is you favorite Ghostbuster?
Ray Parker Jr.?
Do you find a freedom in doing disposable (sticker, poster, etc..) art vs. the more permanent work you do?
Yeah I do now. I was kinda over street art for a while there, and started focusing on more gallery type stuff. While I kind of take more satisfaction from gallery work, doing street stuff is fun because I can do whatever I feel like and don't have to run it through my "Is it good enough" filter.
What is the origin of Char?
Well the real secret origin of Char is this. When I was a little kid there was this proto-food court in the San Antonio Shopping Center in Mountain View, Ca. The place was called the Menu Tree and it had lots of international fare but it was decorated in serious Mid Century Modern motif. The main attraction was that there was a 4-sided cuckoo clock up on the top of an indoor flagpole, and when it struck the hour birds would come out and it made an unholy racket of different types of birdcalls. The upstairs was amazing as it had larger than life paper mache birds behind fancy wrought iron cages. They were very low tech but to a little kid it was amazing. So that's where visually Char came from. His name has a less charming story behind it.
Are you a dog or a cat person?
I am a paid subscriber to Cat Fancy magazine. Cats are rad because they'll eat the food you put out for them and then scratch the fuck out of you for no reason.
Tell us about Fugue State Records?
I'm doing a new series of Artist Multiples based on punk and metal 7″ singles. I'm going to be laser etching various materials to look like 45′ RPM Singles. Then I'll be releasing them under the fictional Extreme Music record label Fugue State Records. There is an extensive roster of fictional hardcore and metal bands on my label. I plan on releasing the multiples as a record label would. Staggering releases from different bands each with its own back-story and I plan on releasing supporting multiples such as Tour Tees, Gig Posters, Stickers, & Zines as well.
My goal with the project is to create a world that has continuity. There will be multiple releases from the bands on the Fugue State label roster. New bands being signed and old bands moving on or breaking up.
The first release on Fugue State Records will be from Icelandic Black Metal band Asspanther. The first single will be their US debut and will feature the songs Eucharism b/w Religion is Mind Control. Their searing blastbeats and brutal vocals have made waves all over the world. With little more than a cassette demo and a videotape of a live gig, they were signed to Fugue State Records no questions asked. Noted for their manic stage show and level of technical virtuosity, Asspanther is putting the Metal World on notice.
I'm using Kickstarter.com to raise funds for the project. The cool thing is that if I don't hit my target of $1000 by July 15th anyone who donates doesn't get charged.  Here's the link to the page: http://www.kickstarter.com/projects/abelincolnjr/fugue-state-records-punk-rock-artist-multiples
Who you win in a fight you or Abraham Lincoln?
Uh he's dead so he'd probably be pretty easy to slap into the figure four.
Graffiti: your thoughts?
I like it. It's nice.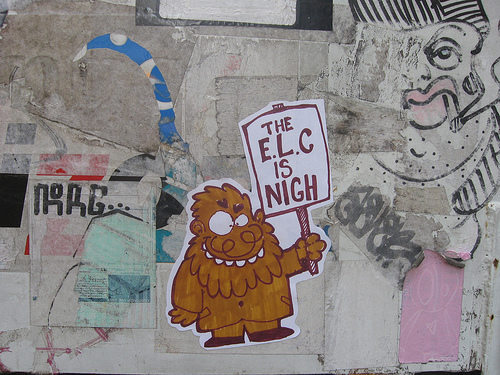 What is your favorite medium to work in?
Overall a good clean digital piece makes my heart sing. Esp if I can get it laser etched even better its my favorite medium at the moment. Although in my new solo show "Handcrafted Vectors" at Schmancy Toys in Seattle July 10th I'm going with 100% hand made art. I've been getting into doing new mixed media work that involved a lot of collage technique so that's been fun.
Sandwich or Burrito?
Well I'm from the SF bay area so I would have to go with Burritos, but unfortunately Mexican food here in NYC is fucking abysmal. Its kind of like Pizza in California tho, Things are improving here as there is a growing Mexican population and there are some hoods with real Lengua y Sesos on the burrito menu.
Click on the Chars Above to Visit His Bird House