Who and or what inspires you?
My friends (do the math crew) and coworkers at Guru Tattoo inspire me to be creative, and work hard towards being better, or funnier. My girl inspires me to relax, which I feel is super important, and don't do much of. Old cartoons are some of my favorite artistic inspirations, along with random internet imagery. I get stuck on googling tangents, or blog jumping. Mostly vintage signage and mascots and what not.
What are your favorite mediums to work with and why?
I prefer pencil and pen in a sketchbook. Process is my favorite, and getting to draw for myself has become a tough thing to do since I stay somewhat busy doing tattoos. I also like painting in acrylics, and doing ink and brush linework on them. Ive just really started doing brush line work, and it seems to be therapeutic.


How do you like to spend your free time?
I spend one day a week on Sundays with my girl. We like to eat and drink fancy, and get in as many hot tubs as possible. Hot Tub Life! Now that summer is upon us we have been doing monster crew BBQ's
What are some of the best things about living in San Diego?
Well besides living in paradise, perfect weather, hot babes, almost legal weed, and mellow vibes…. well that's really it? Staying busy at a great tattoo shop, and being surrounded by some of the best people I've ever met is also a huge plus.
Name 2 bands you listen to now and 2 from back in the day.
Action Bronson is in steady rotation along with Sean Price. Back in the day I was more into east coast hardcore, Sheer Terror was my favorite, and Bad Brains.


Tell us a little known secret about yourself.
Apparently I'm related to Nathaniel Hawthorn, the writer of the Scarlet Letter and House of Seven Gables. His Brother was a judge in the Salem witch trials, he put a bunch of innocent women to death. Nathaniel didn't agree, so he put a W in his last name for witches. He thought that if he changed the name by a letter any family curses would skip him. That's why I got a Wu Tang W tattooed on my leg. I'm dodging hexes.
Where are the awesome eats in San Diego?
Sheeeeitttt there's a bunch. Mariscos German Taco truck in Golden Hill, La Fochada in Logan Heights, Just The Tip Tri Tip sandwich truck, sits outside of Live Wire on Yomi's hip hop happy hour, Chalkboard deli in Pacific beach, Krakatoa and turf club in Golden Hill, Jaynes Gastropub burgers are the truth! that's on 30th and adams, Park cafe for breakfast in Hillcrest. Theres a ton, trying to name them all would be my whole article haha.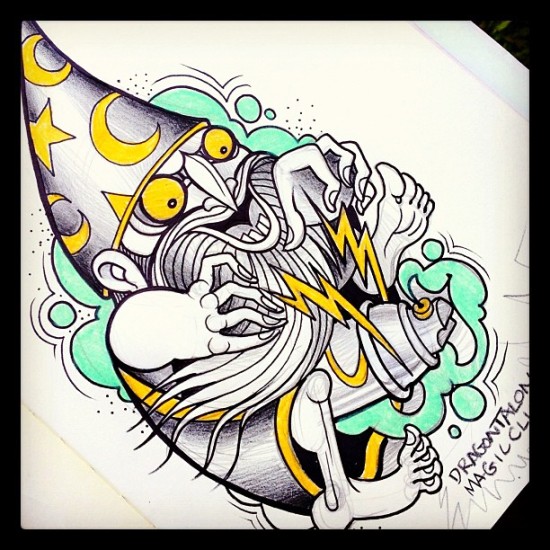 What's the story behind Honkeykong?
I got it in Prison, there's still a case pending so I cant speak on it in depth.
Any upcoming events or projects you want to tell us about?
I have my first ever solo art show on July 14th during comic con at 5 and a Dime in downtown San Diego 701 8th Avenue, San Diego, CA 92101
I have been busting my nuts on it. We are releasing a Honkeykong / Us Vs Them t shirt that night and a Honkeykong / 5and a Dime skate deck, all will be in limited #s Ive also painted 10 original skate decks that will be for sale that night. I have about a month til then, so I'm gonna try and bust out a zine before then as well. I will also have a piece of art in Mark Murphys Cartoon Network art show the night before on Friday the 13th during comic con. I have a line of clothing for sale on www.honkeykong.com and I'm still doing tattoos, so holler if u want some.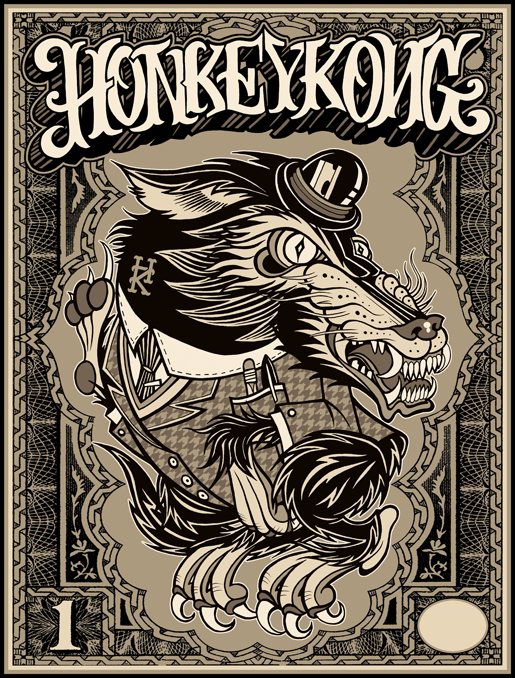 Given the opportunity who would you like to colab with?
That's tough, Ive already been fortunate enough to collab with some of my favorites like some of my best buddys Niko Burke, Craola, That Kid Peep, Diekuts, Sergio Hernandez, and a ton already in the bag. I'd like to go back in time and do a collab with Walton Ford, or Basil Wolverton. Looking forward to the Collab with Graham from Us Vs Them for the art show.
What is the craziest thing you have ever done?
I did crossfit for an hour. That shit was ridiculous, but the next week of walking like a 98 year old was the craziest.


What is the best video game of all time?
I don't really fuck with them, but I will play some Tetris on my phone when I'm waitin at the DMV or some shit.
What is the best cartoon of all time?
Ren and Stimpy hands down


Sandwich or Burrito?
Both, but we can say Torta, thats what happens when a burrito bones a sammich
click Bebop for more of Honkey Kong's work
Interview by Adam