Your art always seems fresh; where do you find inspiration?
I actually don't find inspiration …it finds me…bites me and proceeds to push me to create, express and all that yummy good stuff.
When I look for it (or PUSH it) …it's too hard/evasive and I find my work suffers. When I am tooooo desperate to create something cool and sweet and edgy … what comes out is TOTALLY CONTRIVED….YEECH! Oh so ART SCHOOL 101. SOoooooo rendered and overworked that it is basically NOT ART… It used to be embarrassing…Like how can I rock SO HARD on this weirdo cool drawing I just did WITHOUT THINKING on a cocktail napkin at 1 am in a club?? BUT on a huge big deadline I am blocking and putting out such overworked stressed out junk??(don't worry the big wigs never see the BAD STUFF) BUT just being inept enough to draw that BAD used to FREAK ME OUT. You are either ON or not…and no one is always ON. So where do I get inspiration.. I DUNNNOOOOO!!! NOWHERE and EVERYWHERE. But I do know it won't come knocking if I'm thinking about it or engaging my grey matter. Lobotomies are quite useful. What I try to do is rock the "no mind" Zen master stuff and let the Universe sorta flow into me and I usually have NO IDEA what is going to flow outta my hands…CRAZY(GOOD CRAZY) and just how I likes it! Oh yeah this took about 20 years to master and I still have trouble…heehheheeee C'est La Vie No?
Do you feel more East Coast or West Coast?
Oh no you didn't!!!
I feel torn between both, but I do rock the East Coast 'tude being born on Strong Island and going into town(NYC) as a youngster art… nay NERD kid. I like the chilled out West coast vibe but I thrive on the East Coast pressure and PIZZA!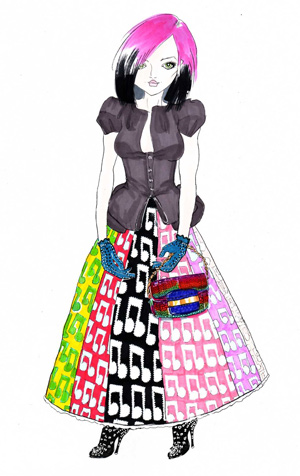 How did you get in to film?
The year was 1987 …I was at a party in Pawtucket, Rhode Island (and a freshman at RISD…and I was quite DeathRok) and I saw this really hot guy in a puke green moth eaten sweater and messed up shall we say punk rock albiet it was infact a much more scum rock hairdo. I stared at him decided he was the prize. WHO knew the dude made films?? As an EX stage kid (remember Long Island ?) Well… I come from ShowBiz folks..My Dad was Jazz great, trumpeter MEL DAVIS. They wanted me to act fo ever. I was all that is "SO CHEESY I cannot believe it…I AM AN ARTEEST!!" I was all of 10 years old…so 7 years later when I met and fell hard
for Mr. JON MORITSUGU(the orange haired scuzzy yummy boy from la party) and he queried if I would in fact be in his latest MAGNUM OPUS I agreed…cuz I LOOoOoOoved him! So at the ripe old age of 19, I read for MY DEGENERATION and he cast me as JUSTINE B the fun lovin' hard parting drummer in the all girl" ROCK FOR THE BEEF INDUSTRY" band FETISH…Can you say SEMIOTICS!?? I fully went for it cuz(as you know) I LoOoOoOoOoOoved him and still thought filmmaking was nerdy(RE: DRAMA CLUB??)…BUT he was in a cool band SOoOOoo it evened out. I rocked the VERITE and the flick got into SUNDANCE and some HBO dude was all into my perf BUT I held fast and preached I AM AN ARTEEST I shan't go to LA LA LAND and act…Can you say…STUBBORN and Full o' it? Sooooo… I guess that blew up in my face cuz I did go WEST to FRISKY FRISCO and at 24 years old made MOD FUCK EXPLOSION(I played a teenaged virgin obsessing on all things cool… LEATHER JACKET anyone?) Then TERMINAL USA funded by PBS..(!)And produced by FOCUS FEATURES Head honcho JAMES SCHAMUS…Think BROKEBACK MOUNTAIN…this is the mainstream. Next up was FAME WHORE(I was a yuppie stoner from HELL) Lastly SCUMROCK…with TVOTR's Kyp Malone!!! He's an old pal from Frisco…And he MADE IT. I get all goose bumply thinking about it!!! SO that's a mouthful! TO SUMMARIZE:
I got into flicks cuz I had a crush on the director…BUT I then MARRIED him and VIOLA NEPOTISM ROCKS! Oh yeah I will never act in anyone's films BUT Jon's. Plus he let me co write and shoot SCUMROCK so he likes me too…heehhe.

What is you favorite breakfast food?
OOOH LA LA! Black coffee and dinner fare…I KNOW I don't eat anything breakfasty in the MORN… So perhaps coffee and a buffalo burger? or pizza? YUMMERS!!! OH yeah and roasted beetz…I gotsa have MY BEETS! I have a weird make up.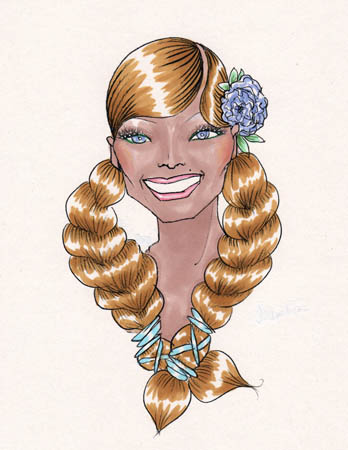 Do you ever miss NYC?
OH MY GAWD YEAH!!! I miss it but in that old '80s way…St.Marks…the Village…Bleecker Bobs…CBGBS(where I had a fake wedding whilst HELLEVATOR played) I MISS NYC!!!! You got me…I do get off on the REAL HOUSE WIVES of NY and NJ cuz i GREW UP with peeps like that…crazy and very OBNOXIOUS but never booooring.
Who would you most like to colab with and on what?
OH MAN! I wanna collab with YSL and do like the MURAKAMI dealio…OR NIKE and do bugged out AMY DAVIS tooned out NIKES…AND I dig KID
ROBOT and uh….SO MANY!!!! I'd love to do ad's for big fashion houses ala CHANEL and freaky stylee ones ala BECKERMANS…I wanna be like Pharrel (did i spell
right?) of N.E.R.D. with his line Billionaire boys club….Have my own LINE!!!! I'm all about big mainstream infection…I wanna infect the world with my art…TRITE but TRUE. With fat cat investors!!!!
Your color pallet is so vivid is that a reflection of you?
My palette got way more vivid post shock treatment ala Rothko…NO NO I jest!!! The colors may in fact be a reflection of me..I never thought of it
that way…Very interesting(Freud accent) I hate bland …a reaction to all the badly lit films of the 1980s/badly done art(PHOTOREALISM??)…the badly decorated homes and people of my youth made me jump on the tweeked out color train a ch ch chuggin down the pysch out tracks…AND like I said…I dunno how I pick the colors…THEY pick me…see question 1.
What project are you most proud of?
OH MAN! THAT A HARD ONE!!!! I have to say artistically my drawing BLESS, musically (I ROCK!!!) my song I DUNNO from my band LOW ON HIGH
(9 minutes of pure rock genius…yeah I'm humble) Film wise…my acting in MOD FUCK EXPLOSION cuz people REALLY THINK that's ME!!! BUT all pale to our ROCK CAMP we started when we lived in the Pacific Northwest…Jon and I taught these AMAZING youngin'z how to jam, record and a wee bit of marketing(heheh true!) So paying it forward with the kids warmed this chick's cockles…what is a cockle?
Who are you listening to right now?
My friend's band ST.J…he does a mean cover of OLD MAN RIVER and PUFF the MAGIC DRAGON! Also some COACHWHIPS and KILLDOZER (Last Night Jon picked but they didn't totally suck) LOTSA WEEN…my fave band AND I will now NAME DROP.. ..sorta..I wrote them a fanny letter AND MICKEY WROTE ME
BAAACK!! or maybe it was an intern.. plus I loves the hardcore Gabber,NWA,all the Li'ls Jon+Wayne ect THIS MORTAIL COIL…the Kanye and the classical..MOZART! Can I get a witness?
Sandwich or burrito?
BURRITTOOOOOOO! I am in Nouveaux Mexique…slather some x mas stylee sauce on the baby…half red chile half green and stuff it full o' calabacitas( mix of squashes and onions and roasted swwweeeet corn…OH MAN!)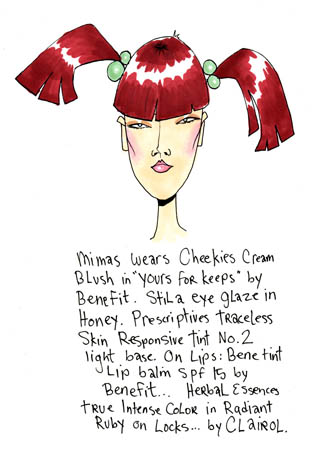 Click on the Gal Above to See More of Amy's Brilliance