Describe yourself in three words.
Art-Food-Music
Describe your process in creating a piece. You mentioned you don't sketch, how does that work?
It's a bit like making a collage. I piece together images I find and draw stuff with it. Then I scan everything and in the fine-tuning in photoshop is where it really takes shape. Before I had a computer I used to do this with a photocopier. So when I make a drawing it looks pretty crappy, but then I start moving things make stuff smaller or bigger, try different colors and background and finally I have what I want. Then I make the line drawing and start painting it. It works for me. I don't know how it happened that I make detours like that, probably because my drawing skills aren't good enough.
Do you have a favorite piece?
It's always the latest one I made. Only in retrospect I can see which ones are really good and which are just good.
Where did the inspiration come from for your specific style of art?
Most of my inspiration comes from old time tattoo designs. It's what really started me painting, but over the years I found a lot more things to inspire me. Photography, fashion, illustration, most of it early last century.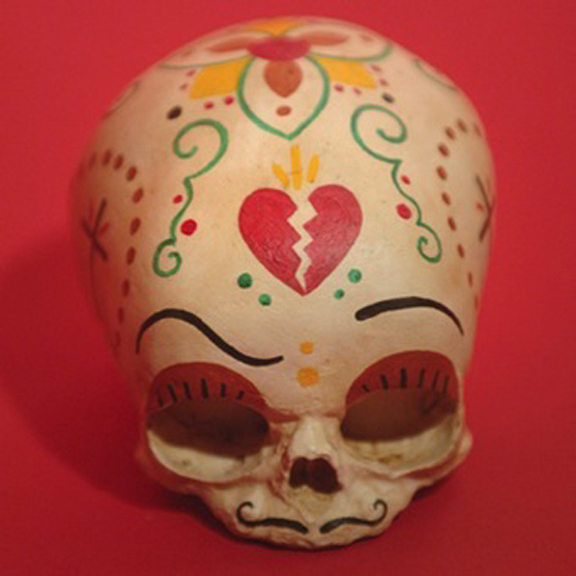 Where is your favorite travel destination and why?
Right now, it's Melbourne Australia. I have been there a few times in the last couple of years, cause my main gallery is there. It's one of the best cities I've ever been, great people, good food, the best bars and lots of music and culture. But there are still so many places I would like to travel, like the English and German country-side, Buenos Aires, to name a few.
If you had to choose another career, what would it be and why?
Ha ha I come across professions every week that I wouldn't mind doing. When I'm at the dentist, I always think I would be great at it, cause I like doing precise small stuff and the other week I thought it would be cool to work in an auction house, cause you get to see so much antiques and beautiful art.
What's one thing we don't know, but should know about Amsterdam?
To not walk on the bicycle lanes, very dangerous, foreign people do it all the time. And that most of us don't smoke pot. When I'm in an other country and say I'm from Amsterdam, the first word from peoples lips is pot. Most of us really don't care about it.
How long does it typically take you to create a piece?
Could be from four days to two weeks, depending on how well the drawing process goes and the size of the piece.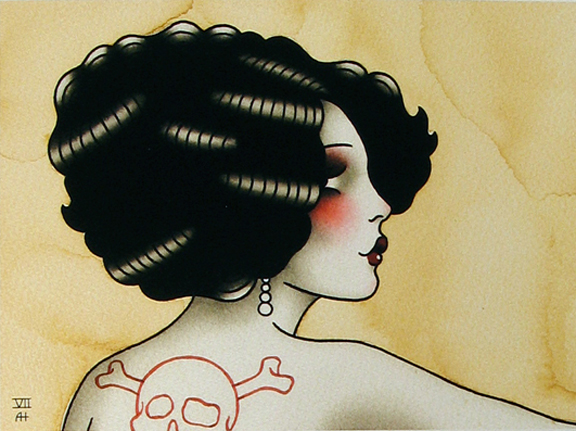 What mediums do you prefer, apart from actually tattooing?
Watercolours for sure. I just have a thing for it, it comes natural to me. I do plan to spend more time on oil painting; right now it takes me too long to finish something
Do you have any upcoming events or products you want to tell us about?
I have an exhibition in London at Nelly Duff on March 4th. In April I'll have some pieces in an Australian artfair with Outré gallery and I'll be submitting a painting for a groupshow at Roq la Rue in Seattle in May. I'm talking to surfbrand Billabong at the moment to do a possible collaboration. I want to make some more T-shirt designs this year and hopefully a little flash-book. That'll fill up my year.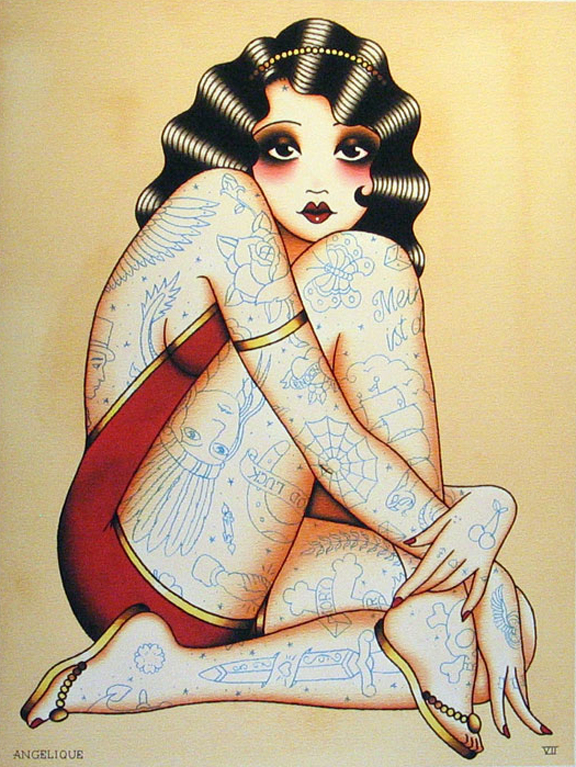 Who are you listening to now?
Dirty Sweet from San Diego, my favorite band from the last couple of years; can't wait to see them again in April.
Sandwich or Burrito?
SANDWICH!!!
Click the Bride to See More
Interview by Meghan