Do you miss Tokyo?

Yes especially in Cherry blossoms season and summer festival season!
What similarities does NYC have with Tokyo?
It's quite different how the city built and the culture. But I guess it's similar in the way that you can find art or something that inspire you in every street corner.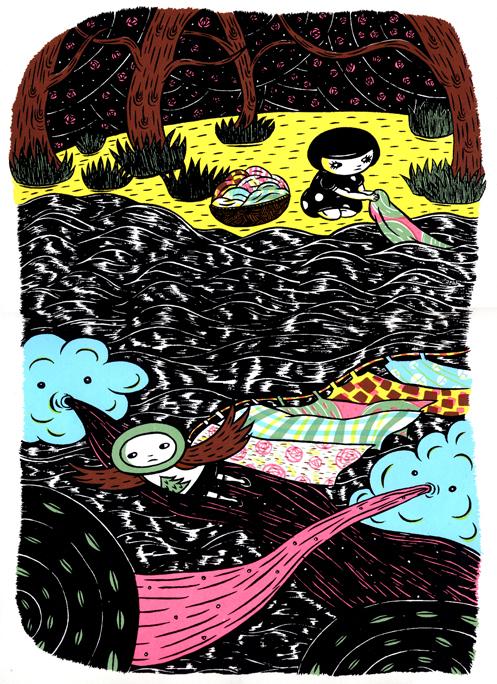 How does your work reflect you?
All my work are me telling a story about the imaginary world inside of me, about the daily life of the creatures which lives in my head.  So I would say it always reflects inner me + my imaginary friends… hnn I sound a bit crazy…
What medium are you most comfortable with?
drawing, silk-screening, embroidery and acrylics
What medium makes you cringe?
Oil paint!!!!
If you hired a sky writer what would you have the message be?

Ice Cream
What inspires you most?
Everyday life + talking to my creative friends.
Who are you listening to?

Right this moment, Jesca Hoop.
Where is the best place to be on a Friday night?
Where ever with my friends!
Do you like to travel?
Yes yes yes!!!  My dream as a kid was to become an explorer!
What do you feel is your biggest achievement to date?

Designing toys for Kidrobot.
Burrito or Sandwich?
My stomach has its own mind and now it's not talking to me so I don't know…
Click the Mickey Virus to See More