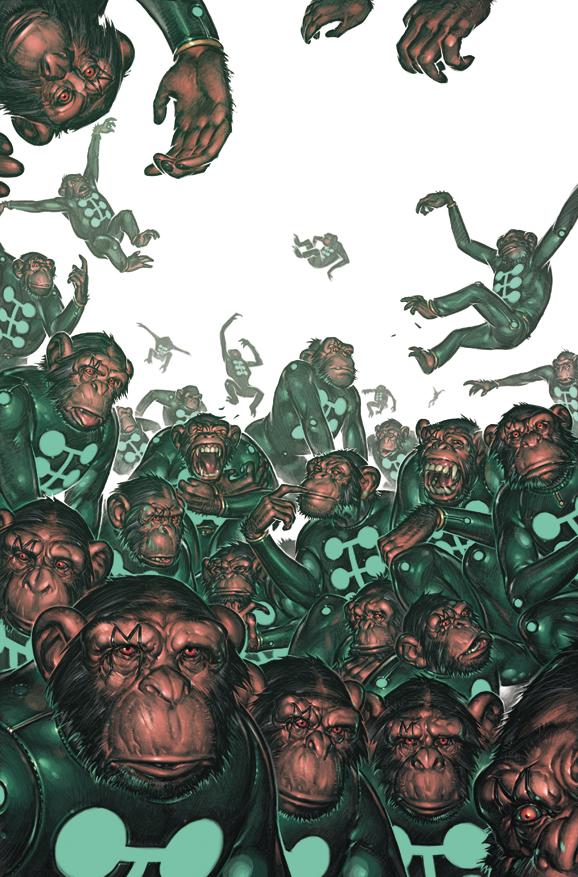 First off you work in comics; how awesome is that?

bearing in mind that my 3 jobs prior to this were: a cleaner, working in Costco, and spray painting arseholes onto ceramic beagles in an ornament factory – pretty damn awesome!! what's not to like? i get to perpetuate my childhood of lounging around the house drawing space shit all day….'nuff said!
What is your favorite medium to work in?
tricky one to answer that – i like to try and experiment to some degree with each new job i do, in order to keep things fresh. sometimes it'll be straight up traditional penciling and inking, sometimes i'll scan in my pencils and digitally ink them, other times i'll scan the pencils then paint over them in photoshop, but given that a pencil is usually involved at some point in everything i do, i guess the pencil is my fave.
Who are you listening to right now?
a daft punk remix of franz ferdinand's 'take me out'. don't let that fool you though – my favourite bands are generally killing joke, scott walker, tomohawk, and pere ubu to name the tip of a very eclectic iceberg…
What is your favorite comic moment?
the voyage of 'the new seed' in issue 7 of kirby's 2001 tales. closely followed by doc manhattan on mars, most of the invisibles, and judge dredd turning round the apocalypse war
Who inspires you?
jack kirby for starters – although not in a massively stylistic way; more as a kind of life coach. artwise i've been mostly influenced by jose ladronn, moebius, frank quietly, and the classic artists of 2000ad such as brendan mc.carthy, brian bolland, henry flint, and mike mcmahon to name but a few who have been swirling round my brain since childhood. as far as editors go, i'd say that recently the writer of elephantmen, richard starkings has been a great influence on the way i work – a great inspirational 'art coach'.
Where is the best place to spend a summer night?
the lars homestead on tatooine – or more correctly, hotel sidi driss in matmata, tunisia, where i recently proposed to my favourite human, gemma. it's nice!
What would your dream project be?
i'm kinda working on a couple right now to be honest – rich starkings asked what i'd really like to work on, so i said 'fight club in space': the episode of elephantmen that he's written for me is exactly that, and it's damn good fun to work on… elephantmen #21 – 'kill!kill!kill!' in stores around September….i've also been a fan of the brit comic 2000ad since i was a nipper, so drawing judge Anderson is working out to be quite a dream project. beyond that, i'd love to work on something with the intellectual clout of watchmen or the Invisibles, so a gig with Moore or Morrison would seriously make my career. aside from that, having a creator owned project hit the big time is something I'd love to achieve.
Any funny fan stories?
while i was sketching at a con, someone in a princess leia slave costume came over and lap-danced me. actually, that didn't happen…i tend not to have 'fans'.
What does an average day in the life of Boo look like?
a kind of  vibrating orange polyp hovering over the head of a buddha-like alien. also, i get up, swim a kay, eat some coffee, hit the drawing board around 10am….start work about 4 hours later…work til my fingers bleed…watch a bit of battlestar or the wire with my fiancee and cats…start the night shift around 10pm, read some kirby at 1am and hit the hay. add occaisional drumming, writing, drinking wine etc, and a modicum of halo 3…..
Burrito or Sandwich?
being a fella from blighty, i'm not a hundred percent sure what a burrito entails, so it would have to be sandwich. my current luchtime sandwich of choice is rye and hempseed bread with humous, sweetcorn,alfalfa sprouts and 6 fat red chillies…..how about you? can you send me a burrito?
Click the Above Link and See What Boo's Up To