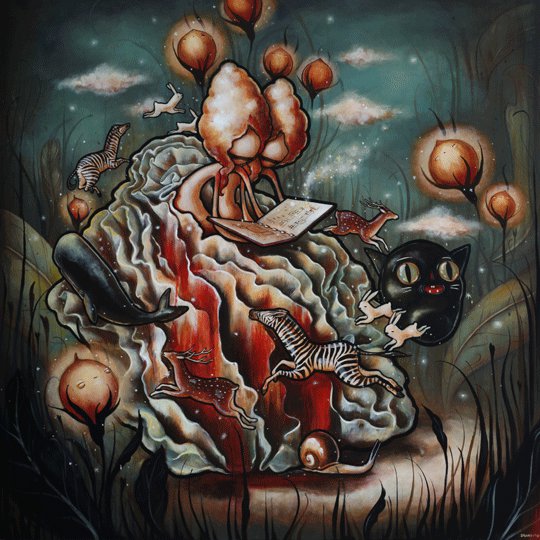 Is there anyone that you would be interested in collaborating with, if so who?
I'm very cautious about collaborating~ it's almost like if I were to collaborate with another artist, our worlds would have to collide ~ the work and our personalities would need to be very well interwoven.  Right now, the only person I'd be interested in working with would be Lola.
Where do you find your inspiration?
Everywhere.  Music, magazines, books, conversations, plants, trees, clothing, jewelry…everywhere!!
I notice you have animals in a lot of your paintings; do you have any pets?
No pets…I wish I had a lazy pink gazelle to read books with me on my couch…but I don't.
What does a typical day in the life of Brandi look like?
My day is structured as if I had a 9-5 job, except I work at home.  I get up early and try not to procrastinate (lately I'm addicted to Solitaire, like a lonely fool!), put on my music and get to work for hours till I go insane and need to run away!!  I run away for a bit, but it inevitably calls me back for a few more hours after dinner…There's so little time to play, but I truly love what I do.
What is your favorite place to eat in the city?
There's a little Mexican food place right near me where I could probably eat every day.  Something about chips and salsa non-stop with guacamole~~~~mmmmmm…
Tell us a little about your book, So Good For Little Bunnies, what inspired it? was it fun to write and illustrate, etc.?
It was inspired by my personal life, as my work is mostly a personal narrative.  It's about leaving home and journeying into the life you set out to make for yourself.  I had gotten married and was working hard to build my career at the time I wrote it.  I enjoyed the work ~ it took a LONG time to write and illustrate (about a year) and I found it difficult at times to stick to one solid project for that long.  But I'm so happy with the outcome, I need to make the time to do more!!
What super secret projects are you doing, that you can't tell us about?
I've been working on a few projects that I need to keep under wraps, BUT, I can mention that I will be releasing a vinyl art figure at Comic Con this year with 3D Retro ~ it's my very first figure, very limited edition and I'm so excited!!
Who are you listening to these days?
I'm not much on contemporary music; I love the old stuff, classic rock (Pink Floyd, Led Zeppelin, Elton John).  The older I get, the less I'm impressed with what's going on now…
Favorite Saturday morning cartoons?
I'm asleep Saturday mornings~ but I LOVE Adventure Time and The Misadventures of Flapjack!!!
Where is the happiest place on earth?
Wherever I am with my family…except if we're at Home Depot or Turners…
What do you like best about living in California, and is there anywhere else you would like to live?
Uh, I really don't feel like I'm California's biggest fan, though I've lived here all my life…I DO love that the beach is only 10 minutes away, LA is only 1 hour, the mountains are 2 hours, and Vegas is only 4.  If there were ever a place I've been that I KNOW I could live and be happy, it would be Bristol…
Sandwich or Burrito ?
French Fries and Salad…or chips and salsa with guacamole…
Click the above image for more art…..
Interview by Adam