How was it working with Vans, for the warped tour?

"Surreal" I guess is the best answer. I kinda went from doing posters for local shows in LA, to have my work being seen throughout the US and Canada in a couple of months – after they hired me. For the first three years they took me on the tour and had me do signings in each city. I got paid to sign posters, watch bands play and drink beer. The kind of stuff they didn't cover in art school. I'm fortunate that they hire me each year. This year I pulled double duty and designed the logo and collateral art for the tour as well as two posters for one of their sponsors – KIA.
How did you first get into art?

I grew up in the Mid West part of the United States. Attended a Catholic grade school and met one of my lifelong friends there who influenced me greatly in the types of music I listened to then and now. As a teenager I went to the only Arts high school in Milwaukee, WI. I studied Art there for 4 years. (Jeffrey Dahmer lived a few blocks away and ate two of my classmates. Useless trivia) Then I bounced around to a few art schools in Chicago and Milwaukee. The cost of art school was too much for me so I never finished. Instead I decided to take what I got from school and learn the rest on my own. Even if I had a regular job I made sure that it taught me about printing or design. Eventually I moved to Los Angeles and hated my day job so I started doing work for bands and venues. Once I felt that I could quit the day job I started doing artwork for bands full-time. It's been about 7 years now. I recently moved to Manhattan, and am doing more posters and a few other projects right now.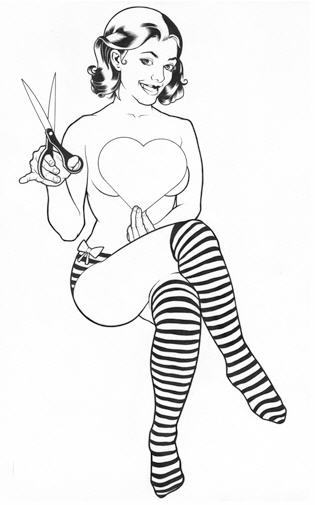 Have you considered drawing animal skulls, or are you strictly a human skull artist?
Ha! Yeah I guess I should try my hand at that. It's not very easy to find a real human skull. Animal skulls are much easier and less suspect.

What artist/s is played most on your mp3/CD player?

Uhhh…lately…Nachtmystium, Bouncing Souls, Elton John (goodbye yellowbrick road), The Accused, Screaming Lord Sutch, U.N.K.L.E., Gaslight Anthem, Coheed & Cambria, Iron Maiden, Dragonforce, Iced Earth, N*E*R*D*, Wire, The Misfits…I just play iTunes on random at this point. Not all my clients reflect my musical taste.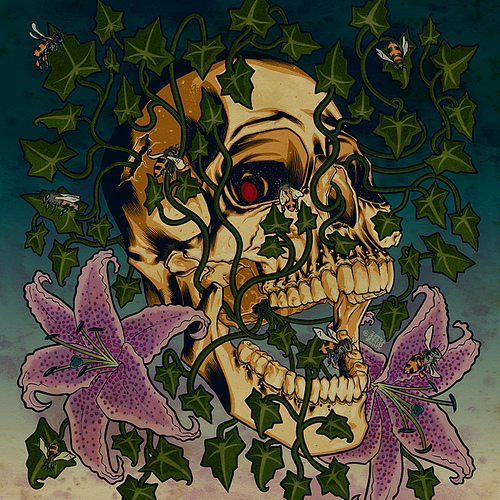 What has influenced your art the most?
Music. Skatebaording. Comic Books.
As a kid I loved reading comic books. That really affected me. While I was in high school I worked at a comic book store. So during the day I was studying fine art and at night I was behind the counter at the store. That was a really formative time for me. I was also influenced by everything that filled my life. Especially music. I wanted to do artwork for Iron Maiden and the Misfits. They were 2 of my favorite bands when I was afraid of girls and covered in pimples. Life was good and I had hair down to my ass.
I still have those influences but now I have had the chance to go to different places and meet new people. So my influences have grown. My friends influence me a lot. Some of them work in the comic book industry while others are clothing designers, animators and pin-up artists. Music is still there. I've got a scary record collection. The more work I do for bands the more music I am exposed to. My art book collection is even worse. If I ever had to move (again) I would only worry about my couch, my books and my music.
I like a lot of the Art Nouveau and Secession movement artists. As well as Manga and foreign Sci-Fi films.

If you had to eat one food for the rest of your life, what would it be?

A Burrito from Puerto Alegre
546 Valencia St
San Francisco, CA
Everytime I got to SF I gotta get my burrito on here.
There's a decent burrito place near my apartment in Manhattan, Benny's Burritos. East Coast Mexican food is very different than West Coast.
We know Color Ink Book, is your new favorite magazine. What was your old favorite magazine?

Hustler. Larry Flynt used to be my boss. Last real job I ever had was working on the Hustler, Big Brother, Barely Legal, Skin&Ink, Taboo and Beaver Hunt magazines.
What is your favorite video game of all time?

Metal Gear Solid, Resident Evil or Left 4 Dead. Any of those games rule!
You do a lot of poster art, how did you get started?

When I was a kid (living in Milwaukee) some friends of mine started a band and I wanted to do flyers for them. I couldn't afford to buy a guitar and really didn't want to put myself out there so drawing seemed like the next best thing. I wanted to be a part of something.
Also, Juxtapoz magazine had put out an "Art of Rock" issue so I picked it up and it changed my life. In there was an interview with Frank Kozik and he boiled down the business of doing posters for bands. It felt like he was personally telling me to go out and make posters. So that's what I wanted to do. Damn you Frank!
I moved to Minneapolis, MN and worked at a Kinko's where the local venue would come in to get flyers copied for their shows. One day I asked if I could do some for them. In exchange I got free tickets and booze.
Then I moved to Los Angeles, and did the same thing with the Troubadour, for a few years. I learned more about drawing, color theory and printing than I ever did in school. Each poster for them was a big-assed business card which led to more work.
After that I moved to New York, and am still doing posters for bands. But now have expanded on that. I still love the medium but I've also designed shoes, clothing and eyewear lately. I belong to an online community – gigposters.com. Check it out if you like posters or want to start doing them.
Do you have any upcoming events/top secret projects you would like your fans to know about?

Hmmm…my book "Don't Hold Your Breath" is finally coming out through Dark Horse in February 2010. It's a collection of the poster work I've done. The Foreword was written by the founder of the Warped Tour – Kevin Lyman. I also got several bands and artists to give me quotes for the book – Including X, The Bouncing Souls, Coheed & Cambria, Frank Kozik, Tara McPherson and a few others.
Before that I have a signature pair of "Ewing" sunglasses coming out through Anarchy Eyewear. Also doing some posters for the Bouncing Souls, Tiger Army and Green Day,
Right now I'm just prepping for this year's Comic Con. I'll have some new shirts and art prints at my booth (#433 – nudgenudge winkwink). Losing my mind.
Sandwich or Burrito?
Refer to the "One food" question
Click the Above Image to See More of Ewing
Interview by Adam