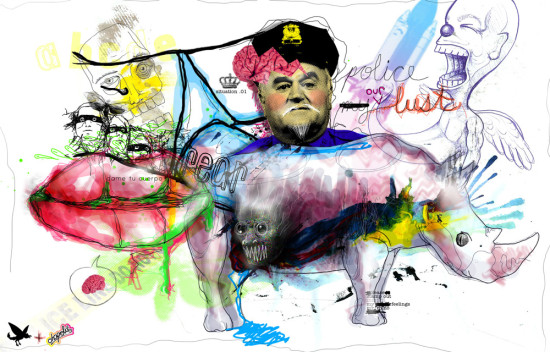 Tell us a little bit about yourself.  Where you're from and how you got into the creating game?
I'm from San Diego and my interest in creating started in junior high when some other kid taught me how to write html, I was instantly hooked and began designing websites. From there I played with heaps of different creative forms, eventually illustration and Web Design really stuck. I'm a full time freelance web designer http://chapolito.com and illustrate in my free time.
I love your use of white.  In a world of bold color, what inspired you to take this path?
Not completely sure. I just started it when I first tried wood as a surface, I needed something that I could put color pens on top of and would allow the color to show up vibrantly. It also gives a great contrast against the wood grain. Ended up looking good, but I think I am moving away from it and focusing more on paper illustrations.
What went down in the last nightmare or dream that you remember?
I live at the base of mount soledad (which is only about 800ft tall) and last week I dreamed that it erupted. Buildings were toppling and everyone was freaking out. The streets were cracking to reveal lava so we couldn't drive to safety. In the end we took longboards down to the beach and paddled away.
Where do find inspiration for new pieces?
it can come from anywhere – literature, experiences, doodling, etc.
It seems like much of your work has deeper themes hidden within.  Does religion or philosophy play a role in your creative process?
yes, in some pieces I play with religion. overall I find religion to be a pretty silly idea, and at times that will show up. a lot of times it really isn't a deep meaning, but there are narratives and ideas to most of my work. for example, a piece titled "the passengers" is really an exploration into the awkwardness of being a passenger on any sort of transport. sitting next to a stranger and the whole social dynamic of the experience I find really fascinating.
Where is your favorite place to feed your face?
Rimels in La Jolla has a mean burrito that is absolutely unique and delicious.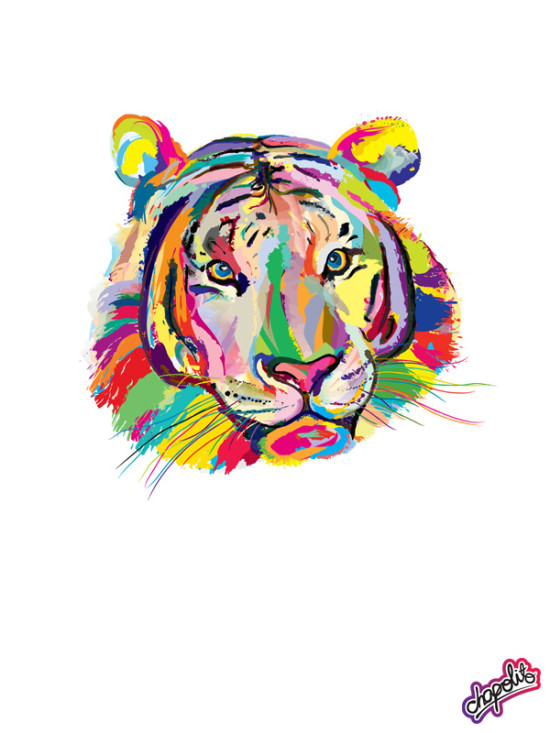 What artists are inspiring you right now?
the last show I saw that blew me away was Jeremy Fish at the Laguna Art Museum late last year. I've been a fan for a long time and was very excited to see it up close, he is a master.
Do you have any upcoming shows or projects you'd like to tell us about?
No upcoming shows, I'm trying to move away from them – they make me feel I have to sell my art and stress me out. Its definitely my least favorite part of the whole art world. I'm really happy as a web designer and I don't have any intentions of turning art into a full time gig, takes the fun out of it. I try to post my new work to my website http://www.jessechapo.com
If you could be any cartoon character from the past, who would you be and why?
the pink panther, man has he got style.
What other interests do you have?
I love surfing, gardening and recently have gotten into restoring an old VW.
Sandwich or burrito?
I'm strictly on the burrito cleanse.
Click the image to see more
interview by Mario of Koerce Media