guy and an amazing artist who's skill set know no bounds, he has sculpted many of the toys I had and loved.  Here are some of his thoughts.
How did you get started as an artist?

It appears to be something I had a knack for even before I could talk. My dad, Sam, brought home tons of paper and my mom, Isabel, supplied the paints and pens.
Drawing was a way to play ,dream and create worlds that I could exist in.
In school I suppose it accerlerated.
There was always a guy that drew cars or something like that and then they would bring it to me to put a monster in it or make it gory.
Back then, the kids would really put the effort to think up some sick shit and dare me to draw it.
That and drawing twisted likenesses of the school staff or students doing something awful.
This was the days of the hot rod magazines, Rat Fink, and heavy monster culture.
What is you favorite medium to work in?
Now for drawing I really am in love with  black and white ink drawing. I have made a promise to myself to try to draw everyday. I keep these somewhat small, leather bound sketchbooks that are 5×8 or smaller. I love to use these Japanese cartredge brushpens I find at a Japanese mall in Torrance. They both travel really well, and in the places I draw, it is nuts to bring an ink bottle and an open brush. I will really use anything that seems best so there are some fine markers and pens… I just find that the brush is challenging and that is what I am trying to do. Challenge myself . The places I squeeze in drawing time are restaurants, coffeeshops, and in bed, really. Until recently, I  never used a formal drawing table. I am now because I am starting to really take time on some pieces and doing them on much larger paper. My work spaces at home are mostly for sculpting and thus they are full of wax dust and other shit. Wax and ink don't mix!
With painting, I like acrylics but have done oils over acrylic underpaintings. I also have been in love with Photoshop since it came out.
In sculpting I really mostly work in wax. It is the best thing for detail ,changeabilty and cleaness. I use a thermostated metal tipped heat tool. I have seen some woodburning tools that would suffice. I used to work alot in clay but..these days it seems all about speed. No reasonable deadlines.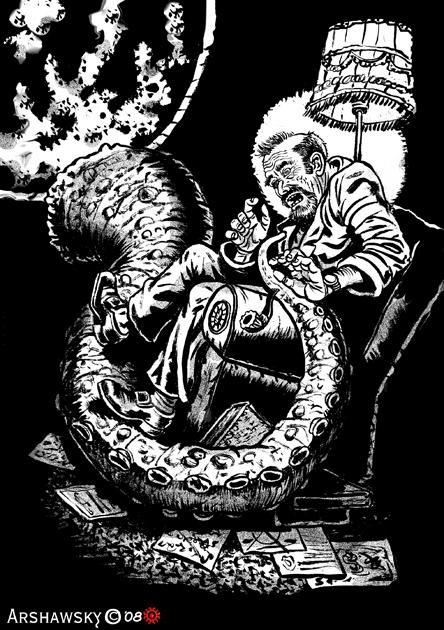 What gives you the biggest challenge?
I like to make stuff I have never done before. The whole process is keeping light reigns on what happens in the sketching. I use really light and wild pencils to catch something and then I leave it alone for awhile. I may pass it by many times before I get an angle on it, or perhaps see something other than I originally intended, I will almost always go for the second weirder thing. I like being surprised in the end. My sons ask me ,"What the hell does THAT mean?Why did you draw that?"and I just laugh and admit my own shock at what showed up.
Another big challenge is not spreading out on too many things. I am trying to focus now and find a way to channel all of this into a buisness.
Another thing that has snuck in is writing. I have been writing poetry for awhile, and that too, I try to do, as much as I can, when the muse is whispering in my head. There will be a book published, at the end of June, of my poems and artwork by Neopoiesis Press called "Amulet Cypher".
Someone was looking through my sketchbooks they said that they felt like there was a story in every picture.
I started to take notice and some of the pictures did fit together.
When I started to pay attention, I began to write the stories down.
Writing long form prose has definately been a challenge. I am really going to make them as graphic novels but I hate drawing the boring parts. I really want to stick to showing the best parts and writing much of it out. I guess they will be more like heavily illustrated novels with some sequencial stuff.
What single sculpt are you most proud of?
Hmm..well, I made some resin kits that were crazy detailed and wild. The Piecemeal and the Psychobunny kit. Many of my favorite sculpts, in toys, were never released. I did a nice Queen Slug-for-a-Butt from Earthworm Jim. I did some really nice stuff for Skeleton Warriors that were never made. The WildC.A.T.S were very very cool. I loved the TMNT Giant Killer Bee and the Giant Mosquito. I designed them and sculpted them from scratch. They did get made with awful retarded paints (As did alot of the toys) but I will repaint them someday!! I swear!
I also did alot of those little buddies and accessories. I can't say there is one above all others. I can't even remember them all. I did some of them with other excellent sculptors like Stephan Lynn, Martin Bottjer, Scott Hensey, Steve Berlinner and Denis Carratala.
What was the process start to finish?
Back in the ancient times we either got a design or we were asked to submit designs. Some of the toy ideas were mere insinuations. I was mostly trusted on the weirder ones to "Make it look cool". It seems that client don't know how to do that anymore. Most licensers are quite exacting and technical about what you do.
We would make the artculations and an armature. Then we started in clay…usually a Chevant clay. This clay had the advantage of being firm, but it was meltable and could be poured into a mold. We had some kind of a lightbox to warm the clay up .The clay, after it was approved, was molded in a cut silcone mold and then the wax was poured in. The wax version was carefully carved and polished up and then another mold on that to get the final resin "hard copies". One master for China, and others for paint and meetings etc.
We would paint them great and know they would massacre it in production due to costing out of the "paint operations".
Have you had any formal training? / If so what?
When I attended Otis Parsons Art Institute they had no real sculpture being taught. A big emphasis on abstract stuff. It was killing me. I met a guy named Brad Blakely in the back room of the ceramics building. He was working on this awesome crazy nude woman.sculpture. I said something like, "Hey, that is the best Goddamn thing I have seen anyone do here so far!"
He thought I was goofing on him since he was this complete outcast with his peers for doing representational art. They also hated him because at the school art sale he outsold them all. We became good friends and he was really the first person to show me molding and get me sculpting more. Alot of his work he cast in fully colored resin. He was quite a craftsman. As time passed I did different sculptures now and again, selling stuff at the Comic Cons. That is how I was noticed as a sculptor.
How in the world did you land the TMNT job? / How was that?
Scott Hensey saw me with a table of shrunken heads I had made at the San Diego Comic Con. He invited me to work on toys together. That was the first time I was introduced to working with wax. I think the first job was helping with a Happymeals Bambi and then the Ninja Turtles were just beginning. Scott Hensey had one studio, another was Steve Varner and his partner,Eddie, and Roger Boggs did a few figures. I came in around Bebop, right after Scott did the Footsoldier. I remember working in Scott's garage. The best thing about all the Playmates work was that they grew to trust our instincts and let us design and improve designs. There was a time, I remember, when there was some hubub about toys with weapons. That was the opening for making more little weird characters and wacky weapons. Screwloose, the little Kangaroo, Joe Eyeball, the stork as a hockey stick, the guitar that folded into a scooter, the yippie flower…on and on. I still have alot of the original sketches and designs..some of the original resins including censored versions. I wish I could work on a really fun figure line again.
I am pleased to see a celebrating of the original line of TMNT. I appreciate the opportunity to step out from being a ghost sculptor all these years. I am glad to mention the other sculptors that did so much good work. These days, on jobs, I am often very restrained to be exact to the prescribed design, which is understandable.
I wish a client would cut me loose more. I still love sculpting and try to put in as much dynamics and detail as I can.
I really love working on character design. I usually come up with a ton of widely different designs. Sculpting really helps you think three dimensionally. There is a certain life and vitality in handsculpted toys. I do alot of fixing up of digital sculpts. It still is a John Henry thing. What is faster ,what is better? Working straight in wax, I still am much faster than anything around.
I always try to make the toy I am working on some kid's most favorite toy ever! You want to make your toy open up a kid's imagination and be fun to play with and KEEP! I am happy to hear hear that even the happymeals I worked on are considered valued classics. The specific toys I made are often quoted as being beloved and inspiring things to many contemporary artists and sculptors.You have to really appreciate that! These days some of the toys and food promotional toys seem to be throwaway items that look pooped out. I can go to the toy section or fast food place and see the line up of toys and feel abivalent. That is really sad for me. Toys should be a MUST HAVE!
Your portfolio is vast; do you ever take a break? / If so what do you enjoy doing?
No. Nothing else really. Maybe play my ukelele. I don't want a break from it. I can't sit around without making stuff. Really dry jobs are breaks from the stuff I love, but …I  am always happy to work. I enjoy the discipline aspect of my work. I want to keep busy! Hire me!
My wife, Evelyn, and both my sons, Fernando Berger (Overkill Productions), and Sam are amazing artists …even my mother in law,Olga. My mom, Isabel Aarons, is a painter in Florida, so I am able to share this with my family. You will eventually be able to see everyones work on my site, turtlemilk.com.
Right now I am doing alot of designing and helping people put out custom vinyls. My latest is a 9″ gangster for the up and coming watch company, Timebandits. I also made the keychain/ penciltopper for the Color Ink Book SDCC exclusive, designed by the artist, J Fish.
What can you tell us about "Borracho"?
That is the first graphic novel I am doing. It is about a town drunk that everyone thinks is crazy, but you soon learn that he is the key to the town's very survival. It is a really cool story with many twists and turns. I am editing it down. That is so hard for me because in my head I know EVERYTHING about him and all the details about each character and the town. I just can't unload all of that on the reader. I have to back off and make the story move along and keep all my A.D.D. readers engrossed and along for the ride. It's really hard, but it is the most fun ever. My youngest son, Sam, is actually really helping me fine tune the story now. I have much of the art done, but may re-ink it larger. I ,myself, can't stand getting bored, so I have to make it really fun, easy and exciting to follow. I have the whole thing plotted out, so it isn't one of those meandering plotlines that has to figure out where it is going along the way. This is a tight plot that I hope will entertain and excite readers. I even have him sculpted as a small figure and I have a larger detailed bust. I have many of the characters of my other stories sculpted too.
Do you still do any cake design?
Sure…that is a whole other chapter. My first work was making cakes. Not regular cakes, but illustrating cakes using food coloring and sculpting with cake and other edibles. This is where I met my wife, Evelyn. She is a classically trained decorator and makes the most incredible elegant wedding cakes and she is great at sculpting cakes too. She makes handmade sugar flowers and knows everything about cakes. We met at Hansen Cakes In LA. They are reknowned for making all the celebrity cakes and big event spectacular showpiece cakes in LA and still thrive with Pat Hansen. Later she worked at other top bakeries. I worked with Elin Katz at the famous Beverly Hills, Rosebud Cakes, but soon left to make sculptures. She is still making amazing cutting edge fantastic cakes.
We found we missed it alot so, more and more, we will make cakes special for events and they are always the talk of the party or opening. We really go nuts. Right now Evelyn is making a 700 person wedding cake that is breathtaking! We also make simple birthday cakes and do the themes that the customer wants but we only ask to be free to do something incredible. To see someome eat your artwork is an experience! We also get to make more exotic cakes like with rum or tres leche or with incredible fillings. I use my sculpting background to make molds for fondant, chocolate, gumpaste or sugar.
Sandwich or Burrito?
Burrito definately. Flour tortilla.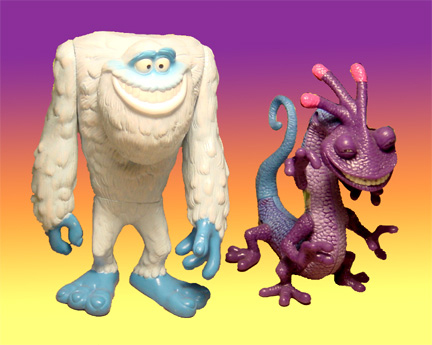 Click the Above Link to be Wowed by David's Art