Tell us a bit about yourself……
I am Elizabeth, Born and raise in Los Angeles. I am a surreal and abstract artist.
I don't have an art background. It all just began with doodleson lined paper, moved on to spray painting cartoons on cardboard. And then paint on canvas.
There is always a back story to my paintings. The work I create are recollections, stories spun form my imagination, references to music and dreams.. I find most of my inspiration in cartoons and horror movies.
What was your favorite toy growing up?
My favorite toy growing up was my game boy. I loved playing Mario land and Tetris. I still use it from time to time.
Any plans for the summer……?
I hope to be starting school this summer, for culinary arts.
How has LA influenced you as a person?
I have always lived in LA. I grew up in downtown..
So I was always surrounded by the buildings in downtown. I spent most of my summers exploring the Bonaventure hotel, the library and the YMCA..
How has LA influenced you as an artist?
Growing up in the city made me realize the ugly and beautiful sides of LA. It has influenced my art in many ways. The architectural designs, the different kinds of people, the different cultures and the crazy LA transit system. Inspiration is all over the city, whether it be from a depressing, rainy day in downtown or a brawl with a bum. LA has it all.
Where is the best place to eat in the city?
My all time favorite place to eat at is Clifton's cafeteria in Downtown. I have been eating there since I can remember. I love their mac n cheese and roast beef with mashed potatoes and gravy: sounds kind of boring but its all very comforting and reminiscent of my childhood.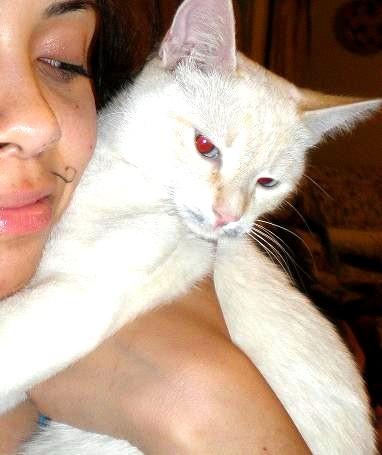 What is Chavela up to?
Chavela has not been up to much. She's getting older so she's doing allot more cat napping.
Any coming project you'd like to tell us about?
I'm working on creating more abstract paintings and working with new medias.
When you're not making art what are you doing?
I am usually watching movies, reading and listening to music.
Sandwich or burrito?
I don't know.. burritos are dangerous. Ill go with a good ol' fashioned sandwich!
AND CHIPS!
Click on the above image to find out more about the artist…..