What was been the greatest influence on you as an artist?
everything/everyone
Tell us three things we should know about you?
I would like to live in a tree / space station – I read ahead, now I can't stop thinking about it.
I like making pictures be it, digitally, painting, and drawing.
I really like learning stuff.
What would make the world a better place?
No egos?
Do you have a favorite website?
No particular favourite
If you could live on a space station, would you?
It would be like a dream. Can we wear lycra too on this station that you speak of?
What was the last movie you saw, that you just fell in love with?
Dancer in the Dark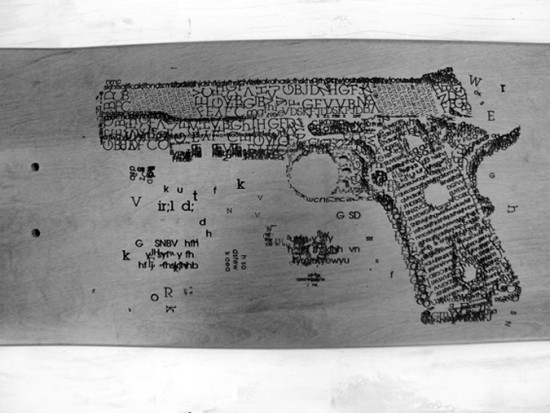 Are you a morning person?
Yep, I like to run, so the earlier the better,
Also when you are in the middle of a picture that you are really enjoying I can't wait to get back to it, its like waking up on your birthday.
Where is the best place to grab a bite to eat?
A place that sells falafel and baklava
What drives to you to do art?
The feelings you get when you're doing it. For me sometimes it's like a mini battle then you finish and you get to the top of the hill and the view is worth it.
Sandwich or burrito?
Sandwich, Tahini and jam on rye mmmm
Click on the Gun to See More