Do you prefer sequential art to single pieces?
Sequential… it's like a grocery store deal. "Six single images for the price of one!"
What color is the loudest?
Yellow, but only when she's drunk and horny.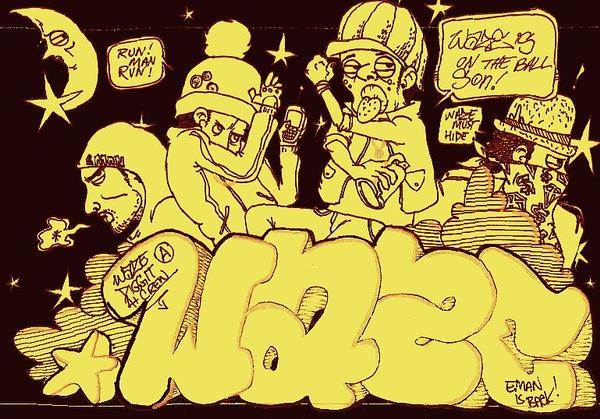 What do a persons shoes say about a person?
I like to say things about myself through my feet.
Best place to eat?
On the couch. Thai, Diner food or Tex-mexican tostado bowls all day please.
Do pictures speak louder than words?
Yes. If you can draw it well enough a picture can go a long long way. I love logos and road signs because they do precisely that.
Any new artists blowing your mind?
So far my buddy Ralph Niese (Bruno Orbit) is making me green as all get out.
What is the best comic adapted film?
Creepshow | Twilight zone
Crocodile Dundee or Crocodile Hunter?
You call that a question? THIS is a question! (well not really)
Tell us about Zat.
Well, [stares off into the distance] it's a lot of paranoid fueled journaling. I came up with the name when I was drawing
a naughty little booklet about zombie cats. When I wanted to shorten the title it ended up with ZAT and it stuck. I love
writing terrible grammar coming from terrible looking characters, its feels more real that way. Now days I'm working on
a host of projects and I'm excited for what I come out with this winter.
Sandwich or Burrito?
Well, since I'm at work I ought'a keep it traditional and grab myself a sausage-egg-and-cheese samich from the diner next door.
Click on the Rope Skip'n Dudes to See More