Describe the process of your work:
I start of with little, thumbnail sized sketches. I take them to Photoshop to enlarge to the right size and finally print it. Those fuzzy, lo-res lines are the base of my work. I use that print more as a guidance to know what comes where and what size than as an exact sketch. Then I start to construct the piece with thin layers of acrylic paint. My favorite medium is acrylic paint because of it's transparent behavior. I usually top the work off with colour pencil to give it a more grainy structure or extra touches of colour.
What's your favorite medium to work with?
Acrylic paint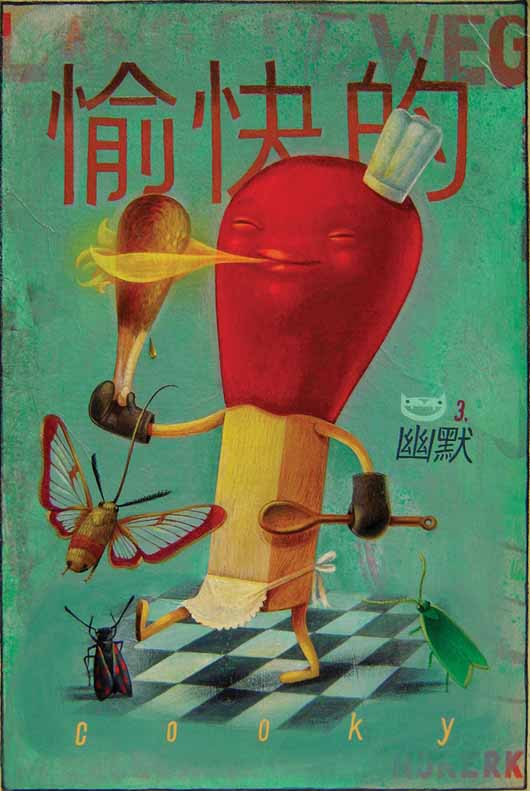 What is your favorite piece?
Cheery Cooky
Can you grace us with a picture of your "cutest cat on the block," or describe the adorable little thing. What's its name?
The name is Noodles, cat extraordinaire. A pain in the butt sometimes but also very cute and silly. She's focused on me which can be both flattering and annoying. She loves chasing games. One time when playing she was about to run right past me and at the last moment did not knew whether to pass left or right so she went straight ahead, jumped up a bit and landed, head first, against my knees.
What's your favorite song/artist?
I have many favorite artists so it's hard to choose. But the volume always goes way up when I hear The Who with 'Won't get fooled again' (the 8+ min. version).
Tell us about your book, Rock Candy. What can we expect under the cover?
Rock Candy is a picture book. It's a peek inside my world, work and what I consider inspirational. Little text but lot's of examples of inspiration, drawings, pages from my sketchbook and many (detailed) examples and of my painted work. I also added a booklist to it too, with my most favorite books.
What's a little known fact about Amsterdam that you want us to know?
There is a hatch in the ceiling of the Rijksmuseum, which can be seen if you stand underneath the entrance at the underpass at the Museum Square side. Supposedly this hatch can be used to bring Rembrandt's world famous 'The Night Watch' in safety in case of an emergency. I never found any actual evidence to back the story up but the hatch is there and the Night Watch is situated above it, so that must make it right, right?
Have you and Angelique worked together on anything?
We're friends. And I got a tattoo by her and she has original works by me.
If you could have another occupation, what would it be?
Singer/guitarist in a bad ass band. Or the drummer. Or just the guitarist.
Why the switch from illustrator to artists?
After a few opportunities to show personal work I decided to focus solely on painting. It felt better, more free. I wasn't fed up with illustration or anything. I found it hard to do both because I couldn't mix the short deadline style of illustration with the slower pace of making my personal pieces. I very much like where I am right now.

If you could collaborate with anyone, who would it be?
How long does it take you to go through the art process? Coming up with the piece and then actually producing it?
It depends on the canvas size and technique but mostly from a couple of days up to two weeks.
Sandwich or Burrito?
Burrito, baby!
Click on the Cat to See More
Interview by Meghan