What was the last "great" album you purchased?
wow… I haven't purchased an album that I think is great for years. I feel like an entire cohesive album that works as a whole is rare if not obsolete.
Are you currently reading any comic books? If so what?
I am currently rereading "Ronin" by Frank Miller.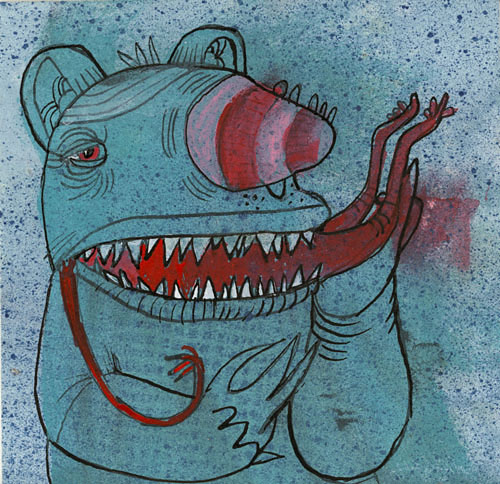 What is the best day of the week and why?
Fridays are awesome because the family unit gets to hang out together. We go to some of our favorite hangouts it the city without the weekend crowds.
Tell us a bit about Recology?
I am one of the artists in residence at a place called Recology Recycling and Disposal Facility (or the dump if you want to be a dick about it). It is a 4 month residency program where the artists involved build a body of work made from items found while digging around in Recology's recycling and disposal area. Basically, I take a beat up old shopping cart into a room where contractors and people emptying their garages go to get rid of their unwanted stuff, and I hunt around for supplies and materials. I have found awesome paints, a grip of free brushes and enough wood panels to keep me happily supplied for months. There is an exhibition of the work at the end of the residency in January 2011.
Who was the last person you called and why?
My good friend Juan is getting hitched to a real sweet lady next week and they have asked me to marry them. So he and I have been going over last minute details. They are retarded for each other and it will be a fun night.
When you are starting a new work, how do you go about choosing the medium to bring your vision to life?
Depends on what I'm feeling… I tend to go back and forth between adobe illustrator and painting. They both inform each other in regards to how I go about creating my work. I have learned how to be a better painter by applying things I have learned on my computer.
What is your favorite medium to work in?
acrylic, spray paint, and gold leaf.
Gremlins or Goonies?
Krull.
Where is the best place for breakfast in the city?
Any meal requires good company to make it an awesome spot. I love "All You Knead" on the upper Haight for their coffee and blueberry pancakes. I love "Kate's Kitchen" on the lower Haight for their coffee and French toast. There is a spot out on Sloat and the Great Highway that makes amazing potatoes… Its right across from the zoo and they have pictures John Wayne hung up inside. How about St. Francis Fountain and Candy in the Mission? Mama's on Washington Square in North Beach is nice too. Some of my favorite places to eat supper have amazing brunches on the weekend as well.
To date what do you feel your biggest accomplishment is?
Man… being a dad is pretty amazing.
What is the funniest thing Brixton has done?
His greatest achievement so far was waking me up the other day by blowing raspberries on my stomach. He dances to the Misfits which is pretty funny… until he learns the words… eep…
Who is the illest MC?
good lord… good question… I like a bunch… Del from the Hieros is a favorite. He used to suddenly appear at shows he wasn't on the bill for and he'd rap on stage in between acts. At hip hop shows, the club usually throws on some instrumental tracks and Del would use that to his advantage. No lights on the stage… just Del rapping… so funny and amazing… all love. I also love Tash from the Alkaholics because the dude is funny. Guru on Daily Operation, Company Flow, BDP's Blue Print, EPMD, Mystik Journeymen, Kool Keith, Insomniac,  Saafir on Box Car, ODB?!?!?, Tribe, Kane, Beatnuts, Beat Junkies, Grouch, Rhymesayers, MAC DRE!!!?!?! Such a hard question… One of my favorites has to be TOPR though… Such a funny dude and an epic battle rapper… one of the best freestylers of all time. I also think Aesop is pretty amazing…
Sandwich or Burrito?
Oh come on. I live in San Francisco… I am eating both of them as I type this… isn't that called a Chalupa or something?
Click the taco to see more