So how long have you been cartooning? And what started it all?
I've been cartooning all my life, like most cartoonists I know. We came into the world with a pencil in our hand. Watching TV, reading the Sunday funnies, MAD Magazine, and comic books is what started or helped me with my cartooning when I was a kid.
What are some of your personal favorite things to draw?
Dogs, monsters, robots, monkeys, pigs, dogs, big goofy guys and more dogs.
What projects are you working on now?
Not counting my full time job as a graphic artist for children's' clothes, gag cartoons for National Geographic Kids and Reader's Digest, a children's book idea, my own comics to keep ink on my hand, and my mini comic DOG COMIX.
All time favorite cartoons and comics from your childhood?
Hanna-Barbera, Terrytoons, and Total Television cartoons, MAD Magazine, Unk and them Varmints from CarToons Magazine, Rat Finks, Pogo, Boner's Ark, Tiger, Peanuts, Harvey and Marvel Comics, and that giant Wham-O comic book!
How do you spend your free time?
What's this thing you call free time?
Who and or what inspire you?
I try to get inspiration from every artist I see. Current artists that are very inspiring to me are Robert Crumb, Wally Wood, George Herriman, Bob Staake, David Sheldon, Elwood Smith, George Erling, Jaime Hernandez, and Denis Kitchen.
Do you own any children or pets?
My wife Cindy and I own three children, Aimee is in her second year at Fordham and loving it, Max is a senior in high school and will play lacrosse at Kean College next year and Julia is a seventh grader who wants to go to Yale and wants to be a writer/artist.
Have you seen any good movies lately?
I saw and enjoyed Captain America, True Grit, and X-Men: First Class.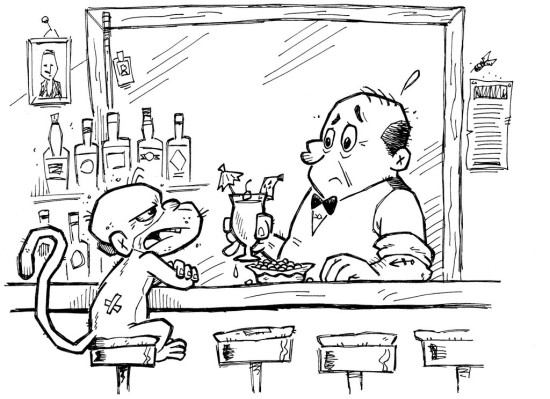 When we show up at your door at 6:00 Friday night what are we gonna do?
Have some pizza, pepsi or beer, I'll show you my studio and some art, and we can sit down and talk comics and art.
What do you like best about your city?
I like the familiarity of our town and that everything is pretty close.
If you could live anywhere in the world for a year where would it be?
A couple years back, we took a family vacation to Italy. The entire family went and we had a great time. We went to this town called Volterra and in my mind it was a classic Italian town.  I'd love to be able to live there with my family and truly enjoy that way of life for a year. I'd also like to draw some comics and try to get published in Italy.
Tell us an unusual fact about yourself.
Nothing too unusual that I can think of. I'm pretty much a regular guy with a wife and three kids who tries to make a living by drawing silly pictures.
Sandwich or Burrito?
I love me a good sandwich, but given the choice I'd have to go with the burrito!
click the pup to see more…
Interview by Adam.