Glenn's work pulls back the curtain and exposes a shadowy world rich with life and begging be explored with caution.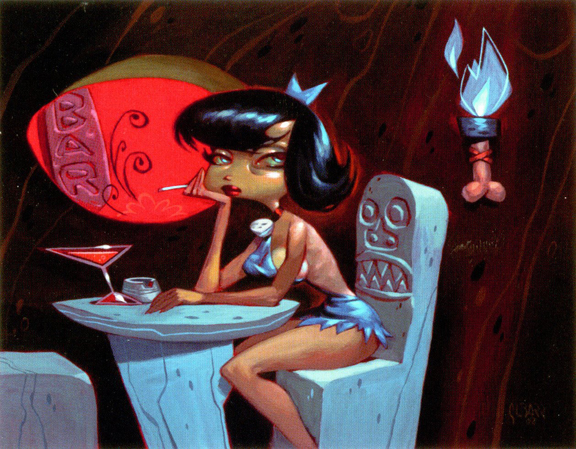 Where do you find inspiration for your art?
Ah yes, the most asked question to any artist.
There isn't any one thing that inspires me. A book, a phrase, a comment in passing conversation, lyrics in a song, a person walking by, a film, an advertisement, a photograph, a day dream . . . anything can spark an image that needs to be scribbled down from that fleeting moment before it's gone. That's why sketchbooks are so important to me or any artist.
If I can get it down on paper, that's half the battle. The idea or concept is the hardest part. Anybody can render, but do you have anything to say?
Who has been your biggest influence?
Well, their have been many who lead the way for my style of art.
I've always loved illustrators form the 60's and 70's.  You know, Comics, Mad Magazine, Editorial illustrators, Pulp Novels, etc. Of course the museum's dead masters of any era are a great source for "how to", but notably 19-century "contemporary" painters were also pretty great. I also loved the early Dutch and Flemish painters . . . they captured a very natural and beautiful aesthetic of light and shadow. They had a sensitive awareness of color with deep olives and gray and brown hues. I find color to a very important aspect in painting. Paying attention to color can convey so much in a painting. Also, an excellent mood facilitator is the careful awareness as to how you light the subject… I could go on but, yawn…
What is your most treasured possession?
My Library. It is something I'm both proud of and is something I use everyday.
What is your favorite board game?
Green Ghost.
If you were to die and come back as a person or a thing, what do you think it would be? And why?
don't know…. Maybe Godzilla.
What new and exciting projects are you working on?
I just had a bronze made from my painting "Happiness". It's really amazing. I've never seen anything quite like it. I think I will be releasing some more bronze figures in the near future. I'm also working on a book of selected drawings that will be published by Last Gasp. Other than that it's the usual preparations for gallery exhibitions.
What is your favorite form of recreation?
I love film, photography, wine and music. Live local music around Detroit is pretty great.
Where is the best place in Detroit for late night snacking?
God, there are so many, but it seems I always end up at Slow's Barbeque or Union Street.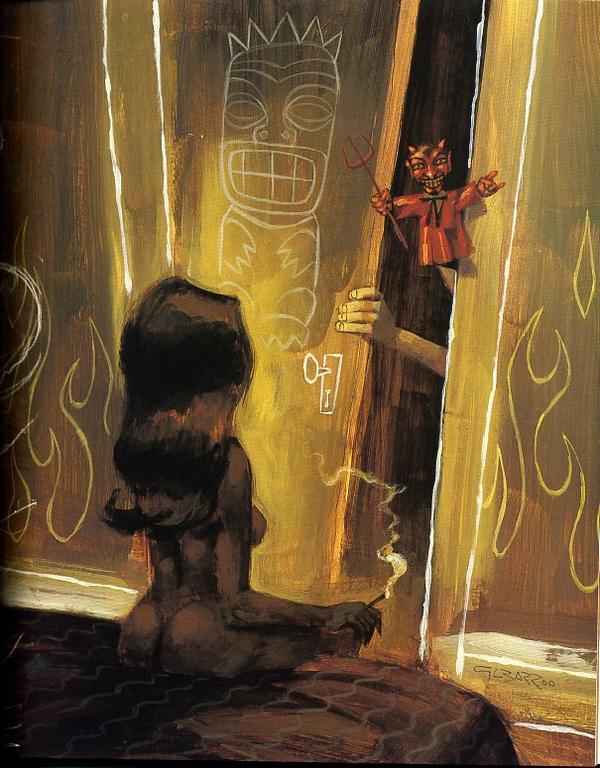 Who is your favorite hero of all time?
Klaus Kinski
Sandwich or burrito?
Burrito
Click on Hell's Proprietor to Slip Further Down the Rabbit Hole
Interview by Adam