Tell us a bit about IMSCARED……
Imscared started off as a website for me to showcase my artwork. That's all it was ever supposed to be. GregSimkins.com was taken so I felt it was appropriate to use "IMSCARED", it seemed kind of funny and fit with some of the darker themes of my work at the time. Since starting the site, it has become a great tool for me to share my work with the world, way more than I expected it to be. Recently my friends at "To Die For" and teamed up with us to put out an "IMSCARED" clothing/merch line and online store. Just felt it to be a natural progression. It is great to be working with them at this capacity.
What has been your greatest accomplishment thus far in life?
Starting a family. I am not saying this to get points with my wifey, but having a wife and son and being involved in there lives is my biggest accomplishment.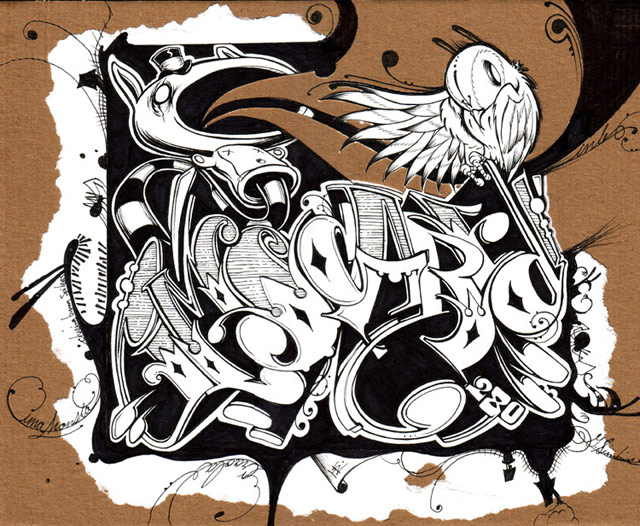 You have worked on some top video games, are you a gamer?
No sir. I got burnt out on playing games when I worked at Activision. I loved the work though, way different experience than playing the games. I purposely stay away from them now because I know there is a huge possibility of getting hooked again, especially with the Tony Hawk and Street Fighter titles.
Do you connect more with Hazel or Fiver?
Fiver, he sees crazy things.
With deadlines and such, do you ever have trouble balancing work, art and family?
Of course it gets tough and takes work. I try my best though to balance everything.
What does an average Monday morning hold for you?
I generally get up around 6:30 or 7am make some coffee, have breakfast with the fam, than go off to work at about 8 or 8:30. My studio is about 3 minutes drive away, so the commute doesn't suck. I'll answer emails on Mondays, but take my keyboard and mouse out of the studio the rest of the week so as not to get distracted with the time suck that is the internet. I generally have a large painting going and will paint from 10am- 6:30pm, starting earlier the rest of the week. I try to take a walk at noon to keep the blood flowing, but I generally and painting and listening to music, audiobooks, or the radio. After work, I go home, eat dinner, play with my kid, after he's in be, watch a little T.V. and draw. That's Monday…
Any big news for 2010?
I have my first big coming out through Presto Publishing this year which I am excited about. It will be entirely drawings and concept sketches and it is really shaping up nicely. We are very stoked to share it with everyone. I also have a solo exhibition in March in New York at the Joshua Liner Gallery. So definitely have my work cut out for me.
How did becoming a father affect you as an artist?
I haven't seen any drastic changes. I pay attention to all the things that excite him which reminds me of my own first discoveries as a kid, i.e. first time to notice various animals and plants. This stuff gets him stoked and reminds me of what it was like to be a kid again.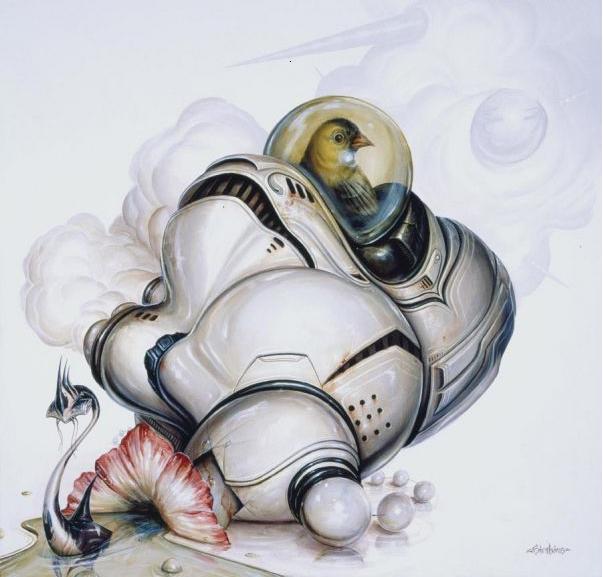 Did you have a favorite Saturday morning cartoon growing up?
Oh man, that always changed because there was so many.  Bugs bunny for sure, Danger Mouse, Super Friends, G.I. Joe, Shirt Tales, too many to remember.
Sandwich or Burrito?
100% Burrito
Click on the Duck to See More