Tell us a bit about yourself…..
I'm a professional tattoo artist since 1997 and professional father since 2000.  I'd say I am best known for drawing creepy and cute imagery.  But i like to diversify from time to time.
Are you still working on the Story to Tell project? If so what's the next place we can look for it?
Yes.  The S2T Project is an ongoing artistic collaborative effort.  I'm hoping to finish New Jersey and Orlando this fall…I really want to get Connecticut and Southern California in this year, but my plan is to attach them to tattoo conventions if I can, so that I can kill 2 birds with one stone.
What movies have you gone to this year ?
Its been a bit since I made it to any movies (hard to make time)… I took my kids to see the new Pirates movie. I'm a huge movie renter, I really enjoy sitting on my couch with a movie on and just drawing.
Any big plans before the years end?
Its been a busy year,  I am teaching a seminar on "story telling with imagery" and I just started blogging for tattooings best tattoo trade publication.  I am also hoping to release a sketchbook that I have been working on.  Its called "Drawn from Inspiration", essentially I had sketches sent to me from artists I am friends and/or admire and then redraw them in my own style.   I've also been slowly whittling away on a children's book called Lilith and Thatch. Which  a friend of mine and I have been along with a group of volunteers have been working to animate in a CGI short.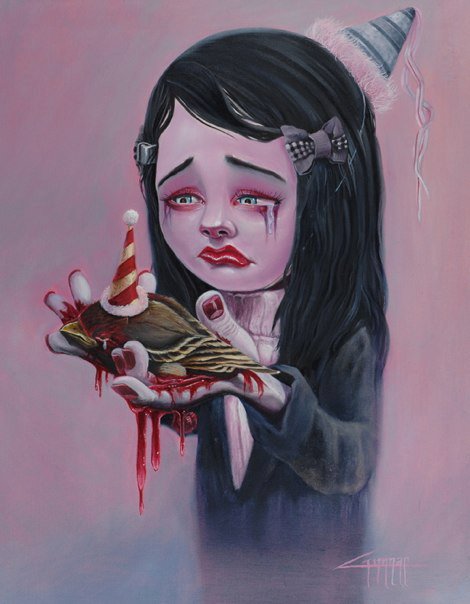 Best horror franchise?
Hands down…Tales from the Crypt. I love the shows, the movies and I'm a huge fan of the original comic series and pretty much anything Jack Davis drew.  I love horror, pretty much any style, except torture flicks.  I like Joe Dante films a lot, like the Burbs.  Amityville Horror (original) and The Shining (original) are my 2 favorite classics.  And most recent 2 favorites are Trick r Treat and Behind the Mask.
Do you feel tattooing differs from what maybe seen as more traditional art forms?
Huge difference.  Its a moving 3-dimensional canvas with feelings, emotions and a mouth. It is a completely different experience than painting on an inanimate object.  There are size limits, pain limits and a healing considerations.  I love it just as much as I love the other mediums I work in, but it is the most difficult of all the mediums I have learned.

What is your favorite medium to work in?
Oil
I saw you've done some art seminars. Do you feel comfortable instructing?
I really do.  I went to college originally to be a teacher but graduated with a BS in business communication. So i did a ton of public speaking.  I really enjoy teaching people, I often learn alot myself.  I try to make it fun and entertaining and not just try to spit a bunch of information that they will forget.  My seminars are kind of an experience.  I share life experiences, stories, humor.  I want people to have fun…when you enjoy what your doing, your bound to retain more information.

Can you shed some light on the status of the Lilith and Thatch project?
It got put on hold so that I could deal with some other art project and figure out how I wanted to go about illustrating the project.  I have the exact look I want now, so this is my 2012 project.  I don't plan on rushing, because this is my baby.  The feedback I have gotten in terms of the story have been amazing, so I  don't want to put images that take away from that.
TLC's Tattoo School your thoughts……
It was a dangerous premise.  I have been tattooing for 15 years and I still learn new things on a constant basis.  To think that a person could learn  such an vast amount of information in 2 weeks is appalling to say the least.  I cant even learn Photoshop in 2 weeks and a person's safety is not involved.

Best place for a bite to eat in your town?
I like City Barbeque or El Vaquero Mexican, but I live in the suburbs so I am surrounded by chains, I am sure there are better eateries I am not aware of.
I spent most of my high school days/night listening to and hardcore shows. So, best hardcore record? Best hardcore band? Best album cover?
Best hardcore band ever hands down, Judge.   Best art…Probably RKL (rich kids on LSD)

Sandwich or burrito?
CALIFORNIA BURRITO no contest.
Click Issac to see more…..