Where does the bear come from? Inspiration behind it?
I was sketching one day and I drew a bear with wings.  I liked the character a lot and wanted to do a whole collection of paintings based off it.
What do you prefer, the lens or the brush?
Definitely the brush but I enjoy going around taking photos of whatever tells me a story.
Best place to eat in Chicago?
My favorite local place is Small Bar; I can't get enough of their pulled pork nachos.
Favorite time of year?
Spring, it feels refreshing after a long cold Chicago winter.
Is there a name for your style of art? Describe it in one word.
Improvised.
If you could collaborate with anyone, who would it be?
Jeff Soto, I really admire his art.
Any upcoming projects you'd like to tell us about?
I've been having a lot of fun sculpting lately and would love to get into toy designing.  I just finished the prototype for my Jonny Hancock design inspired by my favorite building of the Chicago skyline.
What's your 2010 resolution? How's it going so far?
To get into shows and get more exposure:  pretty good, Facebook helps a lot.
Why 35mm?
Why35mm.blogspot.com is my photo journal of places I have been and everyday snaps.
Where/When can we expect to get a Jonny Hancock?
I just made the resin prototype and am testing out different colors and getting everything together.   I'm hoping to have more details soon!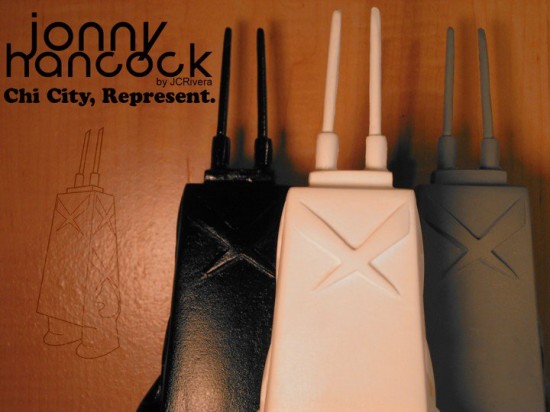 Does the bear have a name?
Each character from the BEARLee collection has a different theme.  Ex. BEARLee Cool, BEARLee Small, BEARLee Sexy, BEARLee The Champ, etc…
Sandwich or burrito?
Definitely Burrito.  You can stuff a lot more in a burrito.
Click the Bear to See More
interview by Meghan