Where is your favorite place to eat?
Sushi buffet! Now my little girl declared she's a vegetarian, so no more BBQ rib joints.
When did you fall in love with monsters?
As a child. One of the local TV channels played Speed Racer and Ultraman back to back, then Godzilla movies on weekends. I loved the wanton destruction and cheesy special effects. Later Cherry from Japanese the hardcore band Zou came to stay with us. He brought a Bandai Ultraman toy as a gift. That set me off on a mission collecting Kaiju toys.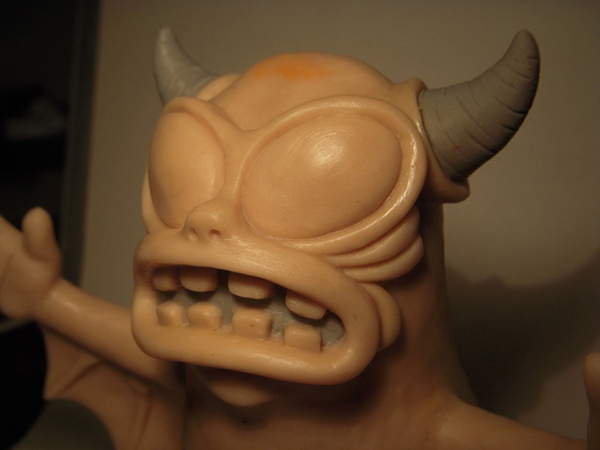 Any big plans for 2010?
Yeah it's gonna be cool. I have a Kaiju toy figure in the works. It's going to be Japanese vinyl, made in Japan by www.monsterworship.com . The guy sculpting the figure is awesome http://walterjacott.blogspot.com/ . This is something I've wanted to do for so long, I'm super stoked it's happening.
I also will be doing a figure for the Jamungo BUDs artist series 4, that's going to rule. Again, I'm super happy to be a part of that.
I also have another toy project, a rotocast vinyl figure that's in it's early stages. I'm excited to see some of my Kaiju drawings translated to 3D.
Other than that it'll be more gig posters, art prints, record covers and T-shirt designs.
What is the coolest thing you've ever gotten out of a cereal box?
Easy one, a QUISP unicycle!
How do you go about tackling a project, like say a concert poster?
For gig posters, I like for the artwork have some connection to the band, at least suggestively. If it's a band I'm unfamiliar with I try to spend some time learning their music and see if my style fits. Usually the stuff I do is cheaply printed for telephone poles so I have to use B&W art with lots of text, which is cool. I feel like a lot of punk based bands' sound fits with giant Kaiju destroying each other, so that helps. I've gotten a lot of positive feedback from the bands, and that makes me happy.
Tell us a bit about Half Life?
We were a hardcore punk band from Pittsburgh, PA. We had roughly three different line-ups, each with a musical style rooted in American Hardcore. We played all over the region and went on tour to California and back once. We strongly believed in playing all ages shows.  I'm still really proud to have been a part of the Pittsburgh punk scene; it was worth the weekly beatings from the general public.
What is your favorite monster movie?
I have to pick just one?  Godzilla vs Megalon. That's the one that got me hooked on this stuff.
Do you have a favorite book?
Busy Busy World by Richard Scarry or the Super 7 mook….. I pretty much read books about modern art and mid century design/architects. Cartoon Modern would be right up there too, maybe in the number one spot.
What does "family time" look like?
My wife, daughter and I like to travel and visit natural history museums in different cities. Art museums too, my wife's an Art History major. I really dig the modern stuff, especially the mid century artists. Otherwise we like to hang at the bookstore and drink coffee. My seven-year-old girl plays with all my expensive Kaiju toys; sometimes I help her with that. I have a lot of fun with her; she makes me dance with her to 80's new wave. It's worth suffering the indignity.
Sandwich or Burrito?
Burrito, based on ease of use.
Click on the Monster to See More