What has inspired you to do so much with robots?
Ever since I was a little kid, I was into robots. I guess growing up with Transformers, Voltron, GoBots, Tranzor Z and Robotech (just to name a few) does that to you! Of course there is my desire to rule the world with my ever-growing robot army…. so that might be it too…
I notice the number 3 in a lot of your works, what is the significance of that if any?
Well, the 3 started out as just being something I liked to paint. I like using text/numbers in my work a lot. Over time though the 3 started to represent something. It has come to represent my Wife, Daughter, and myself… my family. The other numbers all represent something as well, but we'll save that for another question.
You have plans for world domination with your robot army, can we be on your side and help you?
I dunno… what can you offer the army? Your application will be considered, however it weighs heavily against you that you are human. I'll put in a good word with the Robot Council though.
What were your favorite cartoons and comics growing up?
There were lots… I'll start with cartoons. Besides the ones I mentioned earlier, there was GI Joe, He-Man, Mask, Thundercats, Silverhawks, Wheeled Warriors, TMNT… just to name a few. As far as comics, I was a die-hard Spider-Man fan, but there was also the Hulk, and Punisher
What are your favorite tools of the trade?
There are my handy-dandy brushes… I go through a LOT of those. I mostly paint on masonite, and the occasional piece of wood too. For drawing, I am a big fan of the Micron pens… they are fantastic! Of course, I can't forget the captive robot I have in my basement… I captured him in the Amazon, and I force him to do a lot of my work!
Swimming through shark infested waters or being an Umpa-Lumpa?
Being an Umpa Lumpa would be fantastic…. just think of all the naughty little children I can punish!
If you could have any other career what would it be and why?
I'm not sure… maybe a professional hobo… complete with handkerchief on the end of a stick…. I think I could do children's parties with that too. Or maybe a king of something… that would be pretty cool too.
What do you do when you're not making AWESOME art?
Mostly just pondering…. oh yeah and plotting.
When we come to visit you in Milwaukee WI where will you take us for dinner?
Uh-oh, now you're talking food…. one of my favorite things! We might have to make it a marathon night starting with "Cafe Lulu's" for some awesome appetizers, and then to "Mama Mia's" for some amazing pizza and Italian food, then off to "Crocus" for some fantastic polish food, we would wrap things up over by
"At Random" for some drinks, and conversation with people who look like they belong to the mob and hang out with Frank Sinatra. The next morning we'll have to hit Trocadero, and have the best brunch you'll ever have. Honestly that just scratches the surface of the food here…. there are about as many restaurants as there are people, and SO MANY of them are good!
Any plans for this year that you want to tell us about?
Well, I have a solo show here in my home town (Milwaukee, WI) in July, and in November I am part of a 3 person show at OH NO! Doom Gallery in Chicago with SR and Parskid that will be pretty amazing too. All other events are strictly confidential and are deemed top secret by the Elder Robot Council.
Sandwich or Burrito?
Mmmm that's a hard one…. yes and yes! Actually, if I have to answer honestly, I would wrap ALL of my food in burrito shells…. including my sandwiches. Just don't tell sandwich I said that.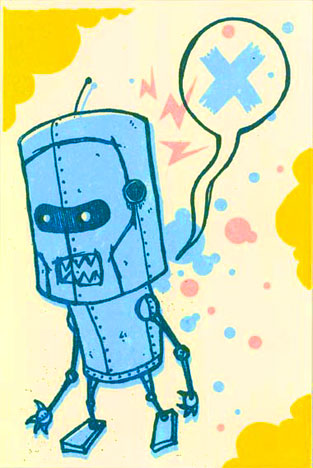 Click the Robot to See More
interview by Adam