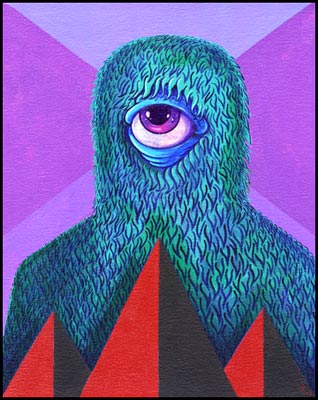 When did you realize that art was what you were born to do?
I think it's less of a realization as it a natural way of life, it just 'is'. Without considering it I'll skip eating meals and paying bills so that I can buy paint- it doesn't mean that I like to do that, but sometimes it happens.  That's the thing about being an artist, its natural like Popeye, 'I y'ams what I y'ams'.
How do you like living in Chicago?
And where did you live before that?  I really like Chicago, it has opened a lot of doors for me and I have found a lot of happiness here.  I've been lucky enough to become friends with, and work with, a lot of fellow artists whom I respect…which in turn has led to the forming of a collective called 'The Cartel' (www.wearecartel.com). Chicago has also been a huge factor in being able to produce my work on apparel.  Shortly after moving here I started working with a local clothing company called Formula Werks (www.formulawerks.com).  We've produced everything from custom painted shoes, jackets, and bags, to limited edition artist collaboration t-shirts, and now our custom 'Build Your Own' t-shirts.  Its a great feeling to walk down the street and see someone wearing a t-shirt from a company I'm part of. Before Chicago I lived in Baltimore…before Baltimore I lived in Indiana…before living in Indiana I lived in Tennessee…before living in Tennessee I lived in California…before living in California I was born in Indiana!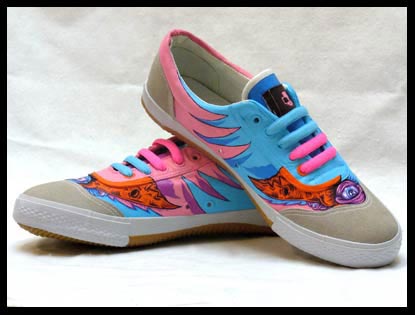 What do you like to do for fun ? i.e. ice fishing ?
I like to drink beer and hang out in 'dive' bars. I also pace back and forth a lot.
What are your favorite tools of the trade ?
Acrylic paint, very small brushes, and wood panels are my favorite tools for sure.  Recently I have been telling myself to buy larger brushes and work on HUGE canvases, but it just never seems to happen.  I also like brush and ink and brush tipped pens…I guess I just really like brushes.  Toothbrushes are great too, but I don't even own a hairbrush.
Please tell us something about the ' Emergence' Acrylic on 'Illazilla' Toy.
The 'Illazilla' toy was very cool to paint. It was handmade by TNES out of Las Vegas for a traveling group show featuring a bunch of stellar artists.  The 'Illazilla' is basically a block of wood made into the shape of a T-Rex, which is awesome. I love painting vinyl toys, but this one stood out because of its angular wooden surfaces.  I wanted to emphasize those angular surfaces by mixing a combination of flat color and rendered areas, which resulted in a three eyed furry 'triclops' emerging from geometric shapes and patterns.  After finishing the piece it looked like an organic, furry Transformer, and the name 'Emergence' popped into my head!
How did your trademark skull come about?
The 'Insider' just kind of manifested from a bunch of different sketches- I would draw something and like it, then redraw it, and then draw it again and again, etc, etc…Somewhere in there it came about and I've just kept drawing it.  Without a plan or definition, it quickly became somewhat of a logo for myself and the clothing company Formula Werks.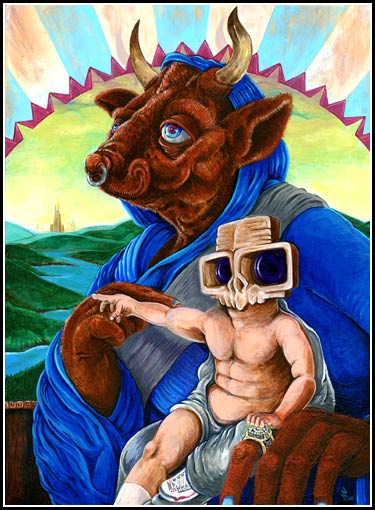 Can you tell us about any up coming top secret projects?
I wish I could. I've got something coming up in the summer/fall that I'm super, super excited about. I'll give you two words mixed together to think about: Rcoattofut. Ghaind.
I noticed in your bio it mentions your father's drawings, is he an artist as well ?
He is. I know he doesn't think of himself as an artist, but he is for sure.  He works in the wholesale floral industry and is the most amazing floral designer. Working in that industry doesn't provide him much opportunity to design but when he does, its like an empty floral vase is his blank canvas—its a sight to see!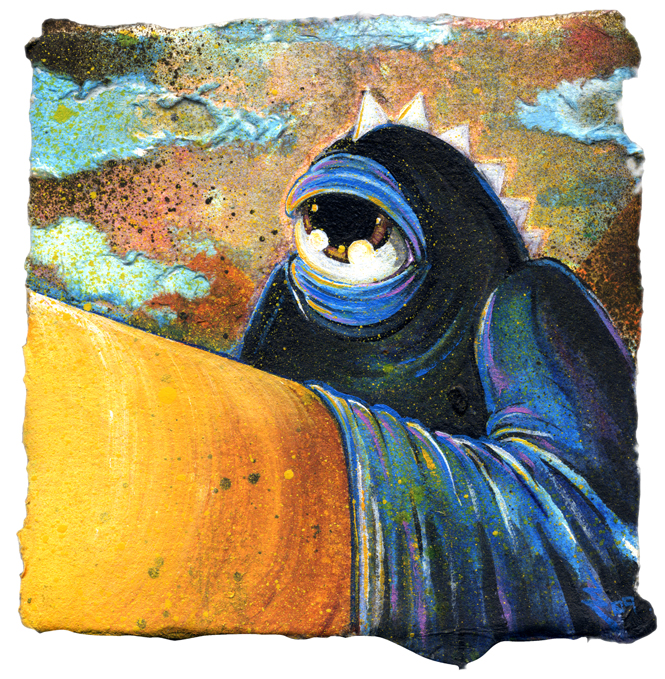 When you need jump start, coffee or energy drink ? And what kind?
I drink the hell out of coffee, from the time I get up until just a few hours before bed. My girlfriend and I buy whatever dark roast is on sale at the grocery.
Last but not least sandwich or burrito?
I make a sandwich, and then I wrap it in a tortilla and dump salsa and hot sauce over the whole thing. I call it 'Love'.
Click the Above Image and Go Investigate Joey's Art