When did you first decide you wanted to be an artist?
When I was four and realized I couldn't be Indiana Jones.
Where do you find inspiration for your creations?
From all kinds of places; books, films, my wife and from always working on new ideas and developments.

Does music play a role in the creative process, and who are listening to?
I listen to music whilst I work, quite a varied selection from Hip Hop like Great Scott to things like Mogwai and GodSpeed You! Black Emperor.
What super secret projects do you have in the works that you can share with us?
Oh man, if they're super-secret I can't say anything about it. I am working on a number of toy projects at the moment for release in 2014 as well as a project with a very high-end fashion house.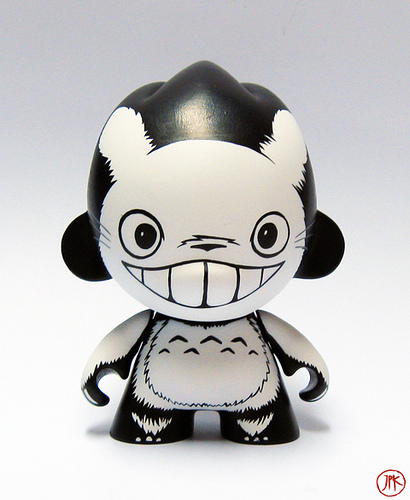 Pets, do you have any? If so, names and types please.
Yeah I have a great dog called Millie and she's an English Bull Terrier cross. She's a pure white dog who we adopted from the rescue centre seven years ago and she's hilarious.
What is your favorite meal of the day? And where are we going to eat when we come out to visit?
Dinner. It's the largest meal of the day. I'm up for wherever though I do like a really good burger.
Do you have a type of medium you prefer to work in, and why?
It depends on whether I'm designing or painting. For design it's Illustrator all the way, for painting it's black acrylic and ink.
Some artists that you admire.
So many! From older artists like Picasso, Francis Bacon and Turner to more contemporary artists like Jermaine Rogers, Jryu, Angry Woebots, Paul Frank, Huck Gee, Alex Pardee, Okkle, Jeremy Fish, Ferg, Andrew Bell, McBess, A Little Stranger, Bigfoot, Sam Flores, Planet Domu, Scott Tolleson.. there's too many to mention…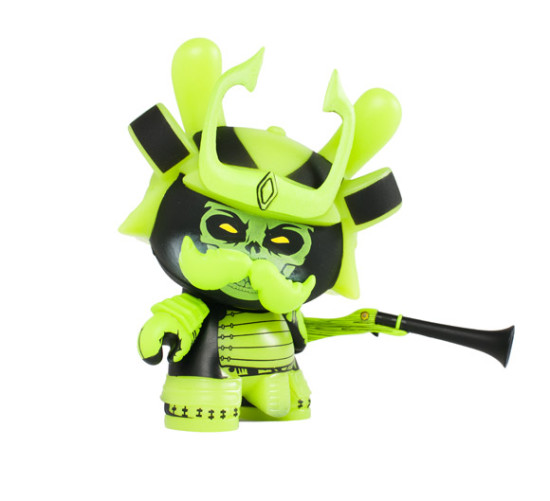 What was the biggest risk you have taken, and was it worth it?
Going Self-Employed. I'm 9 days in and so far it's greatly changed my life for the better!
The last good movie you saw.
I saw Black Fish at the cinema last night – it's a documentary on Orcas kept in captivity and it's fascinating a horrifying at the same time.
How does a typical day start?
First thing do is walk the dog around the woods and fields near my house for about an hour. It gives me time to wake up and come up with ideas.
If you could go anywhere in the world for a visit where would it be, and why?
Japan, I'd love to go – especially Tokyo and Kyoto. I'm fascinated by the history and culture and the art has been a massive inspiration to me.
Sandwich or Burrito?
Burrito, every time!
Click the above Dunny to see more work
Interview by Brian Donnelly