Tell us a bit about yourself….
To make a long story short I'm almost thirty and living in a small town in Sweden, I have since last year, worked full time with illustration and art. Which has been a balance between making money and just doing what you want, but I think I'll find there soon. In my art what drives me is to create things that will survive myself, the rest is mere cosmetics.
What are you thoughts on the Swedish art scene?
It stays roughly the same number of people in Sweden as it does in the City of New York. So given that there may be a comparatively rich scene here. Though the things that interest me most are far beyond Sweden's borders.
What is the origin of your style?
When I was seven I got my first skateboard, it was summer the summer of 88, skate was never my thing, maybe because I spent more time to collect stickers to the board than to actually ride on it. After a while I started to draw my own stickers inspired by MTV ident´s, Garbage Pale Kids, various comics and so on. I think I still today try to recreate the magic I felt over a crazy fresh sticker in those days.
Any plans for 2011?
Yes loads of plans! I'm doing a solo show in my hometown here in Sweden in April and in June I´m doing a group show at the Rothick Art Haus in Anaheim CA. A bunch of new t-shirts are coming and some of them will be shown at an art festival in Madrid in September. Between this I've got high hopes for the summer with loads of spray and bbq´s.
What medium do you prefer to work in?
Any medium really, I find it interesting to experiment with different materials and mediums to apply my work to, and try to limit myself as little as possible. But most of the time it's just the basic pen and paper that speaks.

Best place to spend a Friday night?
I´m guessing with loved ones, yeah i know really cheesy. But still, true.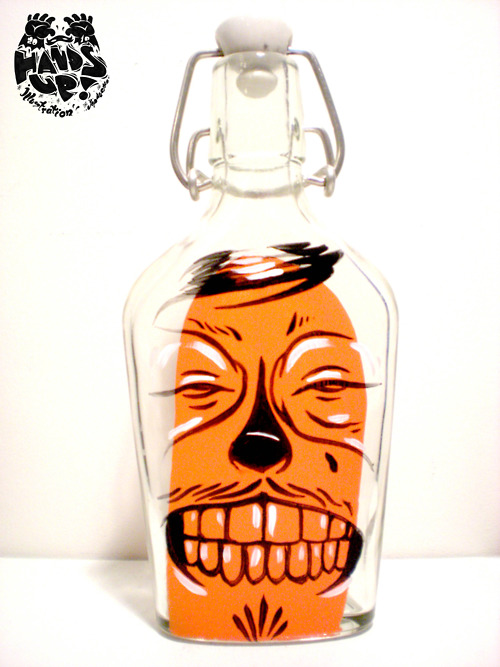 Who are you currently listening to?
Currently RJD2 is going on repeat.
What artists would you like to colab with?
Well if I'm going overseas anytime soon I will let them know 😉


Which is the better form of communication skywriting or telegram?
Not sure about this one, but if I were a cartoon character, skywriting would have been the best way too let everyone know that Scrooge McDuck is stuck in some volcano and all his funds are up for grabs.

It looks like many of your characters skin is peeling off. What is the story behind that?
Well maybe they are as most people, walking around half dead consuming and talking bullshit, I don't know.


Do you have a favorite wild animal?
No, but I do have a favorite cartoon animal and that's the rabbit in Ralph Bashkis Coonskin.
What is the story behind the moniker Jopaucho?
All of the other cool names were taken.


Sandwich or burrito?
In Sweden we eat liver pate with salted pickles on crispbread.
Click the paint to see more….