Tell us something not well known about yourself.
I was the very first bass player in Manic Hispanic, an all-latino punk band from Orange County. I don't have a drop of hispanic blood in me, but I was in an office next door to their recording studio the day they formed, and they needed a bass player to record some songs. We recorded three songs that day. They replaced me with a real Mexican the next day.
When did you first decide you wanted to be an artist?
I've wanted to be an artist since I was six years old. When I got older, I decided I should probably focus on a "grown up" career, so I studied accounting. It was easy, but boring. I changed my major to art halfway through college and never looked back.

Does music play a role in the creative process, and who are listening to?
Music has always been an inspiration in my art. I worked as a graphic designer and illustrator in the L.A. record industry for about ten years. I grew to love collecting old vinyl records; consequently old LP covers were a big influence on me. My tastes are pretty wide – right now I'm listening to Lorde, The Clash, Jimmy Smith and the Ventures.
What super secret projects do you have in the works that you can share with us?
I just designed a Shag Ukulele which will go into production very soon. It will be a super limited run – the factory is only making 200 of them.

Pets?!?
I have a 16 year old Rat Terrier named Baxter. He doesn't see or hear very well, but his sense of smell is still keen, and he uses it to navigate his world.
Where do you find inspiration for your creations?
Originally my paintings were aspirational – I painted lifestyles and situations I wanted to exist in. Most of the art revolved around hedonistic pursuits: drinking, hanging out with beautiful people in beautiful places, being in exotic locations, and living a jet-set lifestyle. But now I'm inspired by my own life, and how much I've tried to make it look like one of my paintings.

Do you have a type of medium you prefer to work in, and why?
Almost all of my original work is acrylic paint on wood panels. The flat look and sharp-edged shapes in my paintings would be harder to achieve in other mediums such as oil on canvas.
Some artists that you admire.
I like Alex Katz, Lari Pittman, Gene Deitch, Mark Ryden, Heironymus Bosch and Jean Arp.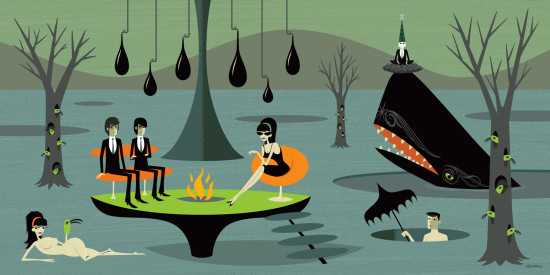 What was the biggest risk you have taken, and was it worth it?
The biggest risk I've taken recently was surfing through the Cameo Shores Arch between Newport Beach and Laguna Beach. It's a natural rock arch just off the coast, and if the conditions are right one can actually surf through it. The surrounding rocks are razor sharp, and there isn't much room to turn once you go through it. The first time I tried it, I did it perfectly. Then I wanted my surfing buddy to take a picture of me doing it, so I tried it again. My board hit the wall of the arch and I almost tumbled onto the jagged rocks. He got a few pictures of me looking very clumsy as I attempted to stay on my board. I won't do it again.
The last good movie you saw.
I just saw a really good documentary called "Bones Brigade," about the pro skateboard team of the '80s. It was directed by Stacy Peralta, who also made the great documentaries "Dogtown and Z-Boys," and "Riding Giants." I recommend all three.

How does a typical day start?
I wake up between 6 and 6:30 am, no matter how late I stayed up the night before or how much I drank, and begin painting immediately. I have the most creative energy in the morning, so I want to take advantage of that. During the middle of the day I take care of business – phone calls, e-mails, looking over paperwork, etc. The evenings are reserved for socializing or doing stuff with my kids.
If you could go anywhere in the world for a visit where would it be, and why?
I want to go to Africa and Antarctica. I've been to plenty of places in the other five continents, but I want to cross all seven continents off my list.
Sandwich or Burrito?
Burrito, especially if it has slow cooked carnitas in it.
Click the bull to see more of Shag's work.
Interview by Carrie Donnelly