What was your favorite cartoon and/or comic book growing up?
this is really a 2 part answer, as both cartoons and comics contributed greatly to my youth.
1) cartoons; astroboy when i was a child, ren & stimpy when i was in highschool. i think Astro shaped my interests from early on, i can't really remember anything earlier than Astro other than Disney, maybe Voltron.. and when i was in high school in 1992, shit, Ren & Stimpy ruled my life. there was nothing like it on tv, there was never anything like it before, and hasn't been since.
2) comics;  i have to say, the first 'comic' i ever obsessed over was Jim Davis' "Garfield". i was in 5th grade, and that strip pretty much cemented in me the thought of drawing for a living. moving on i think Jim Lee's X-men and Sam Keith's Maxx are probably my favorite comics from my teens.
Can you take us through an average day?
how about Friday? it's above average.
i wake up anywhere between 5.30am and 7.30am, depending on what time our son Tyler Jasper wakes up. we might watch Mickey's Clubhouse (or lately, early Astro Boy dvds) ,i'll probably drink a coffee, check NBA and Design blog news before i head off to work. 8.30am-5pm @ Copiritie Design. drink some fresh juice. design all day. listen to alot of hardcore metal.
5.30pm-7pm it's hang out with Tyler Jasper and my lady in crime TeamKittenKat, we play lego, hot wheels and read stories until it's time for T-Bone to go to bed, and then once he's out, we get stuck into personal artwork until the early hours of saturday morning while drinking tea, beer and talking poo while listening to hipp hardcore death metal crunk. word.


What went down in the last nightmare that you remember?
my cousin was sent to jail with my brother and best mate for running over zombies. not cool. zombie cops are fucking bastards. it was hard to bust them out. red head zombie ladies are really fucking scary. i love the zombie race though, don't get me wrong.
Where do you find inspiration for the often times freakish creatures you create?
usually it's a reaction to a song i'm listening to. either i picture what's going on within the
lyrics or it's my reaction to what is happening in them. i guess i feel alot from what i listen to,
i probably get too deep into it? i really like to 'goon' my characters out alot..bug eyes, over developed limbs, obesity, gigantisim…freak them out.


I love the "Fourteen" series you did.  Can you tell us about those?
an artist from Adelaide , Australia who walks around with the name J2k, or Josh2000, approached me via the world wide web. he asked me if i would like to collaborate on some arwork. i said yes. he sent me some pieces of shitty wood with some dope artwork painted on them. i painted on them too. then i sent them back to him. he painted some more on them. and we were done. glued them to a wall and sold them for thousands. beautiful, simple process. sources are saying there's another show in the works.
Where is your favorite place to feed your face?
anywhere the salmon is served raw and fresh.


What artists are inspiring you right now?
Pose MSK, 123KLAN and Mishka NYC Every Day
Do you have any upcoming shows or projects you'd like to tell us about?
i'm going to be working with a group of fashion design students this year, collaborating in a garment / collection of work (fingers crossed) to be exhibited in November. I'll also be working with TRNRS sneaker store and Sneak & Destroy  Sneakers, designing some tees and in-store paint installations.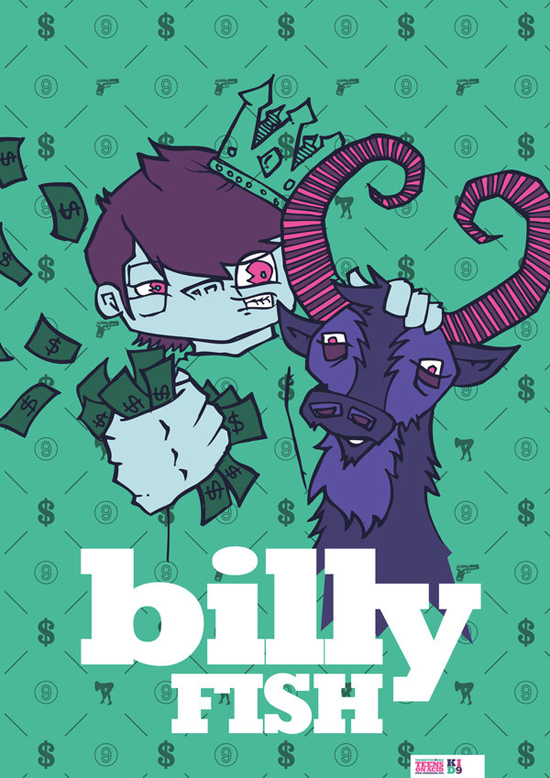 Many of you're pieces appear to have a story or adventure behind them.
Is story telling an important aspect of your work?
definitely. i do not like to make that too clear even though at time it seems painfully obvious.
i want you to create your own 'story' looking at my work. i want you to know that there is something there, but i want you to search deeper for it yourself. i want my viewers to think for themselves.
If you had 3 wishes, what would they be?
i only need 2; a stress free creative lifestyle for my lady and our kids & an unlimited paint supply for the rest of our lives
1 CD for the rest of your life?
King For a Day, Fool For a Lifetime – Faith No More
Tools of the trade?
posca, pacers, ironlaks and 94's
Burrito or sandwich?
sandwich.  tasmanian smoked salmon, baby spinach and rocket, red onion, semi dried tomato, cucumber, alfalfa sprouts,Philadelphia cheese, capers and whole egg mayo on grain bread..word.
Click the image to see more
interview by Mario of Koerce Media