When did you first decide you wanted to be an artist?
I was lucky enough to always have art & artist around when I was growing up. I grew up in the 80's in NYC, when artist where being put into the spotlight and the POP art movement was blasting off. On TV, I watched Bob Ross paint and Bill Cosby draw Picture Pages. If I had to pick specific moment, it would have to be an interview I saw on TV with Jim Davis, the creator of Garfield. Garfield was huge in the 80's, he was the first character I learned how to draw…and to see this artist on prime time TV being featured for drawing his cartoons validated what I wanted to do.
Where do you find inspiration for your creations?

This is going to sound egotistical, but I find inspiration for my creations in my own life. The places I've gone, the people I've met, the people I've lost and the choices I've made. I consider myself very blessed, not because I'm talented, but because I've had some amazing people in my life and I've learned from all of them. All of those experiences inspire my work.


Does music play a role in the creative process, and who are listening to?
Music is the most amazing art in my honest opinion. There's no other type of art that has an emotional effect like music does. I always work with music on, when it's late and I have to pull an all nighter on a project, I don't drink coffee, I crank up the volume. I listen to everything; so right now I'm blasting J-Cole's Born Sinner Album, Pink Floyd Dark side of the Moon, Foo Fighters Wasting light, Daft Punk Access Memories and N.O.R.E Student of the Game.
What super secret projects do you have in the works that you can share with us?
LOL, I have some cool stuff in the works, but I can't share, sorry guys.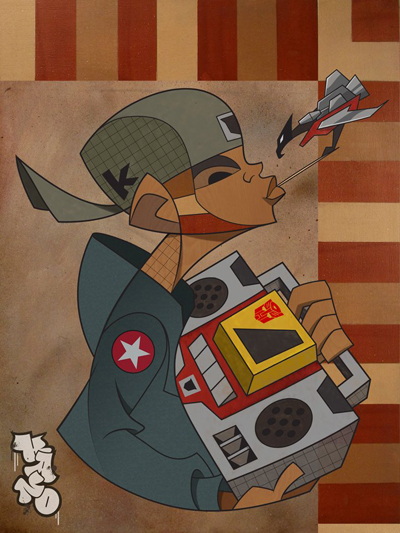 Pets, do you have any? If so, names and types please.

No pets, if I did have one, it would probably be a dog and his name would be Luke Chews.
What is your favorite meal of the day? And where are we going to eat when we come out to visit?
My favorite meal of the day is breakfast, not because of the food, but it's often the only time when everyone in the house is sitting at the table with some sort of peace of mind. It's like the calm before the storm. I love watching my kids eat breakfast everything is supersized to them. If we did lunch, we would probably go to Healthy Bites right by my studio, they have good Shwarma.

Do you have a type of medium you prefer to work in, and why?
I don't, I have a healthy diet of spray paint, acrylic, pencil and pixels. I need them all; they help me keep balance in my art life.
Some artists that you admire.
Right now I'm all about artist that I know or that I've crossed paths with, those are the ones I admire because I can sort of put their talent and hustle into context. Kaws, Toofly, Sket, Tristan Eaton, Jeff Staple and a few others. These are artist who are always making moves and expanding their network without compromising their art.

What was the biggest risk you have taken, and was it worth it?
I've done a lot of really risky things in my life, the thing is…I only realized they where risky after I did them. I'm usually so gun-ho about trying to do something that I don't think of failing at it. When I do fail at it? I don't even notice…I'm too busy looking good! (RIP Jim Kelly)
The last good movie you saw.

The last good movie I saw was "Attack The Block", I was a little late on it, but it's dope!!

How does a typical day start?

Breakfast with the kids, help get the kids dressed, drop them off at school, me and wifey part ways and I head to my studio. Then I check emails, I only open them according to priority, which explains why I'm so bad at getting back at people.
If you could go anywhere in the world for a visit where would it be, and why?
I think I'd like to go to the pyramids in Egypt and the Great Wall of China, simply because it would suck to be on my death bed knowing I didn't.
I'm from NYC, so…Pizza, always PIZZA! (from Lombardi's)
Click the Money Grip to see more
Interview by Adam Washburn