When did you first decide you wanted to be an artist?
I was always into drawing as a little kid, I learned pretty early on that it would be the one thing that helped me stand out from anyone else, that made me unique (it's still like this today in some of my social circles). Then when I was in 3rd grade, Star Wars premiered and that was that, I was in it for life.
Where do you find inspiration for your creations?
Music, myth, folklore, ancient art, occult stuff… There was a slew of media related to this in the 70's, and I absorbed a lot of it in my childhood. Like, as much as I could. Nowadays, I draw a lot of inspiration from medieval woodcuts.

Does music play a role in the creative process, and who are listening to?
Music is EVERYTHING about my process. I literally can't get out of bed without Rock n' Roll. I put on my headphones, sit at the desk with my sketchbook, and let the visions come. Music choices are numerous and genres varied, but I have go-to staples like: Black Sabbath (forever), Melvins, High On Fire, Slayer, David Bowie, Alice Cooper, AC/DC, Pink Floyd, Acid King, on and on and on. Currently I'm listening to Graveyard, The Devil's Blood, the Shrine, Order of the Gash, Lord Dying, Norska, Hungers, Diesto, Pallbearer, Black Cobra, on and on and on…
What super secret projects do you have in the works that you can share with us?
If I told you, they wouldn't be secret. However, I've been dabbling in sculpture over the years, primarily papier mache, and am hoping to start getting more of that out there to see. I've also been getting to work for metal bands a little more. Mostly local bands so far (Portland has the best fucking bands), but I'm slowly working my way into it. Kind of a long held desire really.
Pets, do you have any? If so, names and types please.
I have a big hulking ginger cat named ZEUS, and he's as mighty as it gets. He's my bro. There's also Charlie, a lady cat who lives here at my place. She's not mine but she spends enough time perched on my shoulders that she might as well be.

What is your favorite meal of the day? And where are we going to eat when we come out to visit?
Probably lunch, because it's usually the meal I have socially more than others. If you guys come up here, we're going to Nong's Khao Man Gai food cart downtown–it's the most amazing chicken and rice you'll ever eat, comes with this awesome ginger sauce and a little bowl of soup and it's all for $6.50. It's the only thing they make and it RULES. It'll be my treat. If that's closed, then it's Sizzle Pie for metal-themed pizza.
Do you have a type of medium you prefer to work in, and why?
Brush and ink, because my strength is all in my linework. When I'm inking, I feel like a true wizard. Even when I paint, it's all about the lines.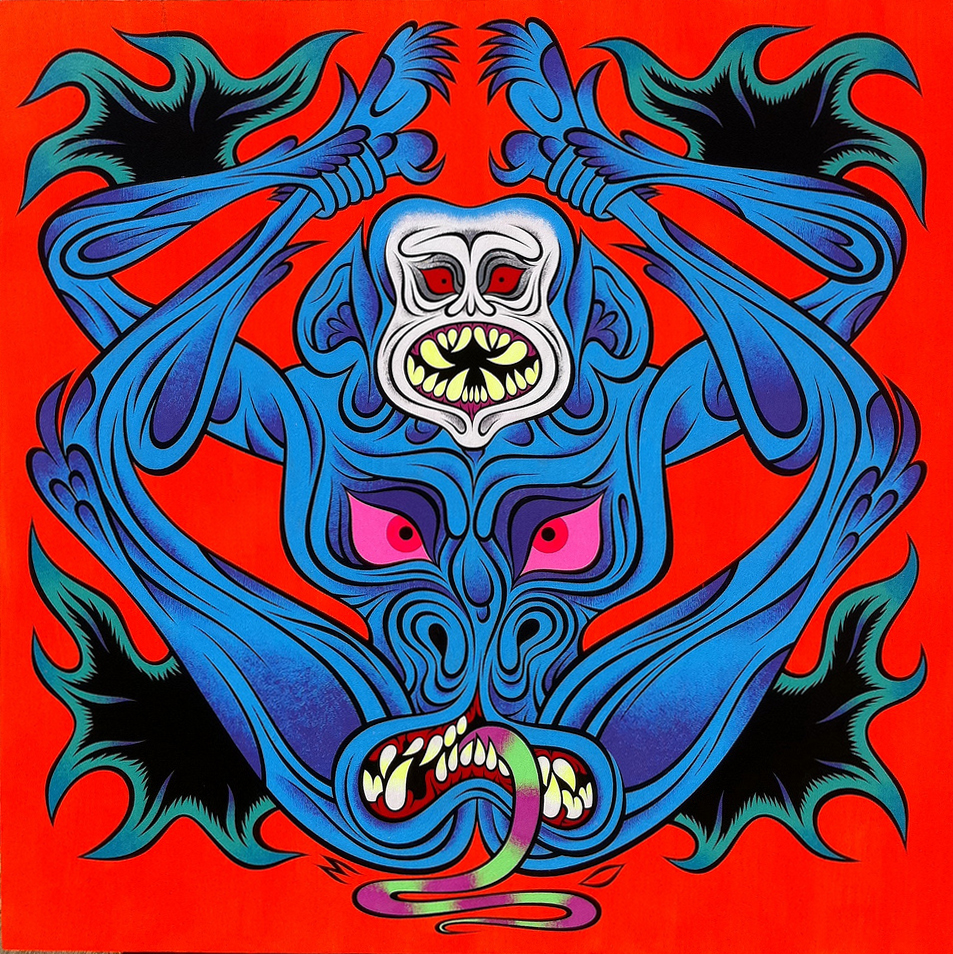 Some artists that you admire.
This could be as long as the music list could be–but it's a great way to plug influences and my personal friends: Frazetta, Jack Kirby, Jack Davis, Wally Wood, Basil Wolverton, Richard Corben, Boris Vallejo, Milo Minara, Moebius, Bosch, Albrecht Dürer, Charles Burns, James Flora, Jim Woodring, Steve Ditko, Pushead, Alejandro Jodorowsky… as for my friends it's Bwana Spoons, Le Merde, Scrappers Morrison, APAK, Skinner, Johnny Ryan, Mark Todd, Esther Pearl Watson, Jeff Soto, Dalek, Matt Furie, Arbito, Oliver and Spencer Hibert, Mike Sutfin, Craig Thompson, Tripper Dungan, Jesse Balmer, Coop, Travis Louie, Kristina Collantes, Evan Harris, Susie Ghahremani, Alex Chiu… whew. Here are six more names anyone reading this should check out: Jon McNair, Morgaine Faye, Gerald Leung, Eatcho, and Alexis Ziritt.
What do you like to do in your free time?
I bowl once a week in my Portland Metal Bowling League. Other than that I just like to hang out with my son.
The last good movie you saw.
Just watched a documentary called "The Source Family", about this hippie cult in the early 70's. Magnificent. It's the only cult I ever heard of where it's own leader/founder eventually called himself out on his own B.S. And they had a rockin' band!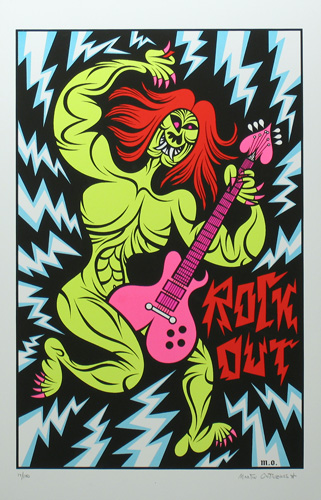 How does a typical day start?
I'm sober these days, so pretty clear, mentally… Typically the day starts after I've had some sleep, which means it's never the same time of day. If I have a couple bucks I get some good coffee, find a band or comedy podcast to listen to, and look at this big list of things I have to start, finish, or ship off to someone, I make a smaller day-list based on that, and act accordingly.
If you could go anywhere in the world for a visit where would it be, and why?
Europe. Still haven't been. Been to Mexico and the Yucatan. Went to Japan twice, covered that dream, but I need to go to the Old World and get some of that energy someday. There's a place in Spain where my last name originated, that would be cool too…
Sandwich or Burrito?
Torta! It's kind of both of those put together, plus I'm half-mexican, so it suits me.

Click the monster to see more
Interview by Adam Washburn