Where do you find your inspiration?
From my girl-friends mainly, and the little troublesome fairies in the backyard. I love being out in life and seeing what grabs me, imagining where I'd like to go, what silly outfit would my little ladies wear while sittin' on a bluebird, how many pies I'd like in the face that day… OR how many I'D like to throw at other people…depends on who pisses me off. 😉 But really, I get a charge out of paint strokes, cutting wood, old cartoons, and being around people who are excited to create. Diving into my mind and thinking about what little drunk fairies and animals do at night inspires me -huge! I would just love to run outside, grab an acorn of beer, and dance in the trees till the sun comes up. Feelin' good in my own head.
Do you have a favorite piece you have created?
I think 'Pie eyed Pinky' is one of my favorite portraits. It was a break through piece for me, and was featured at mine and my sisters solo show "Pie in the Sky" at The WWA Gallery last September. As far as my woodcut/shadowbox artwork, my latest piece for the group show INLE at Gallery 1988 is indeed one of my favorites.
Artist Greg Simkins asked me to do a piece inspired by Watership Down, and I went deep into this one. 
What does a typical day in the life of Miss Mindy look like?
My little pup named 'Radio' is first on the list…( I never used to get up early!) Then A cuppa joe and off to walk with the little fella. My brain starts working around noon, 4 or 7, ha ha ha… Soooo I usually do meet ups during the day, or run around the city finding art supplies 'n goods. Creating starts when it starts, the saw tears through wood or I'm inside my studio inking out ideas and designs for various projects. Then I try to stop Radio from eating my trash again, maybe a model comes over for my husband-o (Rick O'Brien) and I to paint, or he's building a giant airship in the backyard. We're always doing something different!
Do you listen to music when you create, and who are you listening to now?
Oh hell yeah! Music is always on here. Right now I'm listening to Journey. Man, I love old rock, Led Zeppelin, Van Halen, old showtunes & Irish jigs. I also LOVE Bijork ,Radiohead, – & finding new bands, right now it's The Ghost of a Saber tooth Tiger. Just saw 'em at the Troubadour, and it was so inspiring!
What is your favorite kind of pie?
OhLaLaBerry
Who would you like to colab on something with ?
Brandi Milne or Daniel Peacock, I adore them both as friends & artists.
What are your favorite mediums to work with and why?
Acrylic, wood, Ink …Oh Dear! so many. I really like trying different things when I'm building my shadow boxes. I've used moss, sticks, gold leaf. It keeps me nimble. But my favorite is Ink on watercolor paper. I dabble in cartooning, so inking is second nature to me..(yes, back when they used to ink on paper 😉 —
As far as my 2D paintings on wood, I love drawing with colored pencil, and then roughing in with acrylic paint and glazing in between to lock in the sketch marks ( not stretch marks 😉 … It looks cool.
How many licks does to take to get to the tootsie roll center of a tootsie pop?
Depends on how big yer tongue is.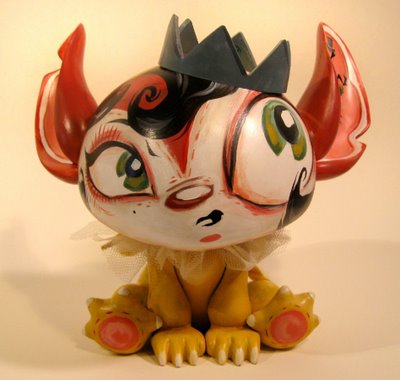 Are there any upcoming projects you're working on that you would like to tell us about?
I'll apart of the 'Art Hustle card series', & so will my sister CJ Metzger – so check those out! Also a cool show at La Luz De Jesus this September…
This next one is special…yer the first ones to hear about it! I'll be doing an interactive art show with my husband Rick O'Brien later this year at our home studio, with some VERY special guest artists. It's going to be very intimate and amazing. So drop me a line if your interested on being on our mailing list for tickets (info@missmindy.com) We go crazy when we do shows, & I hope you'll join us.
And lastly, the secret stuff… We did our own cartoon with Nickelodeon last year – but can't show it yet, I'm in the midst of a book – I can't show yet, and a toy with my sister via 3D retro – that I can't show either. geeeees. But hey, wanted to tell you that there's fun art stuff on the way!
It looks like you like to dress up a lot, ie costumes, do you make them yourself? And have you always liked to do that?
he he. Yeah, since I was a kid. I love making silly costumes. I think I was a vaudeville entertainer in my previous life! I REALLY nerded out this year though, and joined a group to do "Vegas Villains" for last years Comic-con in San Diego. I was a  "Skeksis" from the dark crystal, but a show girl, so "Sexy Skeksis." hahaha. It was wonderfully cheezy, but involved! I actually sculpted the Skeksis head, and made a headdress with puppet arms. I couldn't believe when we actually won best in show in front of thousands of nerds like myself. ;)- People were goin' nuts. It was my first time, and my last. I'm inspired to do some costume for art films of my own. hmmm. what will transpire?
What kind of games do you like to play, board games, video games or??
Out of the two? Board games. I'ma sucker for 'Operation' or 'chutes and ladders'. I totally suck at video games, but love to smash buildings or whack things.
If you could live anywhere in the world, where would it be?
The Ireland Coast.
Sandwich or Burrito?
tea sandwich
Click the witch above to see more of Miss Mindy's creations….
Interview by Adam