When did you first decide you wanted to be an artist?
I discovered that I could draw when I was nine. I drew a picture of Garfield and it actually looked like Garfield. I think it was about a year later that I discovered comic books, and that's about the time the idea popped into my head. I don't think I ever really thought far enough ahead to envision myself making any kind of living from art, but at 10 I at least knew I liked it.
Where do you find inspiration for your creations?
I'm noticing more and more that a lot of it comes from my childhood. Toys and cartoons I liked as a kid keep creeping into the things I make. I guess that makes sense since I make toys.


Does music play a role in the creative process, and who are listening to?
No, it doesn't. Most of the time I'm listening to a movie on Netflix or a podcast. My musical tastes are super specific and fickle. Once I find something I like I get tired of it pretty quickly. The chatter of a movie or podcasts works better than music for me. If I am listening to music it's probably something fast.
What super secret projects do you have in the works that you can share with us?
There's nothing super secret. I'm working on a functioning action figure that should be awesome if I can pull it off. I'm also looking into branching out into vinyl. That one is a lot more up in the air but hopefully it'll happen.
Pets, do you have any? If so, names and types please.
I have quite a few. I have two old dogs name Grim and Homer.
I have a corn snake named Phoenix, a bearded dragon named Fafnir, and two leopard geckos named Lucky and Goldie.
What is your favorite meal of the day? And where are we going to eat when we come out to visit?
It would have to be dinner. On most days I could do without the other two meals. We'll be going to Ye Olde Butcher shop so you can have a buffalo burger (hopefully you eat meat).
Do you have a type of medium you prefer to work in, and why?
Resin by a mile. There's so much you can do with it. There are so many thing you can mix into it that the possibilities are endless.
Some artists that you admire.
Sam Keith and Bill Sienkiewicz are my long time comic book idols.
In the world of toys I really admire PaulKaiju and LASH. They've both stuck their necks out and made their own way in the toy world. Also they both turn out awesome toys. I'd like to be like them when I grow up.


Tell us a little bit about meathead.
He started as a random sketch when I was planning my first mini figures. Looking back I see there were elements of him in other toys I had made. So I guess he was trying to get out for a while. He's just a fat little guy that's happy to be here. Maybe there's a metaphor in there somewhere.
The last good movie you saw.
The American Scream. It's a cool documentary about people that make their own haunted houses in their homes.
How does a typical day start?
The alarm goes off. I reset it for 20 minutes later. It goes off again and I get up, get dressed and head off to work.
If you could go anywhere in the world for a visit where would it be, and why?
Japan. I've seen pictures from people who have gone and it looks like it would be an interesting place to visit.
Sandwich or Burrito?
Sandwich, burritos are a bit overexposed. At least they are in Texas. Nothing beats a good sandwich.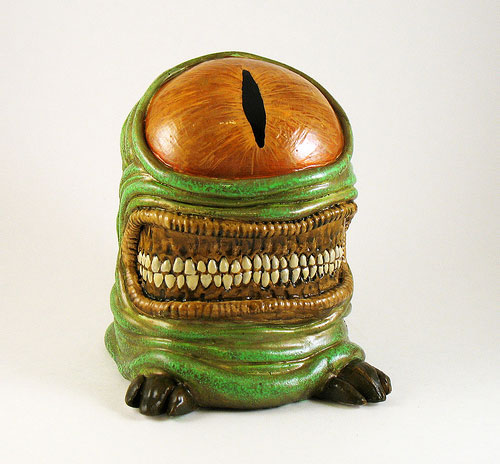 Click the above figure for more work!
Interview by Adam Washbun