Where does your love for chimps spring from?
I kind of fell into it. Over 10 years ago I had an art show and I thought it would be fun to draw a pissed-off chimp as one of the pieces. That one sold right away and I could have probably sold it ten times over. I've continued with the chimps. People seem to identify with it.
What is the worst city to drive in?
I hate driving in LA. That's a simple fact. But as far as the worst city to drive in… I'd have to say Boston wins that war.
Friday nights are best spent where?
Drunk and making fun of the hipsters from the corner of the bar.
Did you have a favorite comic growing up?
I'd have to say it was Spider-Man. He was the first comic I got as a kid and I was hooked. For a while I was collecting old Amazing Spider-Man issues from the 70's. Good stuff.
Are you more comfortable doing color or black and white work?
Black and white just comes naturally. I can do the color stuff fine but for some reason I'm happier making a million little render lines than mixing paint. I find black and white work much more striking.
What's your favorite watering hole?
That would have to be my local bar, The Page here in San Francisco. I'm there all to often.
Funniest thing that has ever happened to you?
I was at the LA Zoo years ago with a buddy of mine. There was a huge crowd watching the silver back gorillas. My buddy and I were drawing the gorilla and the gorilla wasn't too happy. He tore up some grass and through it at my friend. The gorilla then did the same to me moments later. We weren't even close to each other. The gorilla specifically picked us out of the crowd. Guess he didn't like being studied.
If you were not doing art, what do you think you'd be doing?
I'd either be pumping gas or huffing it.
Who are you listening to right now?
I've been playing a lot of Dying Fetus as of late.
Sandwich or Burrito?
Super steak burrito all of the way!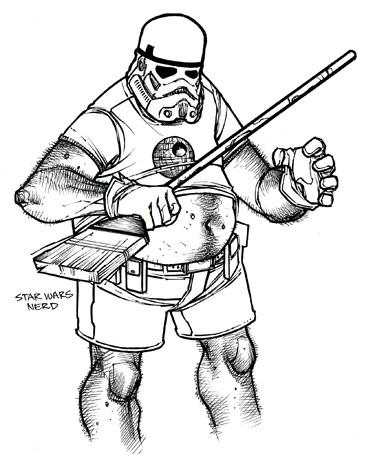 Click the Stormtrooper to See More