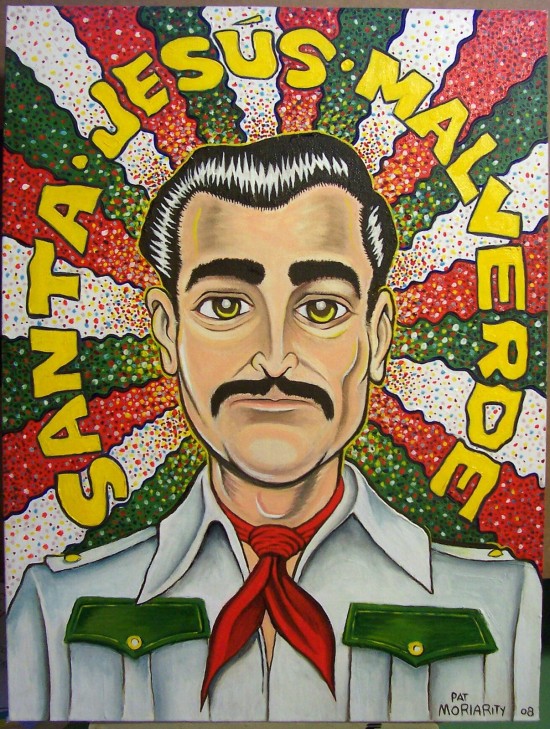 Mario DeMatteo: Hey Pat, My name is Mario D, I am working with Color Ink Book and helping them do some of their interviews for the Color Ink site.  I just spent an hour on your site and was blown away man.
Pat Moriarity: Hey thanks, Mario! Nice to meet you.
MD: Your work reminds me a lot of Crumb and the early Zap bullpen, hopefully that's a compliment cuz I absolutely love 60's underground comix.
PM: Me too. I'm a big admirer of the 1960's era underground cartoonists. Kim Deitch, Gilbert Sheldon, Jay Lynch, R. Crumb, S. Clay Wilson, Spain, Shary Flenniken….the cartoonier the better!
MD: Looking at your site I had to laugh, because just the other day I cruised into our main meeting room to see a lady client pull the hard cover Tijuana Bibles book, by Spiegelman, from the bottom shelf.  What a choice.   She was instantly disgusted, which was hilarious.  Anyways, keep up the great work.
PM: Ha Ha! Well, I did the cover art of all nine volumes of Fantagraphics Tijuana Bibles. Yes, those old comics are crude and quite sleazy. Designed to offend. They never made ME horny, but I admire them in that they were the oldest underground comics. They practically specialized in copyright infringement, ranging from BLONDIE to Popeye to Cary Grant.
MD: Pen/brush n ink is still the ultimate.
PM: I agree wholeheartedly. As an occasional teacher at the Seattle Art Institute, I have a hard time getting students to actually use ink. They'd rather use markers, and think computers will "fix" everything.
What did you eat for breakfast?
Coffee. No food til noon.
Who was your biggest inspiration growing up?
My dad, who also was a professional cartoonist in the 1950's, and then after him, Crumb. Here's a pic of my recently deceased dad, Bill Moriarity, circa 1957. I look a lot like him, I'm often told.
My brother Kelly is also a cartoonist.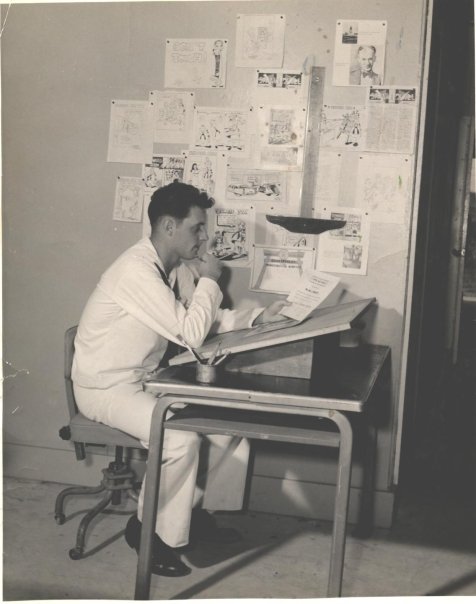 Who is currently spinning in your record player?
Meat Puppets- RISE TO YOUR KNEES
The Buddy Miles cartoon is classic.  Do you have any new flash toons in the works?
Yes, I'm finally working on a new one. I'm drawing all the art in ink on paper for a purposely 2D illustration look, and someone else is animating the parts I draw.
What's your favorite comic magazine of all time?
Probably WEIRDO
Where is your favorite place to feed your face?
Right now it's PEDRO'S, a small, unassuming Mexican restaurant down the hill from my house. How do they DO it?
Any gallery shows coming up that you'd like to plug?
I just finished a show with FRIENDS OF THE NIB (Seattle) and still need to pick up a piece or two that didn't sell, plus collect the money from the ones that did!
I'm open to another show at any time…
What was the last nightmare you remember?
I rarely have them, but when I do, it's always about losing track of my mischievous nine year old. I spend the rest of the dream looking for him and worrying.
What's you're favorite animated cartoon and why?
That's a tough one. Nothing really comes to mind, but I prefer flat 2D, obviously hand drawn animations to 3D. No matter how good 3D gets, it still lacks something. The Fleischer Popeye cartoons are good.
What publications contain your latest comics work?
MINESHAFT Magazine, which also features work by my heroes, Crumb, Deitch, Fleener and others. You can read about it at www.mineshaftmagazine.com. Also, there's a publication called PUCK!, in Italy. I'm working on two pages for them this week and Danny Hellman's TYPHON, Volume one.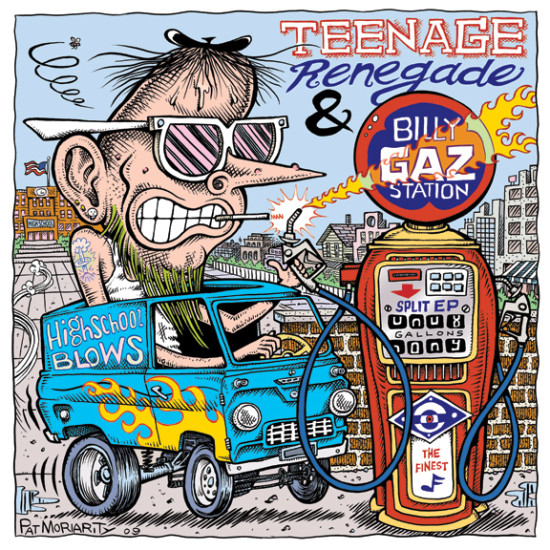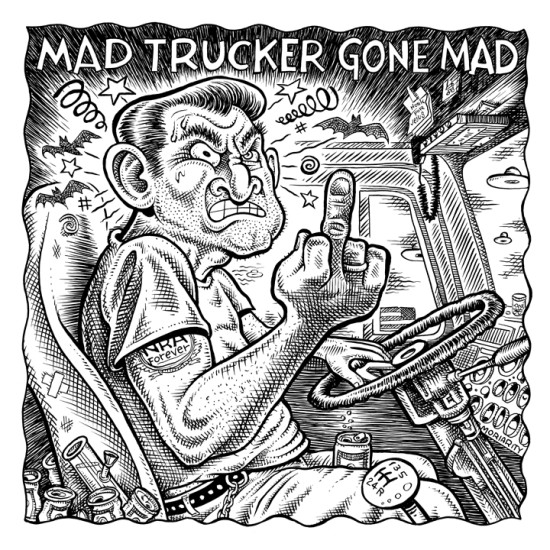 You do a lot of music related art. What bands do you draw stuff for?
Lately? Boss Martians, Black Irish Texas, MAD TRUCKER GONE MAD, WOODSHOP, TRIPLE FORTE, TEENAGE RENEGADE
Sandwich or burrito?
Burrito! From PEDRO's in Port Orchard WA
Click on the drunks to see more
interview by Mario of Koerce Media