What drives you to create?
I'd like to say it was some deep calling from the Gods of Art but I think it has to do more with me being clinically diagnosed ADHD and my fear that at any moment I could die (or lose my limbs and be an amputee artist). That fear keeps my creativity flowing like a factory sweatshop, along with being bored with reality, I love creating art that somewhat sits on the borderline between real and what the hell. I have no clue if that answered anything but like my art, I make no sense.
How important is sarcasm to your creative process?
For me, I don't intentionally try to be sarcastic with my art but at times, especially dealing with political or religious opinions, it kinda gets poured on thick. Sarcasm is just a part of who I am, so when I'm creating, sometimes it just bleeds all over the paper into a mess that no amount of white out could censor.
What is your involvement with any means necessary clothing?
A couple years ago, one of my closest friends, Michael Nemitz and I talked about wanting a better quality of life. We didn't have to be filthy rich, but we wanted to do something for a living that we enjoyed by any means necessary (see what I did there?). He and I are the two founders of AMN, and we just recently printed our first shirt "Feeding on the Weak", which if you're too dim to get, is a political piece based off the seal of America. We are definitely not the next OBEY brand, we just want to create shirts that we would wear.
gotta plug our fb page cause hell we need some likes – Like it here
Where is the best place to grab a bite to eat?
If we're talking in Ohio? I gotta say Luigi's in downtown Akron, its an amazing Italian restaurant that's open till 3am every night. They put so much cheese on your food that you won't poop for weeks.
Tools of the trade?
To quote Jonathan Way$hak, "Fuck digital" haha. I love working traditionally. Mostly micron pens, oil and acrylics. I only use mechanical pencils for my sketches and pencil drawings because a few scrapes on the back of a sketchbook and I have a needle point tip. I do work digitally as well but because I suck at it, it's not my first choice in mediums. Ever since I got my wacom tablet though, I've been itching to learn more painting techniques in photoshop. Oh how great life would be if I could ctrl+z on my traditional pieces.
When not drawing what are you up to?
I am a gamer like no other. When not gaming or arting it up, I am a registered nurse at a local hospital. So when my art gives you a heart attack I can bring ya back to life with some CPR and epinephrine.
What is you favorite video game system?
Xbox360 for one main reason (see next question)
Do you have a favorite game?
Mother F'n HALO!!!!!!
Whom are you currently listening to?
Cage, Sadistik, Tool, Aesop Rock, A perfect circle, and doomtree
What can you tell us about explosm?
Explosm.net is the site for one of the most popular webcomics to date, Cyanide & Happiness. I've been following them since the days of myspace still being relevant and one day one of their creators, Kris Wilson, emailed me about my art style. We share a lot of the same interests and passion for the macabre and we just became really close friends despite living hundreds of miles away. About 3 years ago, they hired me on as their merch designer and as a fellow sketcher at comic cons. Ever since I've been drawing boners and gay Hitlers for millions of fans.
Here is a shot for a shameless plug at an upcoming project?
I'm currently working on artwork for Cage's upcoming ep that should be released soon, and I'll be at New York Comic Con with explosm drawing more boners for ya.
Sandwich or Burrito?
Broodwhich!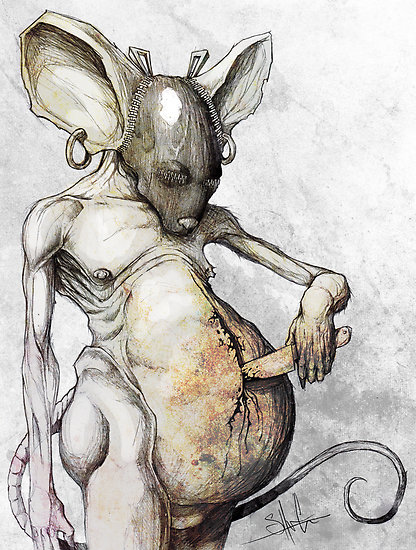 click the image to see more