How long have you been drawing Monster Girl and her friends?
For 7 or 8 years, my wife came up with her basic style, and I finished her.
The inspiration came from my cats and some street fashion and some friends and vintage dolls.

What has been your inspiration for MGX.Factory?
MGX.Factory is my own Graphic Design Studio.
We do Magazine design, and CD or Toy cover design, and Character design etc..
It was started it in 1997 with my wife here for some local magazine & AD.


Are the Monster Girls as mean as they look?
She is not mean; she just watches various things with fascination.

Is this your full time job or do you do something else as well?
Yes, illustration is one of my jobs however; I have a Graphic design job too.
in addition, I am running small east german vintage "DDR" shop & small gallery with my wife.

What is your cats name? And do you have any other pets?
My cats are "kuro" and "Nive-chan". Kuro is black cat. and Nive-chan is white.
Have you been to the U.S.A.? if not would you like to?
Yes, I was been to LA just 1 time when I was student.
I really want to visit to the U.S.A.
I have a lot interest in there 😀

Are there any artists you would like to collaborate with? If so who?
Yes, I want do collaborate with some artists & models etc..
I found many on myspace & Flicker.

What are your favorite mediums to work with?
Design & illustration; for covers of CD or Toys.

Do you plan to make any toys?
Yes, I want to!! I am looking for someone who can help me.
I want to make MonsterGirl fashion dolls!!
Anything coming up you would like to share with us?
Too many to name 🙂

Sandwich or Burrito ?
Sandwich !! I like tuna sandwiches in particular, with the anchovy.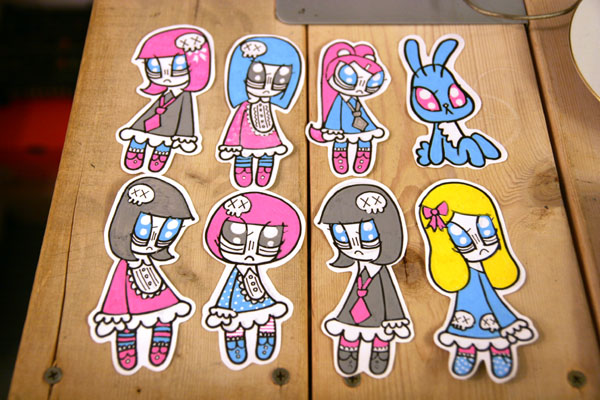 Click the above image to see more………..
Interview by Adam