What was the last movie you watched?
I think it was Cabin Boy; the last one I saw in the theater was Battle LA
Tell us about what project you are working on right now?
Working on a new villain print for Disney
How much do you feel living in LA influences your body of work?
I don't know that it influences my work subject wise at all. It inspires me a great deal to be able to go to a plethora of shows on the weekends, also to have a larger audience.
Who serves the best Chinese food in the city?  And what are you ordering?
Yang Chow, slippery shrimp.
Your "Gag Me With a Toon" show is so fun and jam-packed with talent. How have you been able to keep it "fresh"?
It really does have anything to do with me except keeping the talent fresh and giving the artist free license to create whatever they want.
Speaking of cartoons, what's for favorite show? And favorite theme song?
I would have to say GI JOE, if you asked me about cartoons today… it would be Adventure Time, Cartoon is so relevant and fresh.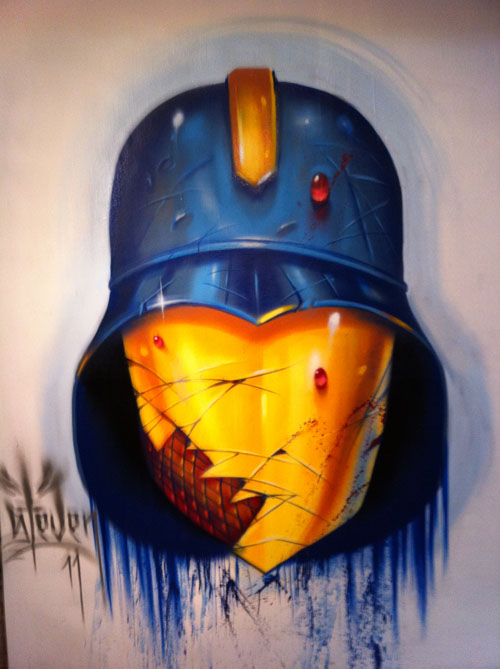 Where can you be found when not painting?
Hiking, flea markets, and trying new food places cole chillin with my homies.
What Superhero movie are you looking most forward to?
THOR, New Batman, X-men origins, and Captain America looks ok so far.
Your work all seems to have such depth, from the image choice on to the way you bring it to life. Is this something you plan or does your work have a life of its own?
I tend to be intrigued by the esoteric. As far as subject goes lately I have been obsessed with truths, origins about everyday things; such as worship, holidays, writing, ceremonies, symbols, theories. Most of my subject comes from Oddities I collect or find at swap meets. Things around my pad. Some of my process is intuitive. Lately I have been using some tools such as the triad of color, or the rule of thirds. Mostly the depth comes from pushing myself each painting to learn and grow and take the work farther every time. Any time I think I'm done I'll add a little more.
How many cups of coffee do you drink in a day? Favorite brand?
1 in the morning, sometimes I will walk to the coffee shop to draw and have another. But usually one because as I get older everything is starting to give me heartburn. Dunken Donuts
Does music affect your art?
It does, I used to be way more into music, but lately I Mostly listen to classical, podcasts, or talk radio.
You work in a bunch of different mediums; do you feel more at home using one over the others?
I feel more at home with acrylic I started as an illustrator and learned with acrylics. And I love oil for its refining capability's. Lately I have been mixing the two.
Sandwich of Burrito?
Depends where it's from, Usually Burrito 🙂
Click on the mummy to see more of his work……