Sumbody.?.?.could you tell us a little about yourself?
Well, my name is Sumbody and I hate long walks on the beach.  Not that I hate beaches, it is just long walks I hate.  I get tired easily. Also, I hate candle light dinners because that is horrible lighting for a dinner.  I mean I want to see what I am working with.  I also love to skateboard and make art.  Some say that skateboarding is art but come on. ART? Really? I think it is just fun.  I can sum up myself with words by the great philosopher Tracy Morgan: "Live every week as if it was shark week."
What are your plans for 2010?
Well I am working on a book with Matt 136.  He is one of my heroes.  I really look up to him and his artwork.  Working with Everybody Get Up on all their shows and getting the store going is a major goal.  I really want to land a 270 indy grab.  I have to land that trick before I die.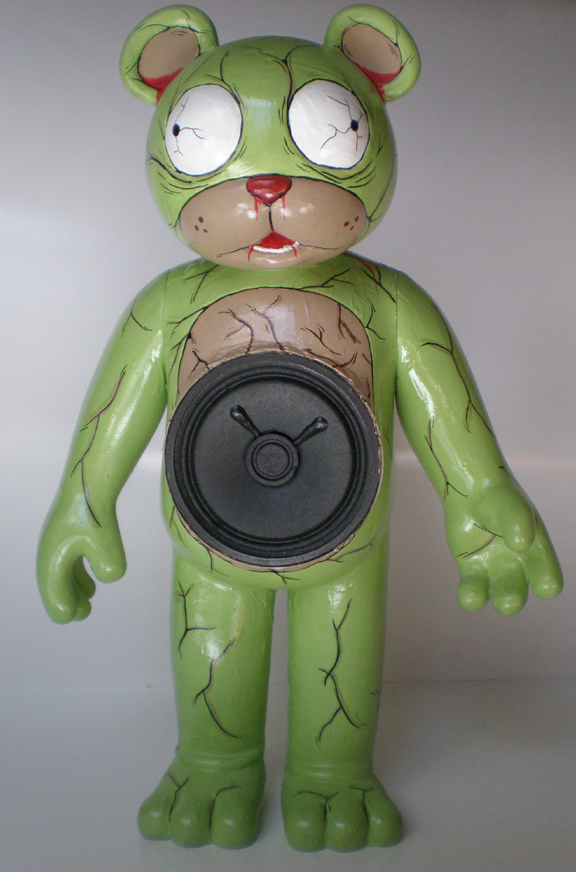 Do you have a favorite canvas?
I don't think that I have a favorite canvas.  If I do it's always the one I just finished.  I'm always excited by the next idea.  I would have to say the skateboard and my stabbed-in-the-back pieces are what I'm feeling right now.
Does  faith influence your art?
Sorry Faith No More?
What is your involvement with Everybody Get Up?
I am one of three who founded it.  I work with those guys almost everyday.  They are my brothers in art.  Just three guys who love art and want to help others to show their work.
If you had ten bucks to spend at a convenience store, what are you buying?
Arizona Green Tea, Starburst, Pepsi, Sour Straws, Chex Mix( Bold Party Mix all day) and a banana so I can live forever.
Who would rein victorious in a bout between Chuck Norris and Skinner's Van?
I do love the Chuck, but the pure darkness and evil powers of Skinner's van is unearthly.  I sold my soul to the van and didn't even know it.  If Chuck even looked at it he would burst in to tears of blood, then a swarm of vampire bats would feast on the blood.  Once they finish a ray of light would shoot from the headlights, turning Chuck into stone.  Next Skinner would jump in and peel out, shattering the fallen hero known as Chuck Norris.
Do you feel living in the Bay Area has helped you as an artists?
For sure!  The bay is so rad that it is crazy.  Everyone out here works together and helps push each other.  I would have to say that Oakland has a bad rap–and for a reason–but the art community is so loving and excited to work together that it is mind-blowing.  I couldn't imagine living any where else.  Well, I would live in Pandora from Avatar.  It looked so magical.  I mean I want to be one with the earth and fly on weird bird animals.  I mean I just paint and wait tables.  That seems way more fun.
What was the last DVD you bought?
Adventure Brothers Season 2
Sandwich or Burrito?
Sandwich with Cheetos on it. I know it sounds strange but try it.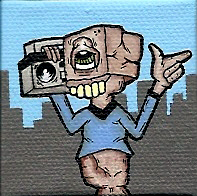 Click on the Cyclops with the Boom Box to See More