If you could be anything, apart from an artist, what would you be?
That's easy – I'd want to be one of the guys on Mythbusters.  How great would that be?  Make things, and then blow them up.
What's your inspiration for this particular type of illustration style?
I'm inspired by old-timey cartoons, Dr. Seuss and Cranach the Elder, to name but a few.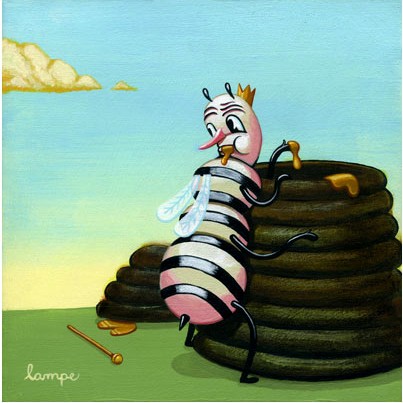 Would you like to tell us about any upcoming news (i.e. events, toys, art)?
I'll have a piece in the Hi Fructose show at Copro Gallery on March 13th, and then a kind of double solo show (if that makes sense) with Dan May at Rotofugi in Chicago, March 19th.  My show is called "Wee Epic Masterpiece Theater."
I've also got a Vannen watch coming out, the release date of which is "soon."
A few other projects I'm involved with are still in the secret stage…
Favorite candy?
Raisinettes are delicious.
What's your favorite piece of artwork?
This is nearly impossible to answer.  If I have to pick one it's "Saints Genevieve and Apollonia," by Lucas Cranach the Elder.  I stood in front of this one for about 30 minutes one day in the National Gallery in London.  I'm not a sentimental art guy, but somehow it got me right in the solar plexus.
Describe your type of art in three words.
Ridiculous, Pathetic, Sad.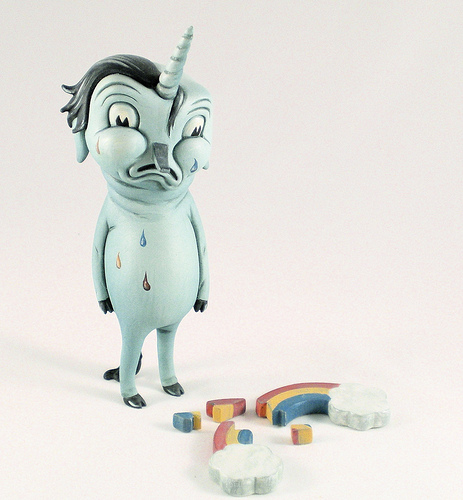 Where did the idea for Tear Drips come from?
Those were the result of about 15 minutes of concepting "something affordable" for my "Fantasy Cryland" show at Rotofugi in 2007.  I needed something that fit the theme, that was easy to make and that formed a kind of installation.  I didn't want to have to charge a lot of money for these pieces so I made little canvas drip shapes and painted faces on them…
How long does it generally take for you to go from idea to product?
That depends a lot on the size of the piece.  For really small pieces sometimes it can be a day or two.  Often it's much longer than that.  Usually I'm working on more than one piece at a time, so it's hard to say how long any one piece takes…
If you could partner with any artist, that you haven't already, who would it be?
Oh boy.  Ummm…  Brandi Milne?  I love her art, but that's secondary – she just seems from emails we've exchanged like a funny person that would be fun to hang out with.  Others might be Mark Todd or Kill Pixie.
What's your favorite medium to work in?
Acrylic on canvas sculpture or wood.
What traveling tip do you have for Chicago (any particular restaurants or places to go to)?
Stop by Rotofugi and see what's in the gallery.  Then there's a great place for lunch on Division called "Milk and Honey."  Get the turkey Rueben.
Sandwich or Burrito?
Can I say burrito sandwich?  I have a profound love for each of these food items.
Click the Crooks to See More
interview by Meghan