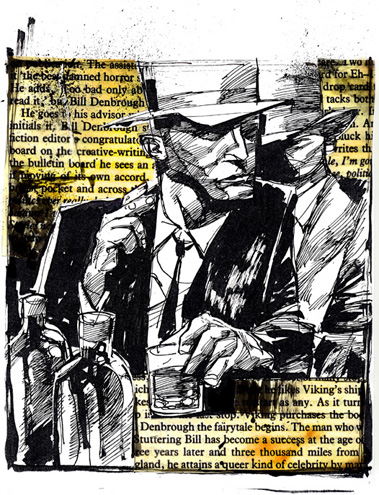 When is your most productive time of the day?
For many years I used to draw at night… somewhere in the middle of the night I had the most interesting and well-drawn images. Lately I have become really flexible. Any time of the day could be productive. I draw all the time… but mostly in the morning. The most important thing for me is to work. I believe in inspiration and I also believe that we have to chase it every moment.
Do you have a favorite comic?
I grew up reading Sam Kieth's The Maxx. I was 13 years old when I read the first issue. I remember going to the nearest comic shop and buying only the new issue of The Maxx. Kieth was a big influence for me. His methods and the way he approaches the characters together with a more expressionistic look on the designing of the characters and the whole page as well is just exciting and a big inspiration.
Saturday nights are best spent where?
In my studio over the drawing board. I also love some small cafes around the city. You can find me there sometimes too.
What is Sam Raimi's best film?
His best film for me is certainly Evil Dead 2: Dead by dawn. I remember me watching it when I was little in vhs after midnight… When watching the movie I simply travelled far away with no return. It's a cartoon movie but with actors of course… everything is so extreme that violence seems to be very amusing. Bruce Campell is also amazing.
Tell us about Mr. Universe.
Mr. Universe was created 4 years ago. It's my look on superheroes. It's my humble comment on superheroes. This comic was published in POPGUN anthology volume 2, as a one shot comic from Image Comics and a new adventure is coming out in POPGUN anthology-volume 4 this February. It's about fanboys that like to read a comic called "Mr Universe". In this comic within the comic Mr Universe is an interplanetary superhero without double identity. He spends night and day guarding different galaxies. In the one shot comic I tried to explore the temperament of a young reader called Tommy. His relationship with everyone around him like his relatives or his classmates. Also his love for this certain comic book and how much it has haunted him as well as the problems that causes in his daily life.
What is your favorite food?
I like Greek food…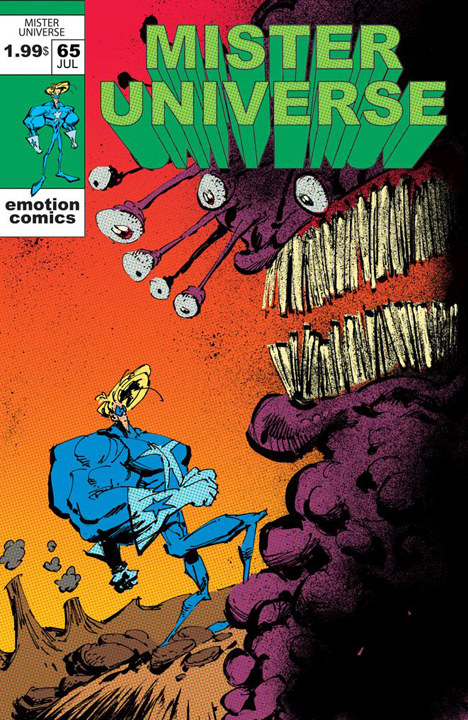 Have you ever self published anything: if so what?
I am lucky enough to find ways to publish my work. I didn't have to self publish anything so far. It's my goal to see my work published every year in any way – as comics or as illustrations. I started publishing my work when I was really young and it's something like a habit for me anymore. This is the only thing I can say. I love typography.
What would your dream project be?
To collaborate on a comic book with Sam Kieth… definitely. This is a dream of mine that has to come true. There are also some scriptwriters that I would like to work with like J. M. Dematteis. These are my dreams as far as comics are concerned. I recently created a music video for a goth post rock band called 2L8. I hope I will be able to make more music videos in the future. Making a short movie is also a project that I would like to accomplish. There are already some scripts written and the only two things left to find are money and time.
How does one win the "most ingenious" marketing award?
I created a comic of course together the designers from "Red Creative" advertising company. We chose some comics to promote some new denim fabrics. And so Deniman was created. It's one of the most interesting creative projects I've ever worked on. The comic stood out in the 1st DNR Textile Awards competition of the American Magazine DNR winning the "most ingenious marketing" award. It's a project that shows how important comics can be in promoting and communicating.
Sandwich or burrito?
Sandwich.
Click Santa to See More